Mortar rounds hit near international airport in Somalia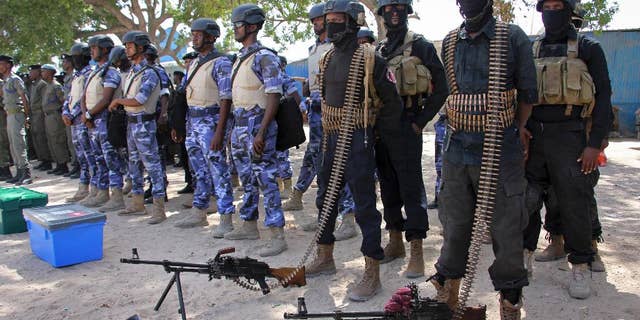 MOGADISHU, Somalia – Two mortar rounds fired by suspected extremists hit near Mogadishu's international airport Tuesday night, close to the heavily guarded venue where Somalia's presidential election will be held on Wednesday, police said.
ISIS THUGS CALL OUT SICK WITH BACK ISSUES, HEADACHES TO AVOID FIGHTING
There were no immediate reports of deaths, Capt. Mohamed Hussein said.
Separately, residents in a town outside Mogadishu said suspected al-Shabab extremists launched an attack on an African Union military base there.
GRAFT, THREATS AS SOMALIA FACES HISTORIC PRESIDENTIAL VOTE
The two attacks, which were reported around the same time, heightened concerns about the security of an election that al-Shabab extremists have threatened to disrupt with violence.
A resident of Arbacow town, Ahmed Hassan, said heavy gunfire and explosions could be heard as African Union forces battled the extremists. The African Union mission later said in a tweet that "the militants were repulsed with maximum power & withdrew, with casualties expected." It said the AU force had no casualties.
Wednesday's presidential election is being held in a former air force base in Mogadishu. The city has been in lockdown, with near-empty streets.
The security threat from the al-Qaida-linked al-Shabab has helped to delay the election several times since last year. The homegrown extremist group has lost some of its territory under pressure from the African Union force, which numbers more than 20,000, and from Somalia's security forces.
But al-Shabab continues to carry out deadly attacks in the capital and elsewhere. In late January, at least 11 people were killed and 50 injured after extremist fighters stormed a hotel in Mogadishu.