More than 100 people rally to demand release of Utah man jailed in Venezuela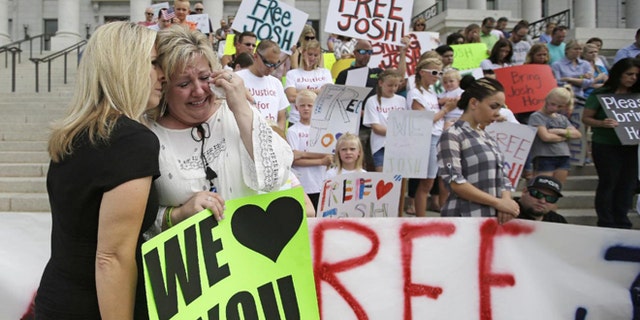 NEWYou can now listen to Fox News articles!
SALT LAKE CITY (AP) – More than 100 people in Salt Lake City voiced their support at a rally Saturday for the family of an American jailed in Venezuela.
The crowd gathered on the front steps of the Utah State Capitol and said a prayer for Josh Holt, causing his mother to break down crying. Laurie Holt held the demonstration in hopes of drawing attention to her son's case.
Several people held signs with messages including "Free Josh and "Bring Him Home." Others wore T-shirts that said "Justice for Josh." There were also photographs of Josh Holt on display.
His father, Jason Holt, called for the U.S. to help end the "waiting game" that his family has endured since the arrest a month ago.
"My message was with the elections going on, this isn't something that's bipartisan," Jason Holt said after the rally ended. "This is something where the government needs to unite and get a Riverton man, an American citizen, out of Venezuela."
Laurie Holt says her son was mistakenly accused, and has lost weight and gotten sick since he was jailed June 30. According to Jason Holt, their son had kidney stones and breathing problems, but he has yet to be taken to a hospital.
"I don't know if he's gotten better or gotten worse," Jason Holt said.
Josh Holt, 24, was arrested on suspicion of weapons charges after he traveled to Venezuela on a tourist visa to marry a fellow Mormon he met on the internet. They had planned to return to the U.S.
Venezuela authorities contend Josh Holt was using his wife's apartment to stockpile weapons. Venezuelan prosecutors have charged Holt and Thamara Caleno with possessing weapons of war and said they found an assault rifle and a grenade at her home.
Interior Minister Gustavo Gonzalez called Holt by the supposed alias "the gringo" during televised remarks earlier this month and described him as a "trained gunman" with a pilot's license who is adept at using technology. Although scant on details, he questioned the legality of a marriage license the couple obtained in Caracas.
Gonzalez stopped short of accusing Holt of spying, but he suggested his case was linked to other unspecified attempts by the U.S. to undermine President Nicolás Maduro's rule during a period of deep economic and political turbulence.
Venezuela is in the midst of a severe crisis marked by widespread food shortages and triple-digit inflation that Maduro almost daily blames on an economic war being waged by his opponents.
Josh Holt is among 12 U.S. citizens jailed there.
Holt's mother, Laurie Holt, said members of her family like to hunt, and her son once took flight classes while in high school. But she said he was never certified as a pilot and doesn't know how to operate a plane. She believes the weapons found with him were planted.
Holt had returned to his home in a suburb of Salt Lake City, Utah, in January after a two-year mission with The Church of Jesus Christ of Latter-day Saints in Washington state. He learned to speak Spanish while working with Hispanic immigrants during his time there, his mother said.
She said her son met Caleno through the internet when he went looking for a Spanish-speaking Mormons to help polish his Spanish, and the couple fell in love during their sessions online.
U.S. officials in Caracas have met with Holt behind bars, and they say he hasn't been mistreated.