Monti warns of backlash if debt crisis not solved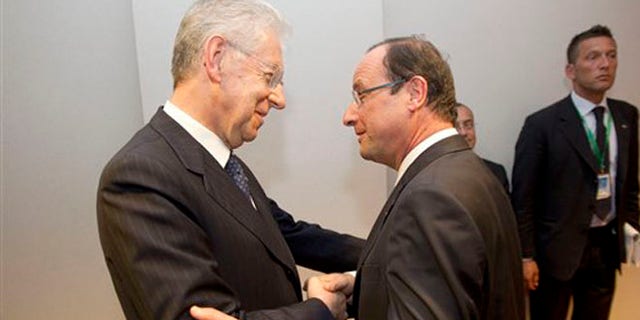 MILAN – Italian Premier Mario Monti urged his European partners on Thursday to speed up measures to limit contagion from the crippling debt crisis and to stimulate economic growth — or risk a backlash from citizens paying the price for governments' belt-tightening.
In a speech to an economic forum in Brussels, Monti said Italy was being penalized for the lack of quick action to boost confidence in the 17-country eurozone. Market uncertainty has pushed up the country's cost of servicings its public debt, which is 120 percent of gross domestic product.
While the interest rates on Italian debt eased after his government took office in November, they have recently risen again on fears that political chaos in Greece could cause the country to leave the eurozone and over Spain's struggles to contain its banking crisis.
Italy is being affected, he said, " because of the overall weakness of the system, more than for any specific weakness of the country."
Monti acknowledged Italy's high debt-to-GDP ratio as the result of "the sins of the past" — excessive public sector spending and weak economic growth — but said his government of technocrats has been working to bring it down.
The markets' failure to recognize the efforts could prove to be "a powerful policy disincentive," he said in a video linkup from Rome.
"I think Europe should accelerate its efforts in order to limit the contagion not simply because a huge financial contagion and crisis would be a frightful event, but even more because this would dismantle support for sustainable fiscal discipline," Monti said.
Among the measures currently being considered in European capitals, Monti cited direct bank recapitalization, in which a central authority is created with the power and money to bail out banks without having to go through national governments.
He called in particular on Germany, the main proponent of austerity as a way through the crisis, to take leadership in finding new ways forward. France and Spain are pushing for the pace of budget cuts to be slowed in some countries to avoid making recessions worse and for new stimulus measures to boost growth, but Germany has resisted, arguing public finances need to be fixed first.
Monti said he sees direct links between limiting financial market contagion and promoting growth.
The Italian lower house on Thursday gave final approval to a package of labor reforms that includes hotly contested measures to make it easier to fire workers but also incentives to encourage more long-term contracts and open the job market to youths. The International Monetary Fund says labor market reforms could boost Italian growth.
"The government wants to give faith to the youth, that they feel that Italy is being governed for their well-being," Monti said after the vote.
The governor of the Bank of Italy noted earlier Friday that Italians under age 25 have been hit particularly hard by the crisis. Youth unemployment has risen to 36 percent in March from 28 percent last July. That compares with an overall increase to 10 percent from just over 8 percent.
Ignazio Visco told an annual meeting of shareholders that the contraction of the Italian economy can be contained to 1.5 percent this year.
Visco said the economy could show some signs of recovery toward the end of the year depending on the effectiveness of structural reforms, better use of public and private resources and greater European cohesion in attacking the financial crisis.
The government expects the economy to contract by 1.2 percent this year.