Mideast Revolution Sparks Pro-Democracy Protest in Iran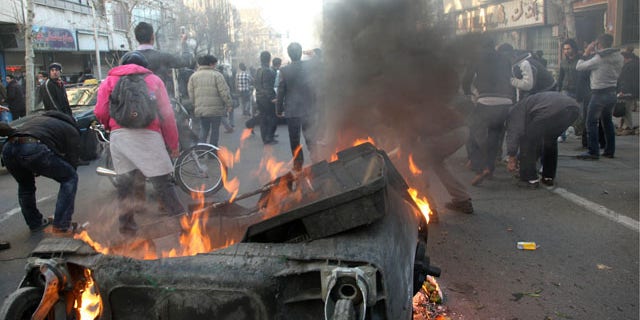 NEWYou can now listen to Fox News articles!
Pro-democracy advocates took to the streets of Tehran, Isfahan, Shiraz and other cities in Iran on Monday, just days after the Islamic Republic celebrated its 32nd anniversary.
It's not clear how many protesters may have been involved, as securing reliable information from Iran is quite difficult. Some reports are that thousands came out in protest, but those reports are difficult to confirm. Iranian journalists are barred from reporting on anti-government demonstrations, and most foreign reporters are kept out of the country altogether.
But several witness accounts trickling out of the country, together with limited photos and amateur video, suggest the police presence at the demonstrations was extremely heavy, that there were clashes between security forces and marchers, and that tear gas was deployed. In their overexcitement, some bloggers apparently exaggerated events.
Videos posted on YouTube showed people chanting "Death to the Dictator," and "Mubarak, Ben Ali, now it's your turn Seyyed Ali (meaning Iran's Supreme Leader Ali Khamenei.)". Fox was not able to independently verify the tapes, but they do reinforce the fact that Iranian protests today, as they were in 2009, were about political rather than economic issues.
Western officials reacted to the reports of the protests.
"I have seen reports today of peaceful demonstrators being assaulted by Iranian security forces," Britain's Foreign Secretary William Hague said in a statement. "President Ahmadinejad last Friday told the Egyptian people that they had the right to express their own views about their country. I call on the Iranian authorities to allow their own people the same right and to ensure that the security authorities exercise restraint."
Former British Prime Minister Tony Blair, speaking to Fox News on Monday, said, "I think it's very important that we stand up now for those people who want to protest for freedom and proper democratic elections in Iran."
Blair also highlighted the significance change in Iran would have.
"I think it would be," he said, "possibly the single most dramatic change in the whole of the region because you would then have Iran playing a constructive part. You would have Iran not trying to destabilize other countries in the region, and arming militia-type groups."
After the Iranian regime attempted to spin the Egyptian protests as being similar to the Islamic Revolution in 1979, throwing off a U.S. backed strongman, Washington responded with a dig at Tehran's hypocrisy. National Security Council spokesman Tommy Vietor said, "For all its empty talk about Egypt, the government of Iran should allow the Iranian people the same universal right to peacefully assemble, demonstrate and communicate in Tehran that the people are exercising in Cairo."
The protests are not contained to Iran. In Bahrain, a tiny Gulf kingdom with a Shi'ite majority ruled by a Sunni minority, tens of thousands took to the streets to protest Sunday night and Monday, according to Nabeel Rajab, a leading human rights activist.
"The wall of fear has been broken", he said. "People have more confidence in the region." He said, "we never thought a U.S.-backed dictatorship in the region could be changed." Rajab said he has not seen such crowds of women and children out on the streets in a long time.
But Rajab said there were lots of injuries, and that police deployed shotguns Sunday night and rubber bullets and tear gas on Monday. He said some of the injured did not dare go to the hospital for fear of being arrested there.
He said there were special forces, including some "foreign mercenaries" out on the streets to control the protests.
There were protests in Yemen Monday as well. Thousands came out for a fourth straight day. Protesters shouted, "A revolution of freedom …We should decide!" Yemen's President Ali Abdullah Saleh has vowed not to run again for President in 2013. But some Yemenis say they have heard that before. And Saleh has made such promises in the past, only to change his mind.
Many have questioned today why Egypt was able to overthrow its dictator, but Iranians have not managed to make changes in their regime. Egypt's military, in a way, protected the protesters on Tahrir Square.
Iran's security services have done the opposite, as witnessed from the bloody results of the first wave of protests in Iran in 2009. But as a leading Iranian human rights advocate told Fox News last week, large numbers of security on the streets Monday will indicate the level of fear the regime has of a movement that may not always show itself on the streets, but which is very much alive.