Miami Student's Wallet Returned Anonymously With Extra $20 To Show 'World Is A Great Place'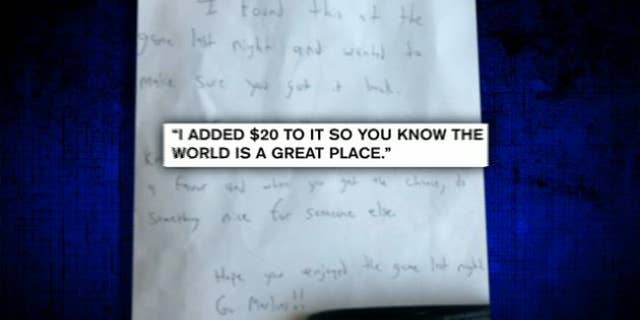 A Miami Marlins fan who lost his wallet during a game had also lost hope of ever finding it again until a fellow fan returned it but not without asking for a special favor.
Cristhian Reyes, a senior at Miami Senior High School, had gone out to Opening Day to catch the hometown Marlins take on the Colorado Rockies. When Reyes reached into his pocket, a sinking feeling hit him: his wallet was gone.
"I was looking all over, like the seats, to see if I had just dropped it," Reyes said. "I was paranoid because I had my school ID. It had some important stuff in there so I could contact other people, and I had money in there, obviously."
Despite searching everywhere, Reyes could not find his wallet.
Later that week, a man entered the office at Miami Senior High School. "This nice gentleman walked in, and I said, 'May I help you?'" registrar Barbara Piedra recalled. "And he said, 'Somebody lost this wallet. One of your students. I think it's one of your students from this school, lost this wallet at the game, and I just want to make sure he gets it back.'"
With the wallet was a note which read in part, "I added $20 to it so you know the world is a great place. Do me a favor and when you get the chance, do something nice for someone else."
The note was left unsigned. "Looked at the letter, I was in awe of the letter with the wallet, and I said 'No, no, no, we need to do something with it,'" said the school's vice principal Felix Zabala, "so I decided I'm gonna take a picture. I took a picture of the letter and the wallet, and I emailed it to the entire staff."
The school also reached out to the Marlins organization to let them know that at least one of their fans is a Good Samaritan. "And now you have a student, inspired by an anonymous person who wanted to do a good deed, and I'm certain this student will continue to pay it forward," said the vice president of the Marlins Foundation, Alfredo Mesa.
Reyes is unsure how he will do that. "I just want to thank him for giving me back my wallet," he said. "Whenever I can, I'll return that favor that [he] asked for."
Everyone connected to the story thanks the man for his good deed. Mesa will also try to help Reyes come up with a way to repay the deed.
For more news, visit WSVN.com
Follow us on twitter.com/foxnewslatino
Like us at facebook.com/foxnewslatino