Miami Bus Crash Leaves 2 Dead; 3 in Critical Condition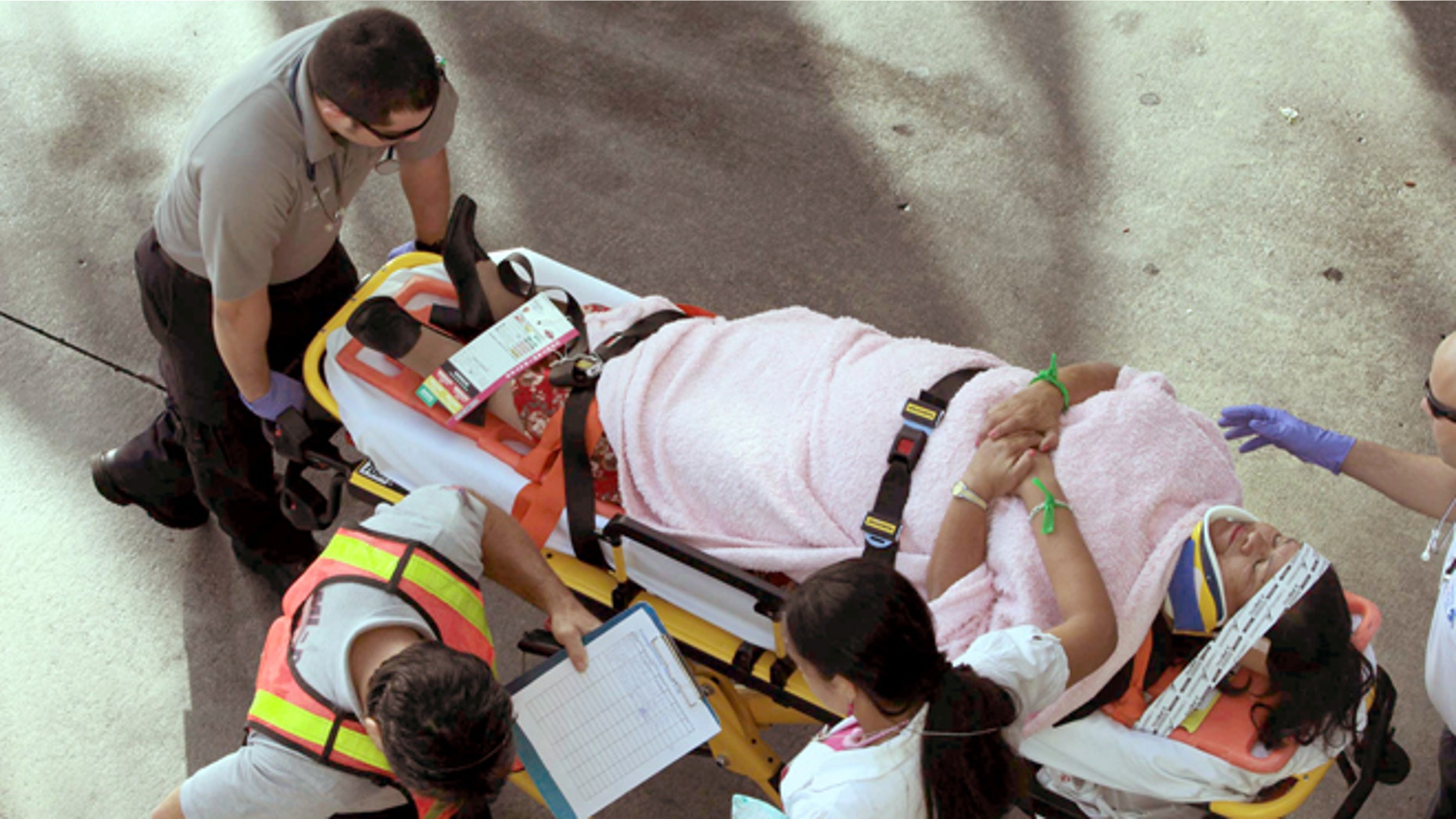 Miami – Two people are dead and three are in critical condition after a bus carrying over 30 people hit a concrete overpass at Miami International Airport, officials said Saturday.
The large, white bus was too tall for the 8-foot-6-inch entrance to the arrivals area, said airport spokesman Greg Chin. Buses are supposed to go through the departures area, which has a higher ceiling, he said.
Two large signs warn drivers of large vehicles not to enter beneath the concrete overpass. One attached to the top of the concrete barrier reads: "High Vehicle STOP Turn Left." The other, placed to the left of the driveway several feet in front of the barrier, says all vehicles higher than the 8-foot-6 threshold must turn left.
It was just very bloody.
Three people were at hospitals in critical condition. The other 27 passengers had been hurt, but their injuries were less extensive, authorities said.
Osvaldo Lopez, an officer with Miami-Dade aviation, said he first heard a loud noise Saturday morning and was certain it was some sort of car wreck.
He said he went inside the bus to help and found several passengers thrown into the center aisle. He said the passengers, many of whom were elderly, remained calm after the wreck.
"It was just very bloody," he said of the scene.
After helping the passengers, Lopez suffered some injuries of his own — his left arm and a finger on his right hand were both bandaged.
The body of one dead passenger was pulled from the bus late Saturday morning; the second person died after being taken to a hospital, police said.
Fire trucks and police cars swarmed the area Saturday morning, and the bus was blocked off by yellow police tape. A white cooler that had been filled with water bottles was on its side behind the bus, the front of which remained wedged beneath the overpass Saturday.
The bus was privately owned and typically used for tours, though police believe all the passengers were local residents, not tourists, said Miami-Dade police Lt. Rosanna Cordero-Stutz. The bus' ultimate destination was not yet known, but the driver was unfamiliar with the area near the airport and did not intend to wind up at the arrivals area, Cordero-Stutz said. The driver was being interviewed by investigators, she said.
The bus was going about 20 mph when it hit the overpass Saturday morning, Chin said.
The bus resembles others commonly used for charters and tours, with the driver seated low to the ground and passenger seats in an elevated area behind the driver's seat. It was not immediately clear who owned the bus.
Based on reporting by the Associated Press.
Follow us on twitter.com/foxnewslatino
Like us at facebook.com/foxnewslatino