MH370 report says someone deliberately 'manipulated' plane's controls
Missing Malaysia Airlines flight MH370 was likely steered off course deliberately by someone and flew over the Southern Indian Ocean for over seven hours after communications were severed, according to a safety report into the disaster released Monday.
The report by a 19-member international team provided no firm conclusions about what happened, and the head of the MH370 safety investigation team said that more definitive answers could come if the plane's wreckage and black boxes are found.
The Boeing 777 carrying 239 people from Kuala Lumpur to Beijing vanished March 8, 2014, and is presumed to have crashed in the far southern Indian Ocean. The report noted that it was difficult for the aircraft's course change to be attributed to mechanical or system failures.
"It is more likely that such maneuvers are due to the systems being manipulated," the report said.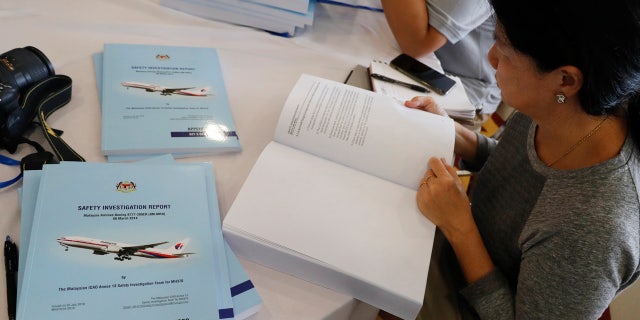 The report released Monday added that there was insufficient information to determine if the aircraft broke up in the air, or during impact with the ocean.
Chief investigator Kok Soo Chon said during a media briefing there was no evidence of abnormal behavior or stress among the two pilots – Capt. Zaharie Ahmad Shah and co-pilot, Fariq Abdul Hamid – that could lead them to hijack the plane. All the passengers were also cleared by police and had no pilot training, the investigator said.
"We are not of the opinion it could have been an event committed by the pilots," Kok said, adding that investigators were not ruling out any possibility since the aircraft's change in course was manually done and the systems in the plane were also manually turned off, according to Reuters.
"We cannot exclude that there was an unlawful interference by a third party," Kok said.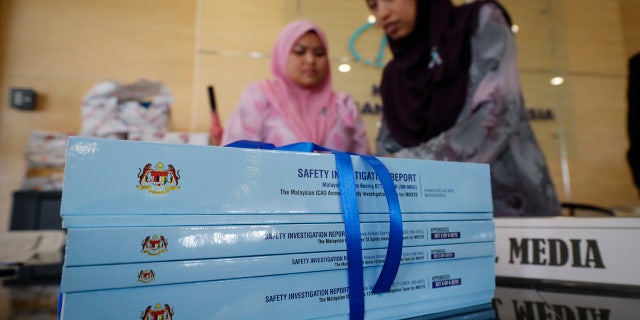 The chief investigator added that no group said it hijacked the plane and no ransom demands have been made, which would be up to police to investigate.
MH370 CAPTAIN WAS SUICIDAL, AVIATION EXPERTS SAY
Officials said Monday's report is still not a final accounting because the plane hasn't been found. Malaysia's government has said it is open to resume searching if credible evidence of the plane's location emerges.
The "rogue pilot" theory still arises in public discussions despite Malaysian authorities saying there was no evidence linking Zaharie or Hamid to any wrongdoing. Kok said it was "human nature" to speculate on sensational conspiracy theories but that the team relied on facts.
Authorities retrieved over 2,700 coordinates from various file segments found in Zaharie's home flight simulator.
This included seven "manually programmed waypoint coordinates" that when linked could fly from the Kuala Lumpur airport to the southern Indian Ocean, but police could not determine if the coordinates were found in a single file or from different files, he said.
Police didn't find any data that showed a similar route flown by Flight 370 and concluded that there were "no unusual activities other than game-related flight simulations," Kok said.
MH370 DISASTER: HOW NEW SPACE TECH CAN KEEP TRACK OF AIRCRAFT
He said investigators couldn't find any flaws with the plane and dismissed the theory that it was remotely controlled. Boeing has such technology to foil plane hijacking but hasn't used it on any commercial planes, he added.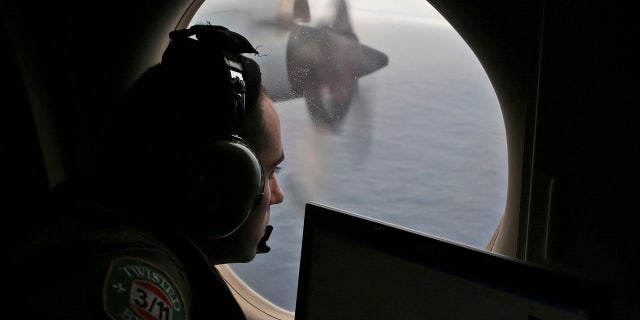 Scattered pieces of debris that washed ashore on African beaches and Indian Ocean islands indicate MH370 crashed in a distant stretch of the ocean, but a multi-government search by Australia, Malaysia and China failed to pinpoint a location.
A second, private search by U.S. company Ocean Infinity that finished at the end of May also found no sign of the wreckage.
Relatives of the 239 people who were on board the flight expressed frustration Monday that the report into its disappearance revealed "nothing new."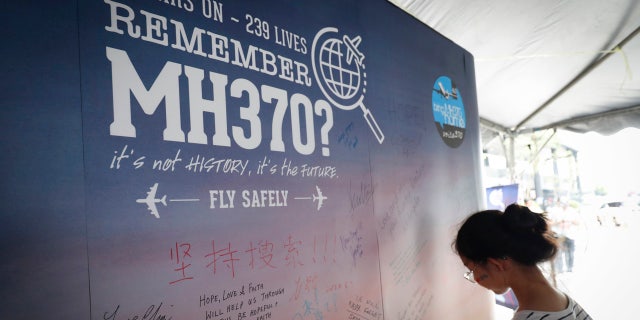 "It's difficult because we have to live with not knowing why my wife has gone missing," Calvin Shim told Sky News. Shim's wife, Christine Tan, was a member of the flight crew.
"We need closure. I can't even tell my children what happened to their mother," he said. "We can't even have a proper ceremony or a proper place to remember my children's mother."
"We want the answer of why the plane has gone missing and where it has gone," he told Sky News. "As soon as all my questions are answered it will be finished for me. As long as there is still some hope, I will still pursue it."
The Associated Press contributed to this report.