Mexico's Peña Nieto says that alleged army massacre will be fully investigated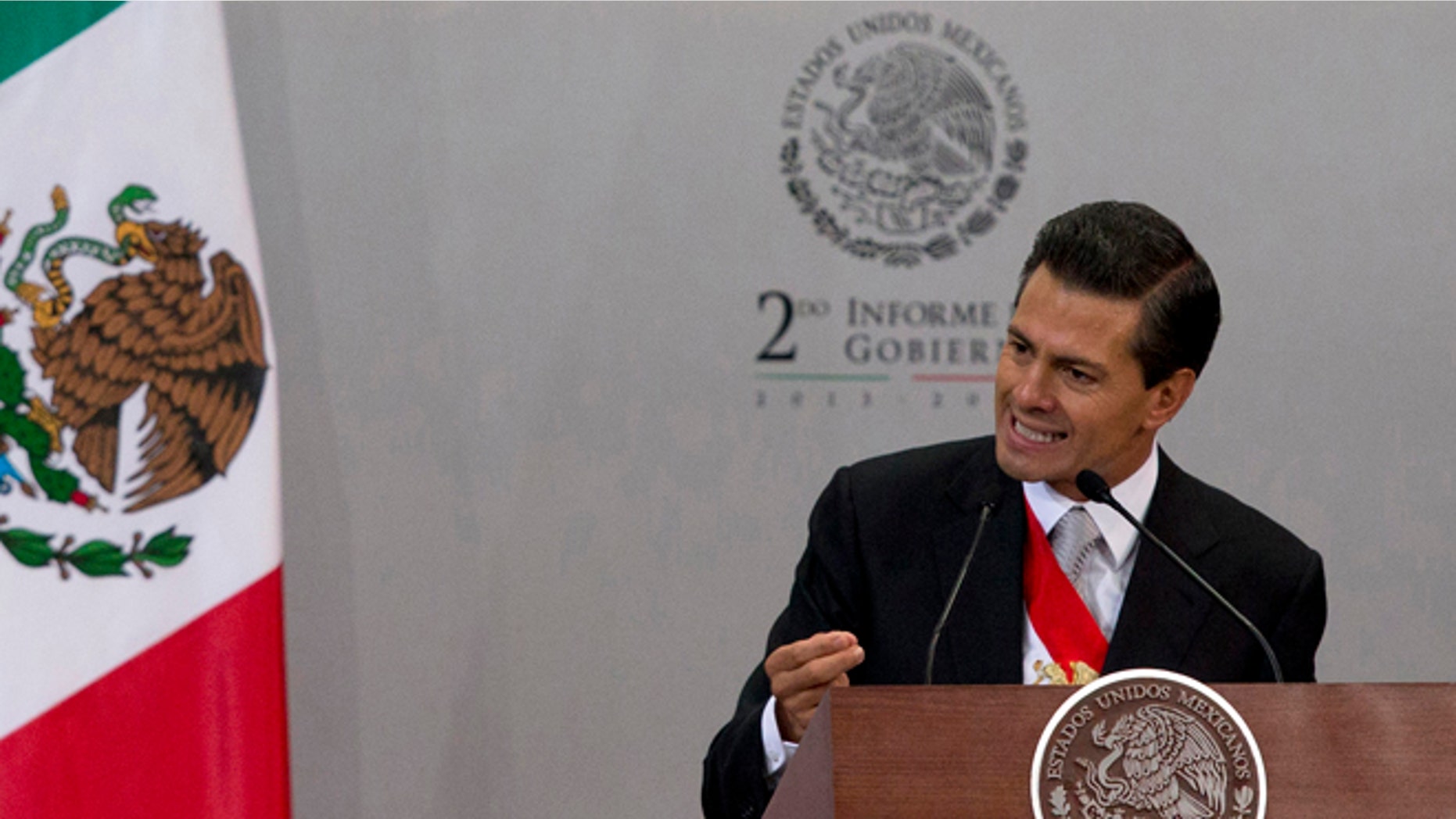 NEW YORK (AP) – Mexico President Enrique Peña Nieto said Monday that all questions about an army killing of 22 people that a witness said was a massacre will be answered by an attorney general's investigation.
"The attorney general is digging into the investigation and will be the agency responding to this issue," Peña Nieto told The Associated Press after participating in an economic forum. He is in New York to attend the U.N. General Assembly meeting.
An AP reporter started to ask Peña Nieto for his reaction to two AP stories revealing doubts about the army's version of the June 30 killings in southern rural Mexico, but he interrupted, saying, "I already know what your question is."
The witness told the AP that soldiers killed 20 men and her 15-year-old daughter after they had surrendered following a confrontation in an abandoned warehouse in the town of San Pedro Limón. She said her daughter and another boy were shot to death as they lay wounded after the groups exchanged fire. The 20 inside had walked out with their hands on the back of their necks, she said. She did not want to be identified for fear of reprisals.
She was at the warehouse trying to retrieve her daughter from the gang when the army came upon them in the early morning and started firing.
The army said soldiers came under fire from a gang of armed men at a grain warehouse and returned fire in self-defense. They said 21 men and one woman died in a firefight, and three kidnap victims were rescued unharmed. The witness, one of the army's "kidnap victims," said she was not kidnapped.
The army's version came under question even before the witness came forward because the toll was so lopsided. Only one soldier was wounded. The AP visited the site after the shootout and found stray bullet marks and no signs of a massive shootout. Instead, at least five spots along the warehouse's inside walls showed the same pattern: One or two closely placed bullet pocks, surrounded by a mass of spattered blood, giving the appearance that some of those killed had been standing against the wall and shot at about chest level.
Peña Nieto spoke four days after the attorney general said the confrontation is under investigation. Mexico's National Commission on Human Rights said it has seen the autopsies and is conducting its own investigation.
The U.S. State Department urged Mexico on Friday to investigate the case, saying it is "imperative that there is a credible review of the circumstances."
Follow us on twitter.com/foxnewslatino
Like us at facebook.com/foxnewslatino