Mexico: suspects tried twice to rescue Qaddafi son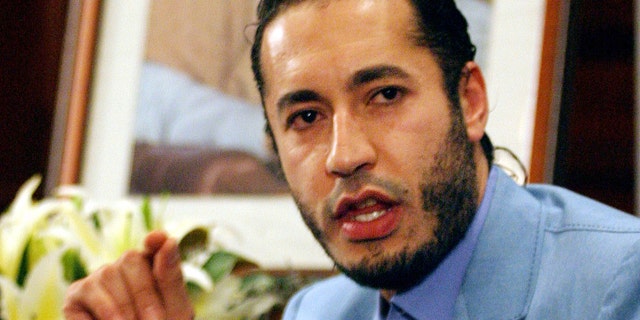 MEXICO CITY – Prosecutors said Wednesday they broke up not one, but two Indiana Jones-style plots to "extract" the son of late dictator Muammar Qaddafi from Libya as his father's regime crumbled and bring him to Mexico.
The plan to spirit out al-Saadi Qaddafi involved piles of stolen passports, white-knuckle flights with pilots who refused to land in war-torn Libya and luxury homes bought under false names in Mexico, Assistant Attorney General Jose Cuitlahuac Salinas was led by a Canadian woman, a Danish man and two Mexican suspects who were charged this week with attempted immigrant trafficking, falsifying documents and organized crime.
Salinas said the group hired pilots to fly from Mexico to Kosovo, from there to the Tunisian capital of Tunis and on to Libya in July, but that attempt failed to extract the dictator's son.
"They weren't able to do it out because the pilots refused to carry out a secret landing," Salinas said.
The ring, purportedly led by Canadian Cynthia Vanier, then allegedly made arrangements for a second attempt, hiring pilots and a plane. But Mexican authorities were tipped off to the scheme by a series of anonymous e-mails and arrested the four suspects in November, before the second flight could take off.
Prosecutors showed an image of the Guy Fawkes mask in connection with the tip. The image of Fawkes, a 17th century English revolutionary, has become a symbol of the Internet network "Anonymous," which has claimed credit for internet hacking around the world.
Because the suspects had not been ordered held over for trial, they have not entered pleas, nor do they have lawyers of record.
In December, a lawyer for al-Saadi Qaddafi vigorously denied that his client plotted to sneak illegally into Mexico.
A Twitter account linked to the Anonymous IberoAmerica website, which has carried comments from the movement in Mexico in the past, did not immediately respond to queries about whether the Anonymous movement was responsible for blowing the whistle on the plot.
Salinas said the story began in 2009, when 4,586 blank Mexican passport forms were stolen in Mexico City. Apparently, the ring got hold of some of those blank passports and was going to fill them out with false names for Qaddafi and his family, he said.
Al-Saadi Qaddafi, who is known for his love of professional soccer, playboy lifestyle and run-ins with police in Europe, never made it to Mexico, but did reach the Western African country of Niger, where he has been living.
The elder Qaddafi ruled Libya with an eccentric brutality for nearly 42 years before he was ousted by an uprising in August. He was captured and killed in October, along with his son Muatassim. Killed earlier in the civil war were younger brothers Seif al-Arab and Khamis.
Another son, Seif al-Islam, was captured in Libya in November. Their mother, Safiya, and sister Aisha fled to neighboring Algeria.