Mexico election probe finds against leftist who complained of finance violations by his rival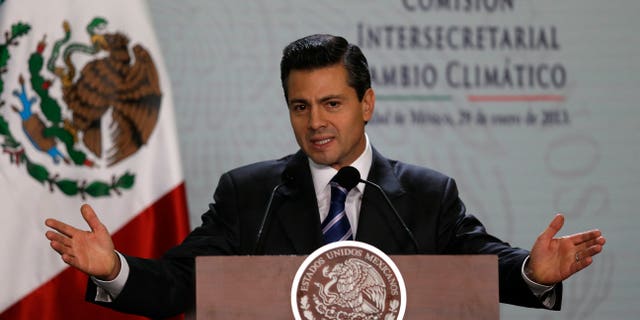 MEXICO CITY – During Mexico's presidential election last year, the leftist candidate furiously complained that while he flew economy class his rival from the former ruling party campaigned in private planes, appeared constantly on television and was dramatically overspending campaign limits.
Enrique Pena Nieto of the Institutional Revolutionary Party won the vote over leftist Andres Manuel Lopez Obrador, and election authorities began an investigation into allegations of campaign spending violations.
Now, six months later, the electoral body says it has indeed found evidence of violations: by Lopez Obrador, not Pena Nieto.
The finding, which will be voted on by the commissioners of the Federal Electoral Institute on Wednesday, provoked outrage from Lopez Obrador, his backers and some independent observers who charged that a body once seen as a pillar of Mexico's young democracy is allowing itself to be coopted by Pena Nieto's party.
"So now it turns out that Mr. Pena, who moved around in private planes, in private helicopters, while I was driving on the highways or on commercial flights, now it turns out that Mr. Pena was a victim," Lopez Obrador told MVS Radio on Tuesday.
The spending limit for the 2012 presidential campaign was 336.1 million pesos ($26.3 million) and the probe found that the three parties backing Lopez Obrador had spent 370.5 million pesos ($29 million). It found Pena Nieto's campaign spent 241.8 million pesos ($18.9 million) and Josefina Vazquez Mota of the conservative National Action Party, or PAN, spent 209.1 million pesos ($16.4 million).
The findings are based on the party's own reports, documents which have not been made public.
Lopez Obrador said the electoral institute sought "to place me on the same level as Pena Nieto, as if we were as corrupt as Pena Nieto." He said his campaign had spent only 230 million pesos, under the campaign limit.
But the electoral institute said the leftist coalition claimed it had spent 286.2 million pesos, while documentation the parties provided showed they spent 370.5 million.
It isn't surprising that Lopez Obrador's campaign, run mainly by his Democratic Revolution Party, or PRD, broke campaign limits, said political analyst Jose Antonio Crespo, of the Center for Economic Research and Teaching in Mexico City,
"But it isn't credible to me that the PRI was topped by the PRD and that it didn't exceed campaign limits itself," he said.
There was no immediate reaction from Pena Nieto's PRI to the ruling.
The electoral institute found last week that the PRI had not engaged in illegal campaign financing, as alleged by PRD and PAN officials.