Mexican film students killed, bodies dissolved in acid by men who believed they were in rival gang, cops say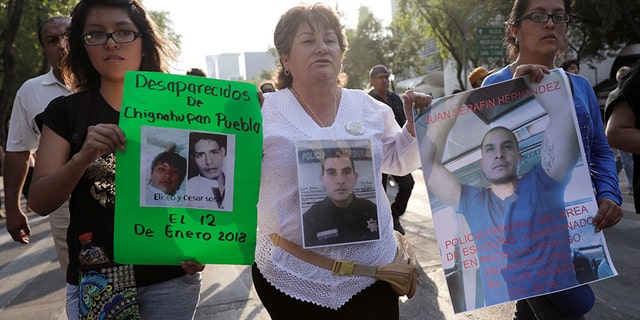 Three Mexican film students were tortured, killed and had their bodies dissolved in acid last month by criminals who believed they were part of a rival gang, police said Monday.
Javier Solomon Aceves Gastelum, 25, Marco Garcia Francisco Avalos, 20, and Jesus Daniel Diaz, 20, vanished last month in Tonala while filming a project for school, the Washington Post reported. The three men attended the University of Audiovisual Media in Guadalajara.
The students were last seen in Tonala on March 19 after their vehicle broke down. The trio was kidnapped by at least six people, Jalisco state prosecutors said. Authorities said the students were forced into a vehicle by two armed men who appeared to be dressed as police officers.
REMNANTS OF MEXICO MIGRANT CARAVAN CLOSER TO US BORDER

Following the kidnapping, the three students were driven to a home used by Cartel Jalisco New Generation, a notorious gang, members of which tortured and killed the men before disposing of the bodies, Jalisco state prosecutors said.
The gang believed the three men were part of their rival cartel, Nueva Plaza, authorities said. The home where the three students had been filming belonged to one of their aunts and was used as a "safe house" for Nueva Plaza; it was under surveillance by Cartel Jalisco New Generation, prosecutors said.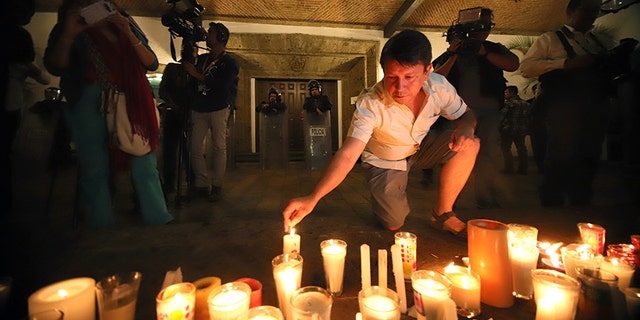 Authorities said the three men had no connection to any criminal gang.
The bodies were dissolved in acid at a different location, where investigators discovered 46 barrels of sulfuric acid.
"Subsequently their bodies were dissolved in acid so that no trace of them remained," officials said.
MISTRIAL DECLARED FOR BORDER PATROL AGENT ACCUSED OF KILLING MEXICAN TEEN
The Jalisco Attorney General's Office said two men have been arrested and there are arrest orders for four others in the case. Cartels in Mexico are known for dissolving their victims in acid to eliminate victims' remains.
Citizens held a vigil Monday night in Jalisco to remember the three students. Their disappearance prompted protests across the country and even gained attention from Academy Award-winning director Guillermo del Toro. The protesters were holding demonstrations focusing on the safety of students and the growing violence in the country.
Last year, more than 25,000 were murdered in Mexico and homicides peaked at their highest levels in 20 years.
The Associated Press contributed to this report.