Mexican Cartel Kingpin "El Brad Pitt" Captured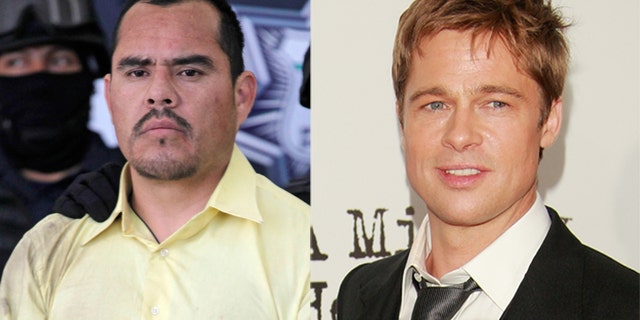 Not even the "Ocean's 11" bandits could save him now.
The Mexican cartel kingpin nicknamed "El Brad Pitt" won't be starring in any blockbusters - or seeing anyone that even vaguely resembles Angelina Jolie - anytime soon, following his arrest by federal authorities on Wednesday.
Alleged doppleganger Marco Antonio Guzmán, an ex-police officer, is accused of heading the armed wing of the Juárez cartel in northern Mexico known as La Linea.
Guzmán was captured Wednesday in the U.S. border state of Chihuahua along with two alleged accomplices. Guzmán is known by several aliases, including "El Brad Pitt."
"It's a name given to the man by his associates. I guess they think he looks like him," a spokeswoman for federal police said to Reuters.
A federal official who was not authorized to speak on the record told The Associated Press that Guzmán's nickname comes from a disguise he wore when he served as a lookout for the Juarez cartel: To go unnoticed, he tried to look like a tourist wearing his hair long, a baseball cap and a camera around his neck. According to the official, gang associates said Guzmán looked like Pitt in a scene from the American film "Spy Game" about CIA agents, in which the actor wore a similar outfit.
Guzmán was brought to the Mexican capital Thursday and paraded before the news media.
Police say Guzmán was involved in the car bombing of a Ciudad Juárez federal police station in July that killed a federal police officer and two civilians.
They also accuse him of being involved in drug-trafficking operations across Chihuahua. The state is one of the areas most affected by the drug war, with an estimated 3,000 people killed in 2010 alone.
No word on whether "El Brad Pitt" was inspired at all by the real Pitt's role in "The Mexican."
Based on reporting by the Associated Press.
Follow us on twitter.com/foxnewslatino
Like us at facebook.com/foxnewslatino