Merkel Wants Treaty Rewrite to Fix Euro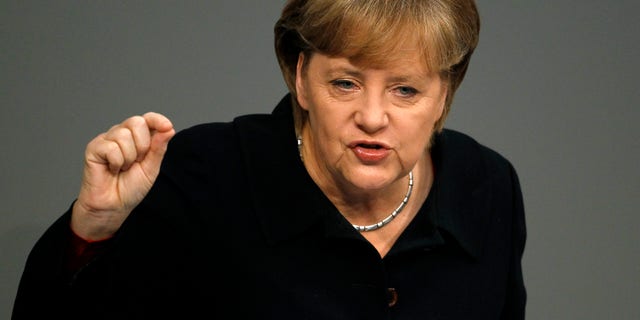 BERLIN -- German Chancellor Angela Merkel pushed forward Friday with what markets see as an emerging plan for more effective action to contain the European financial crisis, urging tougher rules against government overspending.
She said next week's European Union summit would take up ways to enforce compliance and write those changes into EU treaties -- a drawn-out process.
"The German government has made it clear that the European crisis will not be solved in one fell swoop," Merkel said. "It's a process, and this process will take years."
The push by Merkel on debt rules -- a day after French President Nicolas Sarkozy made the same case -- is being seen as one half of a fresh approach by European leaders to finally get a grip on the crisis more than two years after it started in Greece.
The other half could be more short-term help for other heavily indebted governments from the European Central Bank. Bank President Mario Draghi on Thursday appeared to dangle an offer of new, extraordinary measures if political leaders at the Dec. 9 summit can come together on the kinds of spending rules that Merkel and Sarkozy are advocating.
"Other elements might follow," Draghi said, fueling speculation that the bank could step up its so-far limited program to buy government bonds issued by struggling countries such as Italy and Spain. That helps keep their borrowing costs down.
Draghi stressed the bond buys "can only be limited." That has left analysts speculating he might have other forms of support in mind. Those could include extending more unlimited credit to banks having difficulty borrowing because of market fears they may suffer losses on the government bonds they hold.
Together, the different proposals and trade-offs appear to form the next take on Europe's effort to control the crisis: a statement of intent toward tougher central budget controls, followed by more ECB action and, in coming months, haggling out the details of how much sovereignty states are willing to cede. That in turn could be joined by some form of commonly guaranteed debt issuance -- if Germany gets enough of what it wants on strict budget rules to drop its objections.
The prospect of more ECB help has boosted markets, along with coordinated steps Wednesday by central banks to improve shaky commercial banks' ability to borrow U.S. dollars to fund their operations.
The yield on Italian 10-year bonds fell to 6.48 percent on Friday from over 7 percent the day before, and stocks rose in Asia, Europe and the United States. The Dow industrials were up 0.7 percent at 12,100.86.
Markets have repeatedly risen on anticipation of more aggressive action by governments -- only to fall when summits result only in statements of intent or proposals that lack detail.
Analyst at Credit Agricole said markets appear to expect a fiscal pact would be delivered that would allow the ECB to increase its bond purchases.
But they noted that "this is not the first time that great expectations are building ahead of EU summits."
Italy was readying new action ahead of the summit as well. New Prime Minister Mario Monti has pledged to unveil new austerity measures and structural reforms at a Cabinet meeting on Monday.
Rising borrowing costs fed by fears of default led to Greece, Ireland and Portugal seeking bailout loans from other eurozone governments and the International Monetary Fund. Similar fears are afflicting Italy and Spain, which are too large to bail out. That's inflaming worries of a globally contagious financial crisis that could push the U.S. and other major economies back into recession.
Though France and Germany haven't publicly spelled out specifics, the broad outline would be for national budgets to undergo close monitoring, and for countries to face legal action if they break borrowing limits.
When it was launched in 1999, the euro came with a set of rules limiting debt to 60 percent of gross domestic output and deficits to 3 percent of GDP. But they were never seriously enforced and have been broken 60 times over the past decades by a number of countries, including Germany.
Joerg Kraemer, chief economist at Commerzbank, said countries would not agree to direct intervention in their budgets or to be ordered around regarding whether to reduce spending or raise taxes. He said anything more than a binding ceiling on debt was "not realistic."
The summit was unlikely to bring a breakthrough toward centralized control of government finances, but could take the initial steps in that direction.
To toughen enforcement, Germany is pushing for the right to take countries in violation before the European Court of Justice. Significantly, Merkel said at a later news conference with Austrian Chancellor Werner Faymann that the new rules would do no more than enforce what is already in the EU treaty -- and therefore would not require referendums to take effect.
Merkel and Sarkozy are to meet Monday to talk about their joint strategy ahead of next week's EU summit.
On Thursday, Sarkozy said that without some new "convergence" among European countries, the continent's crushing debts could destroy the euro.
Merkel reiterated her objection to so-called eurobonds guaranteed jointly by all EU nations. German has objected on grounds the idea would lessen incentives for fiscal discipline, since profligate countries could still borrow by relying on the good credit of ones with solid finances.
Still, eurobonds are favored by a number of other governments and some observers think Germany realizes it may have to yield on that issue -- and so is pushing hard for tougher budget safeguards first.