Marines Rally For Armando Torres, Kidnapped Iraq Veteran In Mexico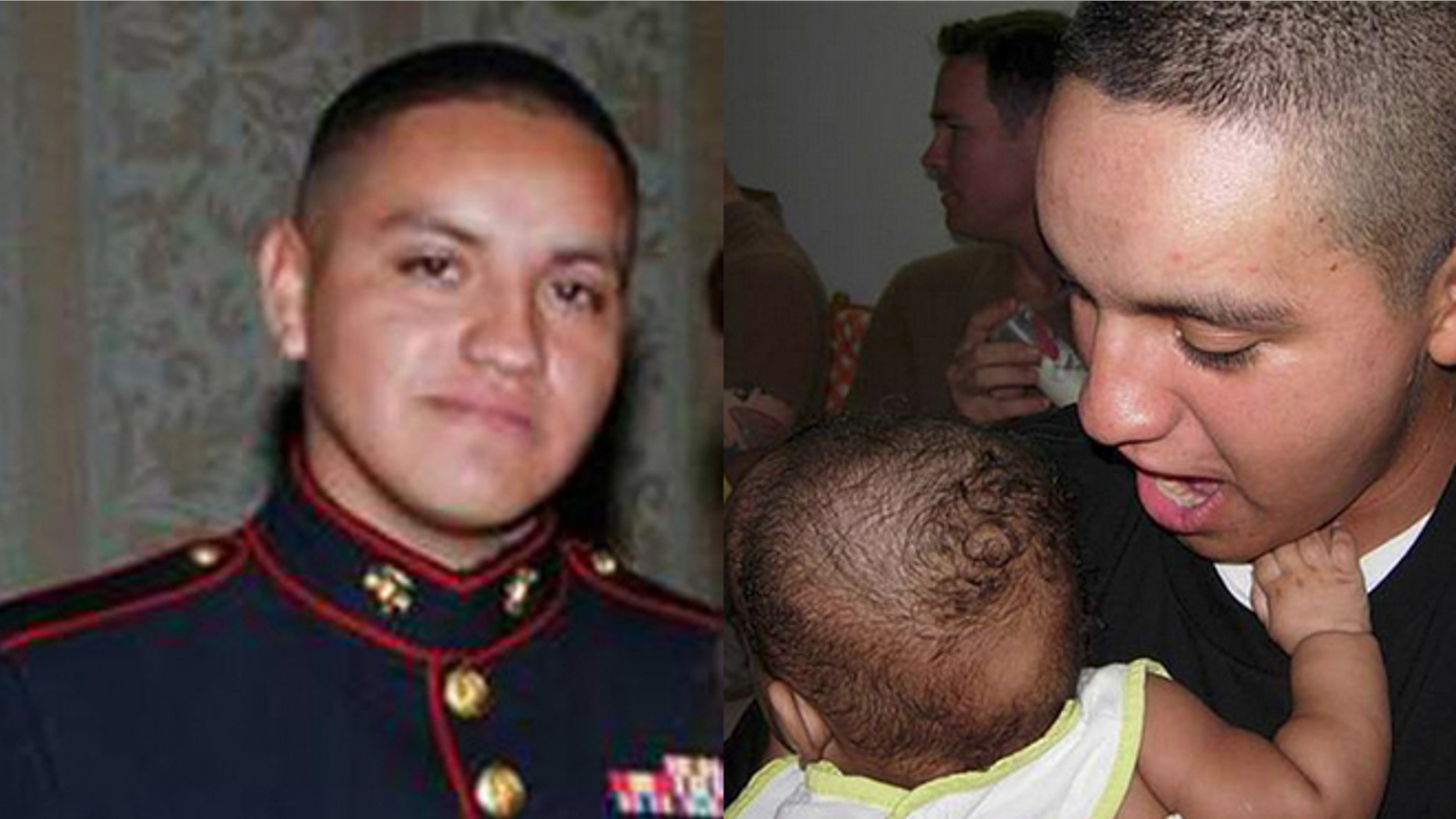 The Marines are mobilizing.
Marines and their families from across the United States are mounting political pressure and rallying for the release of fellow Marine reservist, Texan Armando Torres, who was kidnapped in a Mexican border city three weeks ago.
The FBI announced this week it was looking for information about the May 14th disappearance of the 25-year-old Iraq War veteran, who is from the border city of Hidalgo, Texas.
Torres' father and uncle also disappeared from the ranch in Mexico, not far from the U.S. border. All three were apparently ambushed by a group of men who forced them inside a truck and then took off.
Before Torres' kidnapping hit the mainstream media, the Torres family reached out to fellow Marines through a Facebook group called "Get Our Brother Back."
For the past three weeks, Marines who had served with Torres have written numerous emails to lawmakers, started a White House petition and have contacted dozens of media outlets in an effort to get their "brother" back.
"I read a lot of the posts to my mother," Armando's sister, Cristina Torres, 24, told Fox News Latino. "Just seeing the support from military families, it's just giving my mom more hope."
Posts on the group have ranged from prayers to people promising to contact their local lawmakers for help. It also has become a sounding board for Marines all over the country hoping for Torres' safe return.
"I'm a Marine, and what do I need to do to help the situation?" Darren Pelton posted.
"I live in a military town...we are a military family...I will spread the word," Michele Reckel wrote.
Rhett Summerlot, 27, started the Facebook group, which by Tuesday already had 5,000 followers. Summerlot served with Torres in Iraq in 2009 and described him as someone who always has a smile on his face.
"We are a brotherhood, and this could have happened to somebody in a different union in another state, somebody would have done something like this to start the process to get him home,"  said Summerlot, who has sent out more than 100 emails and made dozens of phone calls to get the word out.
Former New Mexico Gov Bill Richardson and Texas Congressman Ruben Hinojosa, a Democrat, have responded to emails and have pledged their help.
"I think they messed with the wrong people," Melissa Estrada, the mother of Armando's two sons, said of the Marine brotherhood. "It's such a beautiful thing, the bond is so strong."
Olivia Hammar, the mother of Jon Hammar, a Marine held in a Mexican jail for four months last year on bogus gun charges, knows exactly how Armando's mother feels.
"This is personal for me," Hammar wrote to Fox News Latino. "I can actually say that I empathize with Armando's mother, as opposed to just sympathizing with her. I get what she must be feeling and it absolutely breaks my heart. I would not wish that kind of fear on anyone."
Hammar has been constantly reaching out to national media outlets and has written to lawmakers as well. She said the support from the Marines family is what gave her strength through her family's darkest time. She hopes the political push will put enough pressure action again for leaders in both countries to get Torres released just like her son was set free last year.
"They do not call themselves a band of brothers for nothing," Hammar said. "I honestly believe that if Jonny had not been released when he was, there would have been an international incident."
The FBI announced Monday it's looking for information about the May 14 disappearance of 25-year-old Iraq War veteran Armando Torres of Hargill, Texas. He, his father, Armando Torres II, and uncle Salvador Torres were taken from the ranch in Mexico, not far from the border.
Patricia Torres, the reservist's aunt, said Tuesday that her father-in-law — Armando Torres Sr. — had sold a piece of his ranch in La Barranca, Tamaulipas, to a neighbor. When that neighbor stopped making payments on the land, Salvador Torres took it back.
"That's when everything started," Patricia Torres said from the porch of her nephew's trailer home. "That's when they said they were going to have revenge and that they were going to regret it. After a month passed by, this happened."
In addition to the criminal investigation by Mexican officials, the FBI has opened a concurrent international kidnapping investigation.
Armando Torres' sister Cristina Torres chatted online with her brother the day before he disappeared. She said he told her he wanted to move to Virginia where she and their mother live.
"I think maybe he just wanted, you know, to go and have a farewell and tell my dad he's coming over here," said Cristina Torres, 24, of Harrisonburg, Va. He hadn't traveled to Mexico in years, because, as a Marine, he was not allowed to cross the border, she said.
Patricia Torres said a woman picked him up on May 14; she thinks the woman was his ride to the international bridge at Progreso, Texas.
Between 8 and 9 p.m. on May 14, Cristina Torres received a call from her cousin in Mexico who was at another home on the property, in a small settlement near the end of the international bridge at Los Indios.
"Ten or 20 minutes after they got kidnapped, my cousin called me," she said. "She said that she saw a white truck just pull in and a couple men just got out of the truck and went inside the house and ambushed them and took them out and put them in the truck.
"She said that they were arguing back and forth until they got in the truck and they left."
The cousin also told Torres her father's home was robbed and all three men's vehicles were stolen.
Late that night, another uncle filed a report with the Hidalgo County Sheriff's Office. The report said that Armando Torres had left for Mexico around 6 p.m. that evening. The uncle said he had tried calling his nephew's cell phone, but it went straight to voicemail.
"This is because of the property," Patricia Torres said. "But the persons that had the property were involved, I believe, with the cartel because they were the ones that picked them up."
Stories abound of the drug cartels forcefully taking ranches to facilitate their drug trafficking, and properties near the border are especially attractive. The segment of border where the ranch is located is an important drug trafficking corridor for the Gulf cartel.
Armando Torres served with the U.S. Marines in Africa and Iraq, Cristina Torres said. He had been diagnosed with post-traumatic stress disorder and had struggled with anxiety and anger management, she said, but had gotten it under control with medication and treatment through the Department of Veterans Affairs.
Patricia Torres said the reservist had most recently been working for an energy services company. He has two sons, but is separated from his wife, Melissa Estrada.
Estrada said her husband had texted her the day he went to Mexico to say he was going out of town. He normally takes their sons for three or four days at time because they want to see him and she works and goes to school full-time.
He's a big help with his sons and had recently come out of a "funk" he had been in, she said. She was encouraging him to move to Virginia where he'd have more opportunities.
"There's no bad news, so that's still good," she said.
The Associated Press contributed to this article.
Follow us on twitter.com/foxnewslatino
Like us at facebook.com/foxnewslatino