Manchester terror attack suspect identified as Salman Abedi
British authorities on Tuesday identified the suicide bomber who launched a deadly attack at a Manchester Ariana Grande concert, hours after the Islamic State terror group claimed responsibility for the blast.
Salman Abedi, 22, was identified as the man who detonated an improvised explosive device at about 10:30 p.m. local time Monday, killing more than 20 people, some of them children, and injuring dozens more, Manchester police confirmed in a news conference on Tuesday. At least 12 children under the age of 16 were injured, emergency responders said. An 8-year-old girl was among the dead.
A European security official told the Associated Press that Abedi was British. No additional details about Abedi were immediately available.
TIMELINE OF RECENT TERROR ATTACKS AGAINST THE WEST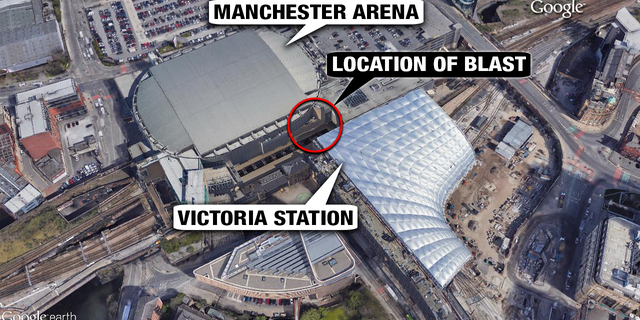 It was previously reported that Abedi was 23, but police clarified that another 23-year-old man was arrested. Two warrants have been issued at two separate residences. Officers used a police-controlled explosive device to gain entry into one home.
ISIS claimed on Tuesday that "a soldier of the caliphate planted bombs in the middle of Crusaders gatherings" then detonated them, but Director of National Intelligence Dan Coats said that the U.S. had not yet verified that the terror group was responsible.
The explosion unfolded outside Manchester Arena as Grande's concert was coming to a close. The pop star, who wasn't injured, reportedly suspended her Dangerous Woman Tour following the attack. She wrote on Twitter, "broken. from the bottom of my heart, I am so so sorry. I don't have words."
Officials believe the device was packed with shrapnel, built to inflict as much human damage as possible, according to U.S. law enforcement sources. Manchester police said one of their priorities is to investigate whether the attacker acted alone or had some kind of support.
Politicians both at home and abroad condemned the attack. British Prime Minister Theresa May called the attack "appalling, sickening cowardice."
MANCHESTER ARENA WAS PACKED WITH ARIANA GRANDE'S YOUNG FANS
"We struggle to comprehend the warped and twisted mind that sees a room packed with young children not as a scene to cherish but as an opportunity for carnage," she said.
President Donald Trump slammed those responsible for the attack as "losers."
"I won't call them 'monsters' because they would like that term… I will call them, from now on, 'losers' because that's what they are, they're losers."
Fox News' Jake Gibson and The Associated Press contributed to this report.