No Trump meeting this trip, but Putin's stage-managing always a factor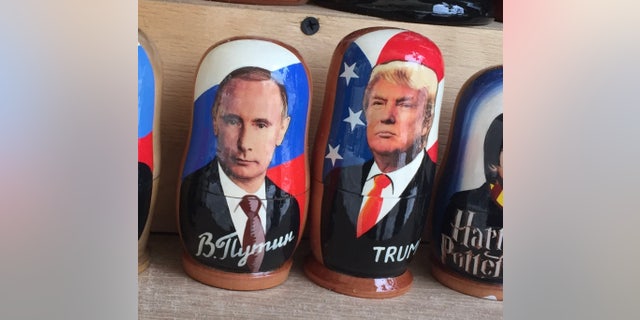 After much back-and-forth, U.S. and Russian officials this week said presidents Donald Trump and Vladimir Putin will meet not in Paris this weekend during Armistice Day celebrations, but at a G-20 summit later this month.
That would be followed by a Putin visit to Washington visit in early 2019, presuming he accepts the invitation announced recently by National Security Advisor John Bolton.
Now, the question for many is what version of Vladimir Putin will Trump and the U.S. see at these meetings?
The Russian leader has projected a long, varied list of public images: Accomplished statesman. Harley-Davidson rider. Shirtless cowboy. Artful piano impressario. One of the world's richest men. Former spy master. Gun-toting fisherman. Black belt in Judo. Accomplished hockey player. Twice voted the world's most powerful man by Forbes magazine.
Then there are the not-so-positive images: Controller of a dastardly spy service that kills off dissidents. Accused disrupter of the 2016 Presidential elections. Consistently late to high-profile meetings. Kleptocrat and oligarch.
Opinions of him abound, but on this much there's agreement: The 66-year-old Russian president is a man of many faces, mysteries - and myths.
"Putin scuba dives in three feet of water only to discover ancient buried amphora, or wrestles a rare tiger, or leading 'bird migration' from a biplane," said Natalia Arno, president of the Free Russia Foundation, a non-profit, U.S.-based diaspora organization. "But the younger generation is seeing through this. Putin is losing popularity among Russian youth who sees his shirtless wrestler stunt as a joke."
Other experts disagree.
"Russians trust Putin. This surprises most Americans – no one in Russia sees him as "a fool." He is not mercurial, nor is he confused. He says what he means," asserted Geoff Hellman, Chairman & CEO of the Economic Policy Forum. "He is highly respected within his own country."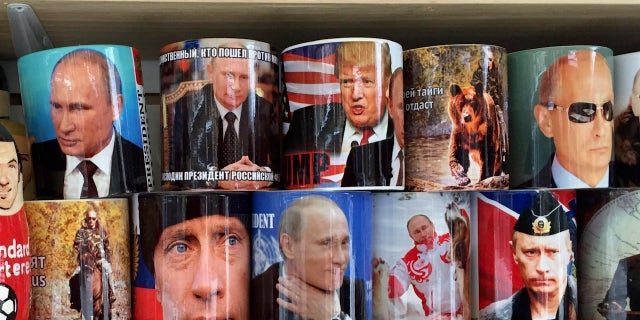 So just who is the man at the heart of so many headlines, questions, conspiracies, and crises?
Born on Oct. 7, 1952, in Leningrad (now St. Petersburg) to a factory foreman mother and Soviet sailor father, the staunchly Orthodox Christian Putin studied law at Leningrad State University before serving 15 years as a foreign intelligence officer for the KGB, otherwise known as the Committee for State Security. He climbed to the rank of lieutenant colonel before retiring in 1990, just before the fall of the Soviet Union.
"As a former KGB agent, Putin sees the world through a prism of threats," Arno contended. "He prioritizes intelligence and military means over other instruments of foreign policy."
By 1994, he had ascended to become the first deputy mayor of St. Petersburg – Russia's second largest city – before moving to Moscow in 1996, where he joined the presidential staff as deputy to the Kremlin's chief administrator, Pavel Bordodin.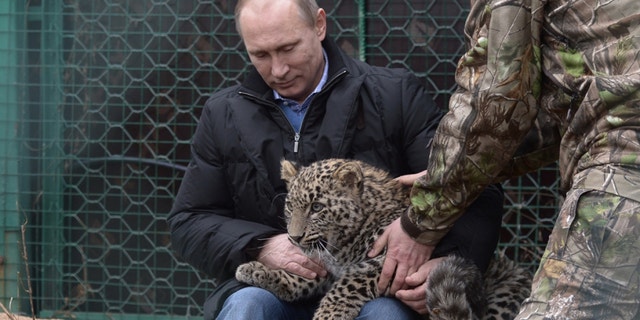 Two years later, then-President Boris Yeltsin appointed Putin as director of the KGB's internal replacement – the Federal Security Service (FSB) – and the following year delegated him as his prime minister. On December 1991, Yeltsin suddenly pronounced he was stepping down, after fatiguing the Russian public with his unstable conduct and apparent alcoholism – making the seemingly cool, quietly confident and collected Putin his successor.
After chaperoning a growing economy in the aftermath of a protracted recession in the 1990s, he swept to re-election in 2004. Despite a constitutional provision that compelled him to instead take the role of prime minister after selecting Dmitry Medvedev as president, Putin effectively still ran the show. The two then traded positions again, with Putin returning to the presidency.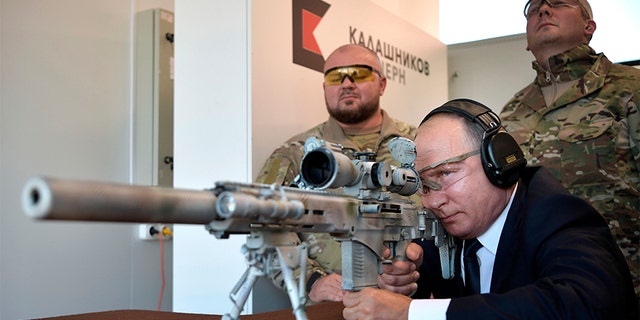 Putin has two daughters - Yekaterina, a 32-year-old acrobatic dancer, and Maryia, a 33-year-old biomedical scientist. Both are children of his ex-wife and former flight attendant, Lyudmila. The couple announced their divorce after 31 years of marriage during an interview – which many contend was staged – while leaving the ballet at the Grand Kremlin Palace.
Mysteries have consistently swirled over "other" alleged Putin children not publicly known. He has also long been romantically linked to retired Gold Medalist and former Olympic gymnast Alina Kabaeva, now 35, and a film star and politician herself.
CRIMEA UNDER RUSSIA: LOCALS FEAR MORE MAYHEM IF FORCED TO RETURN TO UKRAINE
IRANIAN WOMEN DEFY 'TERRORIST' LABEL, CONTINUE THEIR OPPOSITION TO REGIME
Putin earned the wrath of much of the international community in 2014, when Russian-backed troops methodically took control of Crimea, a Ukrainian autonomous republic that is mostly ethnic Russian. That ignited a firestorm, and a tough international sanctions. Important assets held by members of Putin's tight circle were seized.
But none of that seemed to dim his enthusiasm to project an oversized public persona.
"He is the embodiment of powerful Russia. Does sports, and likes to use rough language and project power. After a period of instability and economic downfall of the 90s, it makes sense that people allocate all the positive traits of current reality to Putin," said Roman Kiselyov-Augustus, a Moscow-based political scientist. "But I believe he has reached the point where he identifies himself with the state. His interests are the interests of the state, and vice versa."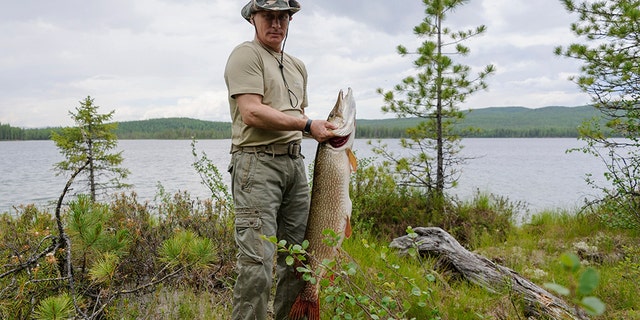 Many analysts contend that were it not for Putin's decision to intervene in the Syria Civil War in 2016 – backing the regime led by Bashar al-Assad – the government there would have fallen. Instead, the Assad regime has essentially defeated the rebels, and taken back most of the country - all while Russia's entanglement undermines efforts by Western governments to support the Syrian rebels.
But while Putin's Syrian intervention makes the headlines in the West, that's not so much the case with state-run media back in Russia.
"People don't care much about the war. The actual losses are hidden, and there isn't much to react on," noted Kiselyov-Augustus.
Putin in March won a fourth presidential term – after the most prominent opposition figure, Alexey Navalny, was banned from running. He was later imprisoned for attending an "unsanctioned protest" in Moscow, which he denied.
What this all means for the future of U.S.-Russia relations remains murky - even considering the expected forthcoming report by former FBI Director Robert Mueller's investigation on Russian meddling in the 2016 election. Putin has staunchly denied any Russian interference in the campaign, despite what is seen as overwhelming evidence to the contrary by U.S intelligence and law enforcement agencies.
Then there is the matter of nuclear arms control, more of an issue now since Trump pulled the United States out of the 1987 Intermediate-Range Nuclear Forces Treaty (INF). Trump made the move in response to allegations Russia is developing weapons systems that violate the treaty, which prohibits land-based cruise and ballistic missiles with an immediate range between 310 and 3410 miles.
While Trump has used the move as a rallying cry for the U.S. to upgrade its weapons systems, Putin, too, has set out to reform what he views as antiquated, conscript-based army in recent years. Russia now spends a higher portion of its GDP on defense than the United States.
"They have a lot of topics to discuss with regard to bilateral ties and regional issues – starting with treaty withdrawal and finishing with Iran, Syria and the JCPOA," said Alexey Khlebnikov, an expert at Moscow's Russian International Affairs Council, referring to the Iran Deal - which the U.S. exited earlier this year, while re-imposing sanctions on Iran. "Both are interested in striking certain deals which could be sold to the domestic audience as a victory and could improve ratings and public support. However, it seems hard to achieve."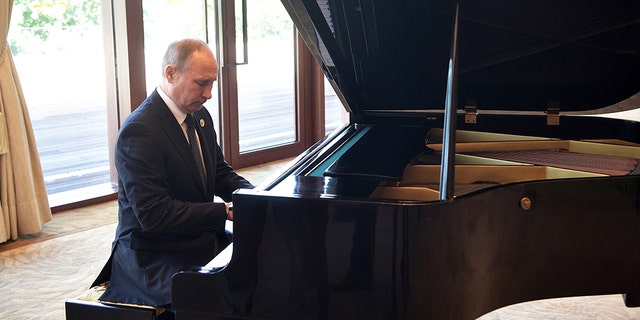 But what does Putin ultimately want from Trump?
"First and foremost, he wants to demonstrate through contact with Trump, both within Russia and outside Russia, that he plays an important role in the world politics," said Vitali Shkliarov, a Russia-U.S. political analyst. "He wants to be taken seriously.
"Secondly, Putin is sincerely convinced that the American system of governance is the same as the Russian. Therefore, if he comes to an agreement, with Trump he will come to an agreement with all of America."