Man murdered travel agent girlfriend with 'biggest knife I can find' for her affair with his ex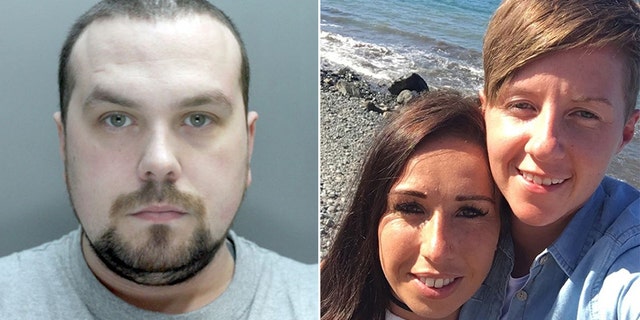 NEWYou can now listen to Fox News articles!
A British man dubbed the "most evil monster walking on this whole Earth" was sentenced Monday to at least 26 years in prison after pleading guilty to killing a woman for starting a relationship with his ex-girlfriend.
Andrew Burke had been convicted of cutting the throat of Cassie Hayes with a knife while she was working at her job as a travel agent in Southport on Jan. 13. She later died in a hospital.
"You perpetrated a cold-blooded execution in public for the purpose of revenge and in my judgment the killing was an act of unspeakable savagery," Judge David Aubrey of Liverpool Crown Court said Monday during sentencing, according to Sky News. "This was a cowardly act of revenge designed to kill and did kill a totally innocent person in broad daylight in front of, and witnessed by, so many."
Prosecutors said Burke's attack on Hayes, 28, was pre-meditated and was done in a "totally ruthless way."
It happened the day after the 31-year-old was convicted of harassing his ex-girlfriend, 29-year-old Laura Williams, who began dating Hayes after she split from Burke, a court heard.
A year earlier, Burke pleaded guilty to making threats to kill Hayes or himself, as be blamed Hayes for causing the breakup, prosecutors added. He was warned by police in May to stay away from her, according to The Guardian.
But a day before the murder, Burke reportedly called his sister and told her: "I'll turn left and go home, or turn right, go to Wilkinsons, buy the biggest knife I can find, go to Southport and slit Cassie's throat."
Then, on Jan. 13, he walked into the Tui Travel store and lunged at Hayes as she was helping a family.
"It was immediately apparent that there was blood flowing and that Cassie Hayes had had her throat cut," prosecutor Gordon Cole said during court proceedings, adding that Burke was heard saying that Hayes "had it coming for...what she had done to his family."
Burke allegedly told arriving police officers: "I was in court yesterday and I lost. It was either kill me or kill her, so I killed her."
During the trial, Hayes' mother Tracey said Burke should "rot in hell" for taking "the most precious gift I ever had in my life, my beautiful daughter, my baby, in the most horrific way ever."
"You are the most evil, evil monster walking on this whole earth," she said, according to Sky News. "You do not deserve to breathe fresh air."