Man arrested, heard shouting 'this is for Syria,' in stabbing attack in London tube station
A man was arrested Saturday after allegedly stabbing and seriously injuring one commuter and leaving two others with minor injuries while being heard shouting "this is for Syria" inside a London tube station, Sky News reported.
Police later said the attack, which occurred in the Leytonstone tube station in East London, was being investigated as a "terrorist incident".
A Twitter user posted video (graphic content warning) obtained by The Evening Standard of the immediate aftermath of the attack, which shows a pool of blood and the suspect being shot with a taser gun by police.
"Police were called at 7:06 p.m. GMT (2:06 p.m. Eastern)... the male suspect was reportedly threatening other people with a knife," a spokesman for Scotland Yard, London's regional police force, told Sky News. The spokesman said the suspect was taken into minutes later.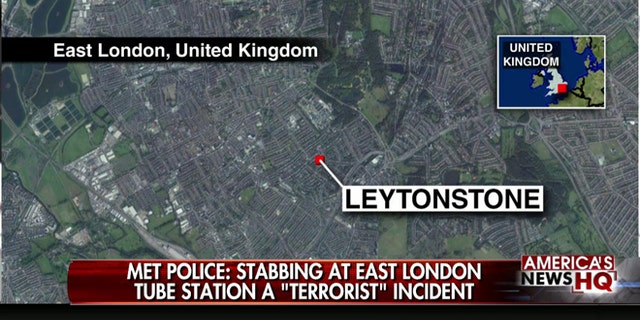 The commuter who was seriously injured was slashed in the throat area by a machete. Sky News reported that bystanders heard the man shout "this is for Syria" during the attack.
Two other people sustained minor injuries in the attack
The suspect reportedly began attacking exiting commuters in the Leytonstone station's main entrance area when the victim was stabbed in their neck.
"We are treating this as a terrorist incident. I would urge the public to remain calm, but alert and vigilant," Commander Richard Walton, leader of the Metropolitan Police's Counter Terrorism Command, said.
"The threat from terrorism remains at 'severe', which means a terrorist attack is highly likely," Walton said.
The stabbing comes only days after Britain's Parliament gave overwhelming approval to authorizing the military to conduct airstrikes on Islamic State group targets in Syria.
Prime Minister David Cameron's office, 10 Downing Street, said it was "monitoring the situation closely as further details emerge."
The London Underground's COO, Steve Griffiths, told the Evening Standard the station is being closed down while police investigate the attack.
Authorities are urging anyone with information or further video of the attack to contact authorities at (+44) 0800 789 321.
The Associated Press contributed to this report.