Magnitude 6.9 earthquake strikes off Fukushima in Japan, triggering tsunamis
A magnitude 6.9 earthquake struck off the coast of Fukushima in northeast Japan early Tuesday, sending residents fleeing to higher ground and prompting worries about the nuclear power plant destroyed by a tsumani five years ago.
Lines of cars were seen snaking away from the coast in the pre-dawn hours after authorities issued a tsunami warning and urged residents to seek higher ground immediately. The warning was lifted nearly four hours later.

The earthquake struck in the same region that was devastated by the 2011 tsumani, which killed some 18,000 people.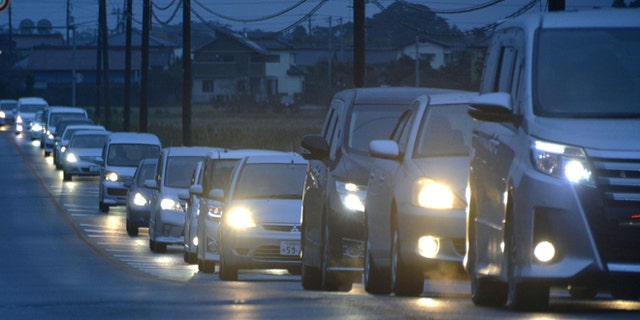 There were reports of minor injuries and damage, Japanese broadcaster NHK said. The earthquake shook buildings in Tokyo, 150 miles southwest of the epicenter.

NHK also showed one person's video of water rushing up a river or canal, but well within the height of the embankment. It was eerily reminiscent of the 2011 disaster, when much larger tsunamis rushed up rivers and overflowed, wiping away entire neighborhoods.
On Tuesday, tsunami waves were recorded along the coast. The highest one was 4.6 feet in Sendai Bay. A tsunami advisory for waves of up to 3 feet remained in effect along the coast.

The operator of the Fukushima Dai-ichi plant said there were no abnormalities observed at the plant, though a swelling of the tide of up to 3 feet was detected offshore.

The plant was swamped by the 2011 tsunami, sending three reactors into meltdown and leaking radiation into the surrounding area. The plant is being decommissioned but the situation remains serious as the utility figures out how to remove still-radioactive fuel rods and debris and what to do with the melted reactor cores.

Plant operator TEPCO said a pump that supplies cooling water to a spent fuel pool at the nearby Fukushima Dai-ni plant stopped working, but that a backup pump had been launched to restore cooling water to the pool. Both plants are run by Tokyo-based TEPCO.

Naohiro Masuda, head of TEPCO's decommissioning unit, said he believes that the pump was shut off automatically by a safety system as the water in the pool shook.

He said decommissioning work at the destroyed Dai-ichi plant had been temporarily suspended because of the earthquake.
Click for more from NHK World.
The Associated Press contributed to this report.