Maduro manages to almost completely sideline opposition-controlled congress in Venezuela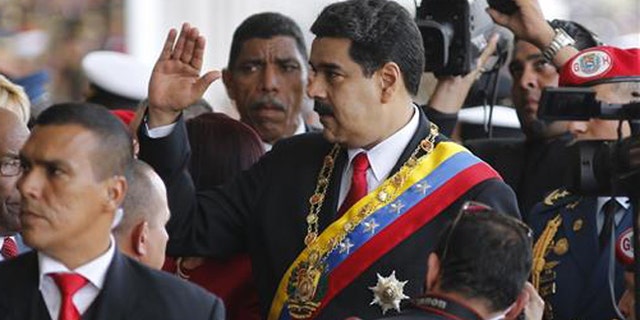 CARACAS, Venezuela (AP) – When Venezuela's opposition lawmakers took over the congress in January, they vowed it was the beginning of the end for President Nicolas Maduro.
But Maduro has since managed to almost completely sideline the legislature with the help of the Supreme Court, and now the ruling socialist party is talking about shutting congress down altogether.
"What has congress done these past six months? Wreak destruction. Prepare to say goodbye to history, because your time is coming," Maduro said in a televised address last week.
Dealing with a legislature filled with political opponents has been an irritation for the socialist Maduro, whose approval numbers languish in the low 20 percent range. Congress President Henry Ramos, meanwhile, enjoys 60 percent approval, making him the most popular politician in Venezuela.
Opinion polls say a majority of Venezuelans want Maduro out of office this year. The head of the Organization of American States accuses the country of acting autocratically and has moved to suspend it from the regional body. President Barack Obama joined several other world leaders last week in criticizing Maduro for stalling a voter recall referendum that could throw him out of power.
Maduro seems willing to take the risks of domestic anger and international condemnation that would be associated with closing congress, an idea that many Venezuelans have already called an attempted "self-coup."
Javier Corrales, who teaches Latin American politics at Amherst College in Massachusetts, said Maduro and other Venezuelan leaders might think they can afford the international backlash.
"Others might label them as anti-democratic," he said. "They simply respond by saying that they are at war against oligarchs who are blocking the people from governing, and that's the end of that."
Such a move would surely inflame Venezuelans already on edge after weeks of daily food riots that have led to deaths and hundreds of arrests.
The millions of Venezuelans who want the socialists out of power are growing frustrated. With the congress blocked from legislating and Maduro saying he will not allow a recall referendum to proceed this year, the opposition feels increasingly shut out of the political arena.
"This means that the main catalyst for regime change this year remains a social explosion," Risa Grais-Targow, an analyst at the Washington-based Eurasia Group, said, referring to the Maduro recall effort.
The Maduro administration controls Venezuela's courts, electoral officials, much of the national press and the police. But the congress still enjoys great public support, even though it's functionally weak.
"Congress has become not just a space for ideas to be aired, but also it has become a very popular political institution," Corrales said.
Opponents of Maduro's government took control of the legislature for the first time in 17 years in January after winning a landslide victory. They tore down the oversized portraits of late President Hugo Chavez hanging in the neoclassical capitol and distributed videos of them being carted away. For Venezuelans, that jubilant moment has come to feel like the 2003 toppling of Saddam Hussein's statue in Baghdad — a victory celebration that turned out to be premature.
Since then, the Supreme Court has issued at least 16 decisions chipping away at lawmakers' power. The court blocked the opposition's central pieces of legislation, including a bill that would have freed imprisoned opposition activists, and even more neutral-seeming bills, such as a proposal that would have given the elderly more access to food stamps.
Now, other leaders in the bloc of parties that supports Maduro say they are talking with the court about how to abolish the legislature.
"Congress is acting against the constitution, and should be dissolved; the mechanisms exist," said Didalco Bolivar, who heads a party in the socialist coalition.
As Venezuela saw a new round of supermarket looting Monday and hospitals around the country complained that patients were going hungry, congress started the week with one item on its agenda — a symbolic resolution celebrating the nation's Independence day.
On Tuesday, Maduro managed to make even that into a polarizing issue. He declined to attend the congressional independence day celebration. Instead, he held his own festivities. Lawmakers were not invited.