Madagascar candidates told to withdraw or face sanctions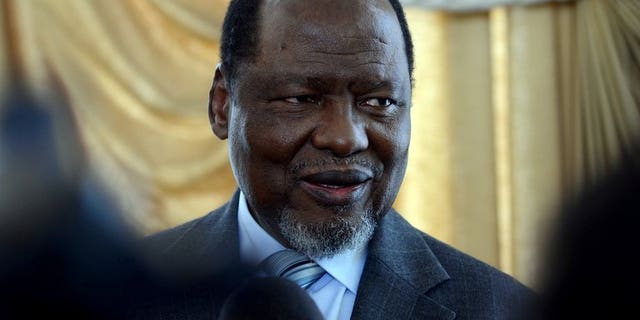 ANTANANARIVO , Madagascar (AFP) – A regional mediator in Madagascar's political crisis, ex-Mozambican leader Joaquim Chissano, on Saturday warned three controversial presidential candidates to withdraw from running in the vote or face sanctions.
"If we could have the answer by the end of the month, it would be very good," he told a press briefing after a five-day mission to the troubled Indian Ocean island.
The presidential election -- meant to end a four-year deadlock -- was postponed to August 23 after the trio's candidacies and funding problems derailed plans for a July vote.
They include the current ruler Andry Rajoelina, who seized power from then-president Marc Ravalomanana in 2009; Ravalomanana's wife Lalao who declared herself a candidate; and veteran leader Didier Ratsiraka, who was toppled by Ravalomanana.
Their candidacies have been internationally condemned and Chissano said the United Nations Security Council would be approached if they don't back down.
If the trio stand their ground, International Contact Group on Madagascar will "strictly enforce" sanctions, warned Chissano whom the Southern African Development Community tasked as mediator in 2009 after the crisis.
The group in late June said it would call on the international community for sanctions that would include a travel ban and asset freeze on the leaders, their families, allies and business partners.
Then the Security Council "will be called upon to adopt a resolution for sanctions and the penalties will be mandatory for everyone," he said.
The Indian Ocean island has been in political limbo since Rajoelina, a former disc jockey and ex-mayor of the capital Antananarivo, seized power in 2009.
He swore not to run but threw his hat in the race when the wife of his exiled rival Marc Ravalomanana declared her candidacy.
Both pose a legal problem, since he applied after the deadline and she had not lived on the island six months prior to the nominations, as the rules require.
Amid an internationally brokered roadmap aimed at steering the nation back to constitutional rule, Chissano told AFP that the change in attitude was "incomprehensible".
"We had agreements that have been applauded...and were thrown in the trash," he said.