Louis Farrakhan warns Trump war with Iran will 'end America as you know it'
Nation of Islam leader Louis Farrakhan, a notorious anti-Semite who recently compared Jewish people to termites and led a "Death to America" chant in Iran, continued his lifelong knack for repugnant remarks by warning President Trump on Thursday not to pull "the trigger of war in the Middle East at the insistence of Israel."
Farrakhan, 85, was in the Islamic Republic when he criticized the Trump administration for snapping back economic sanctions on Iran after the U.S. pulled out of a landmark nuclear deal signed during the Obama administration. He told journalists in Tehran he's "begging" Trump to be "very, very careful."
"The war will trigger another kind of war which will bring China, Russia, all of the nations into a war," Farrakhan said. "The war will end America as you know it."
But Farrakhan's encore was even more stunning, combining a disparagement of America with an exhortation to kill Jewish people in Israel.
Farrakhan told law school students at the University of Tehran that "America has never been a democracy," before he led a "Death to Israel" chant at the end of his talk, according to Iranian news agencies.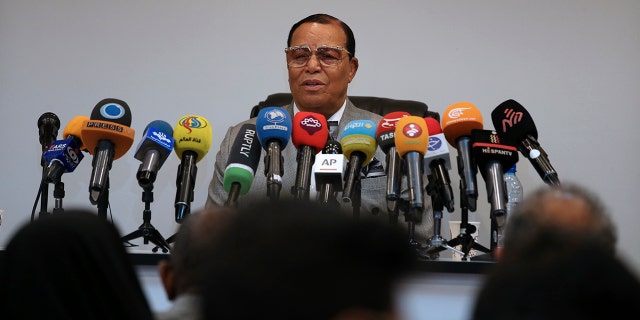 Farrakhan's trip coincided with the 39th anniversary of the 1979 seizure of the U.S. embassy in Tehran, when more than 50 American diplomats and civilians were held hostage for 444 days. The incident kicked off the Islamic Revolution, and Farrakhan told an Iranian audience that black Americans should be considered among the revolutionaries. The infamous activist cited the actions of Iran's Supreme Leader, Ayatollah Khomeini, who ordered the release of black Americans among the 1979 captives.
After the video surfaced online, Farrakhan said in a statement he "never led a chant calling for death to America."
"I asked a question about how to pronounce the chant in Farsi during my meeting with Iranian students and an examination of the video shows just that," he said.
When asked to repeat the chant on Thursday, he turned around the question to issue another warning to Trump.
"It is your policies that are eroding trust for you in the world, favor for you in the world, and now you are pulling apart, confused," he said. "If you do this, you will bring about — not the Iranian chant — you will bring about the death of the greatest nation that has been on this Earth in the last 6,000 years."
Fox News' Caleb Parke and the Associated Press contributed to this report.