Los Angeles County Sheriff, Plagued By Scandals, Announces Retirement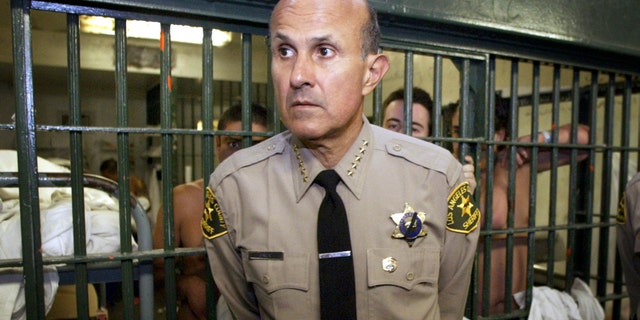 In a move that many around him said they did not expect, Los Angeles County Sheriff Lee Baca announced on Tuesday that he will retire at the end of this month.
Baca, whose department and jails have been under fire that includes indictments of his deputies for allegedly beating inmates and visitors and falsifying reports, was expected to run for a fifth term despite all the scandals.
The announcement came as the Sheriff's Department and its jails have been under increasing scrutiny.
In an emotional statement, Baca said the major reason for his decision was the "negative perception" the upcoming campaign would have on his department.
"I didn't want to have to enter a campaign that would be full of negative, contentious politicking," said Baca, 71, who has spent 48 years in the Sheriff's Department since becoming a deputy.
Last month, federal prosecutors indicted 18 current and former sheriff's deputies for alleged crimes that included beating inmates and jail visitors, falsifying reports, and trying to obstruct an FBI probe of the nation's largest jail system.
U.S. Attorney Andre Birotte Jr. said the indictments showed that "some members of the Sheriff's Department considered themselves to be above the law" and "demonstrated behavior that had become institutionalized."
Baca was born in East Los Angeles. His mother was brought illegally from Mexico when she was a child. Later, she worked as a seamstress.
"In those days, undocumented was different than it is today," Baca was quoted as saying in an interview with KPCC, a Southern California public radio station. "And so it wasn't difficult for her to become a citizen."
Baca recalled in the interview that his parents divorced, and that his mother came close to putting him up for adoption.
"She couldn't handle three kids at the same time, so I was put up for foster care," he said, according to KPCC. "Then my paternal grandmother stepped in and said 'No, I'll take him.'"
County Supervisor Don Knabe told the Associated Press that Baca informed him of his decision late Monday.
"I don't think anyone expected this," Knabe said. "We're all caught a bit off guard."
Because Baca is not serving out his term the five-member Board of Supervisors will be tasked with choosing an interim sheriff. Baca recommended Assistant Sheriff Terri McDonald.
Baca has acknowledged mistakes while strongly defending his department and distancing himself personally from allegations of misconduct.
The sheriff said he made improvements including creating a database to track inmate complaints. He has also hired a new head of custody and rearranged his command staff.
On Monday, Baca said he would accept the outcome of the FBI investigation but strongly denied criticisms that abuse was rampant.
The American Civil Liberties Union sued the Sheriff's Department in 2012 saying the sheriff and his top commanders had condoned violence against inmates. The organization released a report documenting more than 70 cases of misconduct by deputies.
A federal jury in October found Baca personally liable for $100,000 for failing to stop inmate abuse by deputies in Men's Central Jail in a case brought by a man who said he was severely beaten while awaiting trial.
The Sheriff's Department also faced recent scrutiny over hiring. The department announced it was reforming its hiring practices last month after it was disclosed that 80 deputies had criminal convictions, histories of misconduct or other problem backgrounds. It also gave preferential hiring treatment to friends and relatives of its employees under a special "Friends of the Sheriff" program that allowed top officials to lobby on behalf of applicants, the Los Angeles Times reported.
First elected in 1998 after his opponent, the incumbent Sherman Block, died days before the vote, Baca was re-elected to a fourth term in 2010 and has remained a popular figure for much of his time in office.
Less than a year ago he was picked as the Sheriff of the Year by the National Sheriff's Association, which cited his providing educational opportunities for inmates and his efforts to work with religious groups.
The group also noted the vast size of the Sheriff's Department and the relatively low crime rates in areas patrolled by deputies.
The Los Angeles County Sheriff's Department is the largest in the United States, with a staff of 18,000 and a budget of $2.5 billion. The agency provides law enforcement services to 42 incorporated cities, 140 unincorporated communities, 10 community colleges, and more than a million daily commuters of Metrolink and the Metropolitan Transportation Authority.
The department also manages the nation's largest local jail system, which can house nearly 20,000 prisoners.
The Associated Press contributed to this report.
Follow us on twitter.com/foxnewslatino
Like us at facebook.com/foxnewslatino