London shares lifted by Diageo as earnings pour in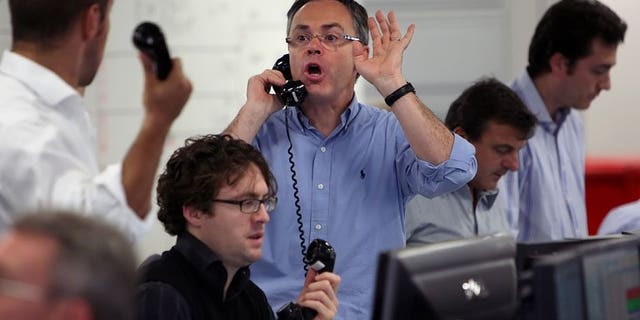 LONDON (AFP) – London shares closed higher on Thursday, lifted by strong results from Guinness maker Diageo as a flood of corporate results swept the market.
The benchmark FTSE 100 index gained 50.11 points or 0.76 percent to end the day at 6,621.06 points.
"Global markets continued to push forward today, but marginally, as key resistance levels impacted any substantial gains," said Shavaz Dhalla, a financial trader at Spreadex.
"Updates from Diageo and Tullow captivated investors??? confidence in the equity markets and research notes which showed that UK-listed companies??? earnings seem to be beating European companies??? earnings for this quarter also provide bulls with further ammunition. "
Diageo jumped 3.24 percent to 2,054 pence as the world's biggest producer of alcoholic drinks said its annual net profits rallied by almost a third, lifted by strength in the United States and emerging markets.
Earnings after taxation soared 28 percent to ??2.485 billion ($3.78 billion, 2.86 billion euros) in the 12 months to the end of June, compared with ??1.942 billion in the group's previous 2011/2012 financial year, Diageo said in a results statement.
The London-listed group, which also makes Johnnie Walker whisky and Smirnoff vodka, added that net sales grew five percent to ??11.43 billion.
Rival brewer SABMIller gained 2.58 percent to 3,220.50 pence, helped by Diageo's positive comments on the sector.
Tullow Oil rose 1.07 percent to 1,038 pence as the company boasted of production up 14 percent, revenue up 15 percent and cash flow up 16 percent.
Electricity distributor National Grid added 2.21 percent to 786.50 pence and Imperial Tobacco put on 1.80 percent to 2,206 pence.
Power company SSE dropped 3.85 percent to 1,575 pence, leading the decliners with miner Fresnillo shedding 1.81 percent to 1,029 pence.
Barclays closed down 1.17 percent to 287.9 pence as investors continued to sell after news of a vast ??12.8-billion hole in the British bank's balance sheet. Barclays has a market capitalisation of around ??35.48 billion.
Another volatile day is in prospect on Thursday with a another slew of corporate results expected, including oil behomoth Royal Dutch Shell, plus a meeting of the Bank of England's monetary Policy Committee to decide if it is time to wind down the stimulus programme.
On the currency markets, sterling weakened to $1.5185 at 5:37 pm from $1.5246 on Tuesday evening and dropped to 1.1426 euros from 1.1496 euros on the prior day.