Libyan Premier Says He's Ready to Talk to Rebels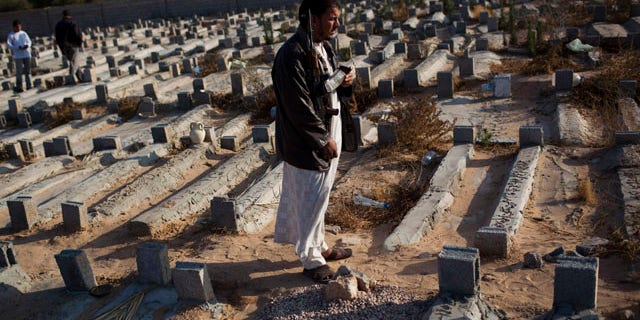 TRIPOLI, Libya – Libya's government pushed a cease-fire proposal Thursday and said for the first time it was prepared to speak with its rebel adversaries, signaling that months of fighting and NATO bombardment may be closer to forcing some concessions.
Even so, the government insisted Moammar Qaddafi would not relinquish power, which he has held for more than 40 years. His departure is a key demand of the United States, European leaders and the rebels, who say they will not consider halting more than three months of fighting until Gadhafi goes.
"The leader, Moammar Qaddafi, is in the heart of every Libyan. If he leaves, the entire Libyan people leave," said Prime Minister Al-Baghdadi al-Mahmoudi.
He told reporters in the Libyan capital Thursday that he was willing to hold talks with "all Libyans," including members of the rebel administration based in the eastern city of Benghazi.
Officials from Qaddafi's regime said before they would not speak to the rebel government, arguing that it did not represent Libyans.
Also Thursday, three rebel fighters were killed and 20 others wounded in clashes with government forces near the western city of Misrata, said Dr. Mustafa Taha from the city's central Hikma Hospital. It was unclear if any government soldiers died in the clash, about 14 miles west of the city, the only one under rebel control near Tripoli.
Late Thursday, at least five explosions were heard in Tripoli from NATO airstrikes. The targets were not immediately identified. Libyan gunners aimed anti-aircraft fire at the planes. Smoke was seen rising from the area of Qaddafi's compound, a frequent target of NATO airstrikes.
In London, a person with knowledge of the situation said Britain has agreed in principle to supply Apache attack helicopters to the NATO effort. The person insisted on anonymity because no announcement was made. France has agreed to supply attack helicopters, which could hit pinpoint targets more easily than planes but would also be vulnerable to ground fire.
Al-Mahmoudi did not outline the government's latest cease-fire proposal in detail, but emphasized that NATO must be a party to it, not just the rebels. He would not say whether the government would meet NATO's demands to return its military forces to their barracks.
"Libya is serious about a cease-fire. But that means a halt for all parties, in particular NATO," al-Mahmoudi said. "Any cease-fire needs its own special arrangements between technical and military people. Everything will be discussed once we have a cease-fire," al-Mahmoudi said.
The White House dismissed the proposal as not credible.
U.S. deputy national security adviser Ben Rhodes said such offers must be backed up by action.
He said the Libyan government is not complying with the U.N. resolution that authorized the international military operation to protect the Libyan people from forces loyal to Qaddafi.
He said the effort to drive Qaddafi from power would continue.
The U.N. resolution called for an immediate cease-fire. The Qaddafi government unilaterally announced several truces in the past but did not adhere to them. Libyan officials argue they cannot conduct a one-sided cease-fire and say all parties -- NATO and the rebels included -- must simultaneously halt their fire.
Al-Mahmoudi sent a letter to European governments seeking their backing for the latest proposal.
One of the nations that received it, Spain, responded by saying that it and the rest of the 27-nation European Union are insisting Qaddafi's government take certain steps first, a Spanish government spokesman said on Thursday. He did not elaborate and spoke on condition of anonymity in keeping with government rules.
Spain is one of the NATO allies taking part in the international air campaign in support of the rebels.
The British newspaper The Independent said Thursday it obtained a copy of al-Mahmoudi's letter and that it proposed an immediate cease-fire to be monitored by the United Nations and the African Union.
It also called for unconditional talks with the opposition, amnesty for both sides in the conflict and the drafting of a new constitution, according to the newspaper.
"We are prepared to speak to the social and popular leaders that represent Libya ... whether in the (rebel) council or a popular leader," al-Mahmoudi said at Thursday's news conference.
"We are ready to sit with all Libyans around one table. All Libyans feel that the time has come for discussions to deal all the developments."
Al-Mahmoudi said the NATO strikes would not make the government "kneel" and that there was no military solution.
Libya's rebel administration repeated its insistence that before any cease-fire can be considered, Qaddafi's regime must respond to demands in the U.N. resolution.
Besides a cease-fire, the resolution calls for an end to attacks on civilians, unimpeded access for humanitarian assistance and talks on a solution that responds to "the legitimate demands of the Libyan people."
Nevertheless, the rebels appeared to welcome the diplomatic movement.
The deputy leader of the rebel's National Transitional Council, Abdel-Hafidh Ghoga, said that "political processes are under way to negotiate ways for his (Qaddafi's) exit, so in our opinion it is a matter of time for this process to come to a critical conclusion."
Asked about missing American journalist Matthew VanDyke, the Libyan prime minister said he was not in the government's custody and he had no other information.
The 31-year-old freelance reporter from Baltimore last spoke with his family March 12, saying he was heading to the eastern oil town of Brega.
"All journalists that were in our custody and detention have been released," al-Mahmoudi said.
"There are no journalists detained or imprisoned in Libyan custody. If he is in another place --God knows -- but with us, we have no journalists."
Meanwhile, splits emerged within Libya's rebel movement over a timetable for a transition to democracy.
Ghoga announced on Wednesday that it could take up to two years to organize elections, backtracking on promises of a six-month transition to democracy and adding to the internal dissent that has been brewing.
Criticism of the rebels' civilian leadership has been growing in their stronghold city of Benghazi in the mostly rebel-held east of Libya. Deeper splits within the rebel movement could further hamper its drive to remove Qaddafi.
The announcement of a longer transition period fueled suspicions that some council members are intent on prolonging their power.
Ghoga said a one- to two-year transition period would be needed after the hoped-for ouster of Qaddafi. In that time, he said, the opposition would form a transitional legislative body tasked with writing a constitution, hold a referendum on the charter, form political parties and then hold elections.