Libyan aid ship docks in Egyptian port after Israel stops it from reaching blockaded Gaza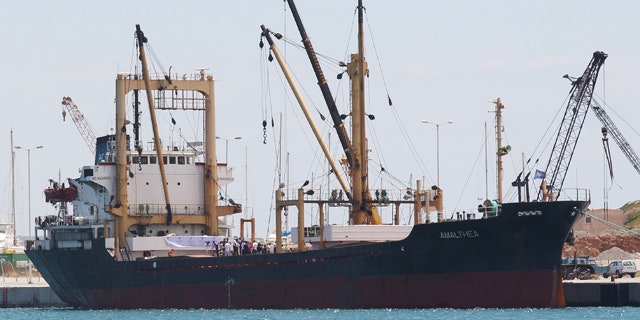 NEWYou can now listen to Fox News articles!
EL-ARISH, Egypt – EL-ARISH, Egypt (AP) — A Libyan ship carrying aid for the impoverished Gaza Strip docked at an Egyptian port on Thursday after Israel's navy stopped it from reaching the blockaded Palestinian territory.
The director of the port of el-Arish, Gamal Abdel Maqsoud, said the diverted ship will unload its cargo and transfer it to the Red Crescent for delivery to Gaza by land across the Egyptian border.
A day earlier, Israeli missile ships stopped the aid vessel from reaching Hamas-ruled Gaza. Israel imposed the blockade after the Islamic militant and anti-Israel Hamas violently overran the territory in June 2007.
The standoff between Israel's navy and the crew of the aid vessel, the Amalthea, followed a botched Israeli raid on a similar Gaza-bound ship in May in which nine pro-Palestinian activists were killed.
The international criticism over that raid forced Israel to ease its land blockade of the territory but it has maintained the naval embargo, insisting it is vital to keep weapons out of Hamas' hands.
Restrictions remain on materials like cement and steel that Israel says could be used for military purposes. Critics of the blockade say it has failed to weaken Hamas while driving Gaza's 1.5 million people deeper into poverty.
The Gadhafi foundation, headed by the son of Libyan leader Moammar Gadhafi, said the aid ship left Greece on Saturday carrying 2,000 tons of food and medical supplies.