Lawmakers use tear gas to interrupt Kosovo parliament debate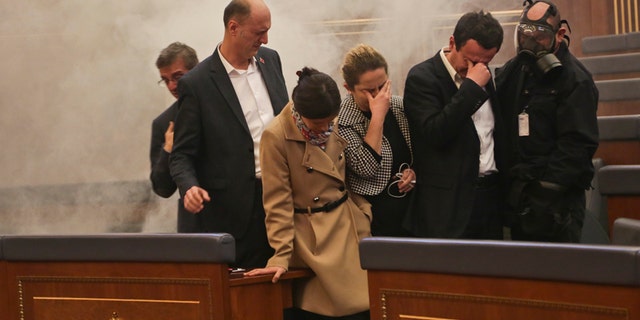 NEWYou can now listen to Fox News articles!
PRISTINA, Kosovo – A parliamentary debate on the election of a new Kosovo president was disrupted Friday when three tear gas canisters were opened on the opposition benches, prompting lawmakers to leave the chamber.
Six opposition lawmakers were suspended for disturbing the session and one of them who allegedly opened a tear gas canister was taken away by police in a minivan.
Lawmakers were debating on whether to anoint Hashim Thaci, foreign minister and a former guerrilla leader, as the country's next president.
Many leading figures within the opposition were partners of Thaci during the war, but later turned against him, accusing him of being power-hungry and corrupt. The critics also say Thaci, who led the fighters of Kosovo's successful separatist war against Serbia in 1998-99, is not a unifying individual, which is what the Kosovo constitution requires.
Still, Thaci believes he has the votes in the 120-seat Parliament. Kosovo declared independence in 2008, although that is rejected by Serbia. Rafet Rama, a lawmaker from Thaci's Democratic Party of Kosovo, is also running for the post.
Thaci needs to gain at least 80 votes in the first two voting sessions or 61 in the third. If he doesn't get the support, Parliament will be dissolved and new elections held within 45 days.
The prospect of a Thaci-presidency has prompted thousands to protest in the capital of Pristina, many hundreds of whom have been camping out in tents in Pristina's Skanderbeg Square, the city's main square.
Opposition Self-Determination Movement Party leader Visar Ymeri called on supporters to join the protest to oppose Thaci's election and "until they (the government) resigns."
Police have been trying to keep a small group of Thaci's supporters away from the main square. They came out despite Thaci's call to celebrate at home.
It's not the first time that Kosovo's Parliament has faced disruption.
Since last September, the chamber has been witness to attacks involving tear gas, pepper spray, whistles and water bottles as opposition forces reject a deal between Kosovo and Serbia giving more powers to ethnic Serbs in Kosovo. The opposition also rejects a border demarcation pact with Montenegro.
As president, Thaci would also deal with a special war crimes court created last year, which will have international judges and prosecutors to try ethnic Albanian guerrillas for the alleged killing of civilian detainees, mostly Serbs, immediately after the war ended in 1999.
Thaci was mentioned in a 2010 Council of Europe report which claimed that leaders of the now disbanded Kosovo Liberation Army were responsible for the deaths of hundreds of Serbs, Roma and ethnic Albanians suspected of collaborating with Serbs.
Thaci denies the claims.