Latinos to account for over 40% of increase in U.S. employment over next 5 years, study finds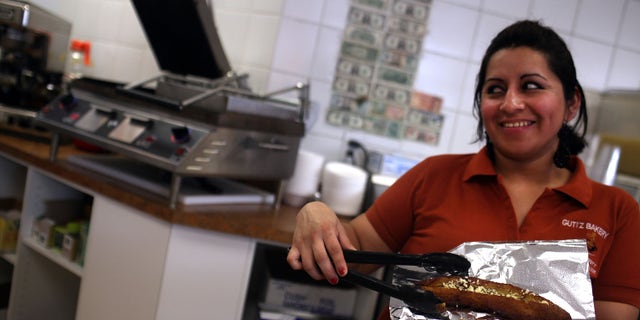 A new study released Tuesday indicates that Latinos will play an ever increasing role in the future of job growth in the United States.
Latinos will account for more than 40 percent of growth in the next five years and more than 75 percent between 2020 and 2034 – an increase of 11 million jobs out of an economy-wide gain of 14 million, according to an analysis done by the economic forecasting firm IHS Global Insight.
A number of reasons will account for the rise of Latinos in the workplace, but some major factors will be a Hispanic population growth average of 2.6 percent per year over the next 20 years paired with a growth of the non-Hispanic working age population slowing down to near zero, and new non-Hispanic entrants to the labor force barely offsetting retiring baby boomers.
"The Hispanic population is a younger and faster growing segment of the population, while trends in the non-Hispanic population are heavily influenced by the aging baby-boomer generation that is moving into retirement," James Gillula, IHS economist and the study's lead author, said in a press release.
The study does forecast that the Hispanic population growth will slow from its current pace given the back-and-forth debate over immigration currently playing out in Washington. The Department of Homeland Security could run out of funding by Friday if Republican lawmakers and President Barack Obama can't come to agreement.
GOP legislators have threatened to not fund the bill unless Obama withdraws executive actions he issued last fall that protect millions of undocumented immigrants from deportation.
The Obama administration has argued that immigration reform will do more than any other policy to grow the labor force and productivity. Immigrants, administration officials say, are also needed to help replace an aging and retiring workforce in the U.S.
U.S. Census Bureau assumptions about future Hispanic net international migration found that the number of foreign born Latinos will grow from 22 million in 2014 to over 29 million in 2034, and the foreign-born share of the Hispanic population will fall slowly over this period – from 39.7 percent to 34.8 percent.
"The Hispanic population will play an increasingly significant role in future U.S. employment growth," Gillula said.
Like us on Facebook
Follow us on Twitter & Instagram