Kim Jong Un sends North Korean slaves to Russia to earn cash for regime
Brutal North Korean dictator Kim Jong Un is shipping tens of thousands of impoverished citizens to Russia for the hard currency his cash-strapped regime desperately needs, Fox News has found.
Alarmed human rights groups say the North Korea workers in Russia are little more than slaves, subjected to everything from cruel and violent acts to ruthless exploitation at the hands of corrupt officials, while being forced to turn over large chunks of their pay to the North Korean government.
A report issued earlier this year by the Seoul-based Data Base Center for North Korean Human Rights estimates that about 50,000 North Korean laborers are working low-paying jobs in Russia. They send at least $120 million every year to the regime in Pyongyang.
"The North Korean government maintains strict controls over their workers' profits, in some cases probably taking 90 percent of their wages," Scott Synder, director of the Program on U.S.-Korea Policy at the Council of Foreign Relations, told Fox News. "This is an issue that has been going on under the radar for a long time."
International sanctions have crippled North Korea's economy. The country produces few goods suitable for export. Kim needs money any way he can get it.
North Koreans helped construct a new soccer stadium in St. Petersburg. They also helped build a luxury apartment complex in Moscow.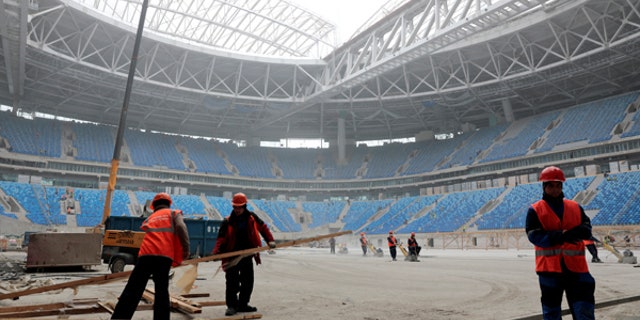 The North Korean workers toil under terribly harsh conditions. A North Korean working on the soccer project was killed. Two North Korean laborers were found dead in June at a decrepit hostel near the Moscow apartment building site.
For years North Korean laborers have worked at remote Russian logging camps, which has brought to mind the brutal Soviet-era Gulag system.
Even so many North Korean laborers are willing to pay bribes to be sent to Russia given the dire economic and political situation at home.
The U.S. State Department issued a report on human trafficking last month that concluded that North Korean workers in Russia had been subjected to "exploitative labor conditions characteristic of trafficking cases such as withholding of identity documents, non-payment for services rendered, physical abuse, lack of safety measures, or extremely poor living conditions."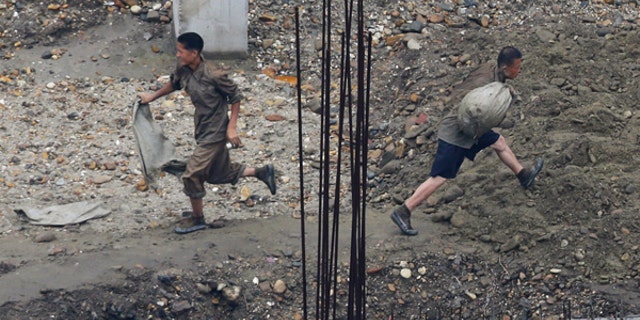 Secretary of State Rex Tillerson has proposed new sanctions to deal with the problem.
"Secretary Tillerson has called on all countries to fully implement all U.N. Security Council resolutions, sever or downgrade diplomatic relations, and isolate [North Korea] financially, including through new sanctions, severing trade relationships, expelling guest workers, and banning imports from North Korean," a State Department official told Fox News.
One reason for making such resolutions international is because North Korean laborers work in other countries besides Russia. China uses large numbers of them, and Qatar has North Korean laborers helping build its World Cup stadium.
Among the exploited North Korean workers are painters sent to the Pacific Ocean port of Vladivostok. Still, they have it little better than the North Koreans working in the Russian logging camps.
The boss of a decorating company in Vladivostok told the New York Times recently that minders from the Workers' Party of Korea, the ruling party in Pyongyang, will confiscate half or more of a laborer's monthly salary. He said a construction crew boss will take another 20 percent.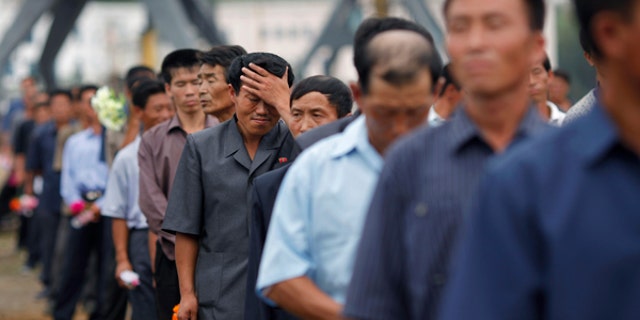 The corruption has apparently only increased in the last 10 years as the monthly pay rate for the laborers has increased from about 17,000 rubles, around $283, to 50,000 rubles, or about $841, according to the report.
"They don't take holidays. They eat, work and sleep and nothing else. And they don't sleep much," the Russian boss said. "They are basically in the situation of slaves."
He was reluctant to give the Times his name for fear the laborers would be punished by Workers' Party officials.
Experts question why the human trafficking of North Koreans to Russia hasn't drawn as much attention on the international stage as sex trafficking and other forms of human trafficking.
"It's very much analogous to any other type of trafficking situation across the world," Snyder said. "Sex trafficking is done by shadowy, illegal organizations, but here we're talking about state entities carrying out the trafficking. This really speaks to the nature of these regimes."