Kerry, Lavrov to meet on Syria next week: UN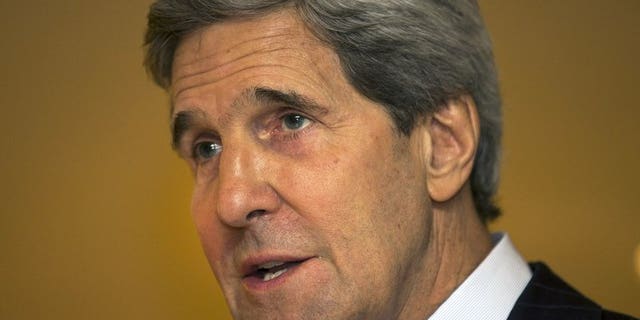 GENEVA (AFP) – US Secretary of State John Kerry and Russian Foreign Minister Sergei Lavrov will meet next week in Brunei to discuss how to move forward towards a new international peace conference for Syria, the UN and Russia said Tuesday.
"The meeting has been informed that Minister Lavrov and Secretary Kerry would be meeting next week," the UN said in a statement following talks in Geneva between senior US, Russian and UN diplomats aimed at paving the way for the Syria conference.
The UN did not provide more details about the meeting, but one of the participants in Geneva Tuesday, Russian Deputy Foreign Minister Gennady Gatilov, told reporters that Kerry and Lavrov would rub shoulders at the Association of Southeast Asian Nations (ASEAN) conference in Brunei.
"There the discussion will be continued on further steps towards convening a conference on Syria," he said.
The Geneva meeting was the second this month between UN peace envoy to Syria Lakhdar Brahimi and top US and Russian officials.
The high-level diplomats have been trying to iron out an increasing number of obstacles towards the so-called Geneva 2 conference, which is meant to follow up on an initial meeting in the Swiss city last year that produced a never-implemented transition plan for Syria.
The conference had initially been pencilled in for this month, then July, but ahead of Tuesday's meeting Brahimi acknowledged to reporters that even the later date now looked unlikely.
"Frankly, I doubt that the conference will take place in July," he said, lamenting the deteriorating situation on the ground, where there "is still relentless destruction, killing, more suffering, more injustice, and more uncertainty for the future of the Syrian people."
Tuesday's meeting again failed to set a date for Geneva 2 but the UN said nonetheless "the discussions were constructive, and focused on ways to ensure that the Geneva Conference on Syria can take place with the best chances of success."
It said it would convene another preparatory meeting in the Swiss city following the discussions between Kerry and Lavrov to nail down "the date of the conference and to complete the list of participants."
Gatilov said the parties had been able to agree on many issues Tuesday, but added that "there are still some questions that are subject to additional agreement."
The 27-month conflict in Syria, which according to the UN has already killed more than 93,000 people, is meanwhile spinning ever more out of control.
The United States has accused Damascus of using chemical weapons against the rebels, something it has warned could undermine the chances for a political settlement.
British Foreign Secretary William Hague said Monday a renewed government offensive against the opposition was harming any chance of holding the conference.
And Damascus stressed Monday that Syrian President Bashar al-Assad had no intention of stepping down at the proposed conference, with Foreign Minister Walid al-Muallem saying that "if your condition (for talks at Geneva) is President Assad's resignation, don't bother coming".
The fragmented opposition meanwhile has not agreed on whom to send to Geneva 2 and continues to insist that any solution to the increasingly sectarian conflict must involve Assad's departure.
Russia, the United Nations and the United States also disagree on the possible participation of Iran and Saudi Arabia.
Gatilov said deciding on outside participants was a major sticking point, pointing out that "we still have differences over whether, for example, Iran should take part in this conference."
Moscow, he said, felt Tehran's participation was "needed because Iran has played an important role as a regional country and can make a positive contribution to the settlement of the Syrian conflict."
Brahimi nonetheless remained positive, saying ahead of Tuesday's meeting that he believed the opposition groups would soon confirm they would attend, as Assad's regime had already done.
"No one expects that the meetings will be easy between the two parties, but I think that it would be a step forward if they meet, if they agree to talk," he said.