Journalists traveling to World Cup given manual on how to 'have a chance' with Russian women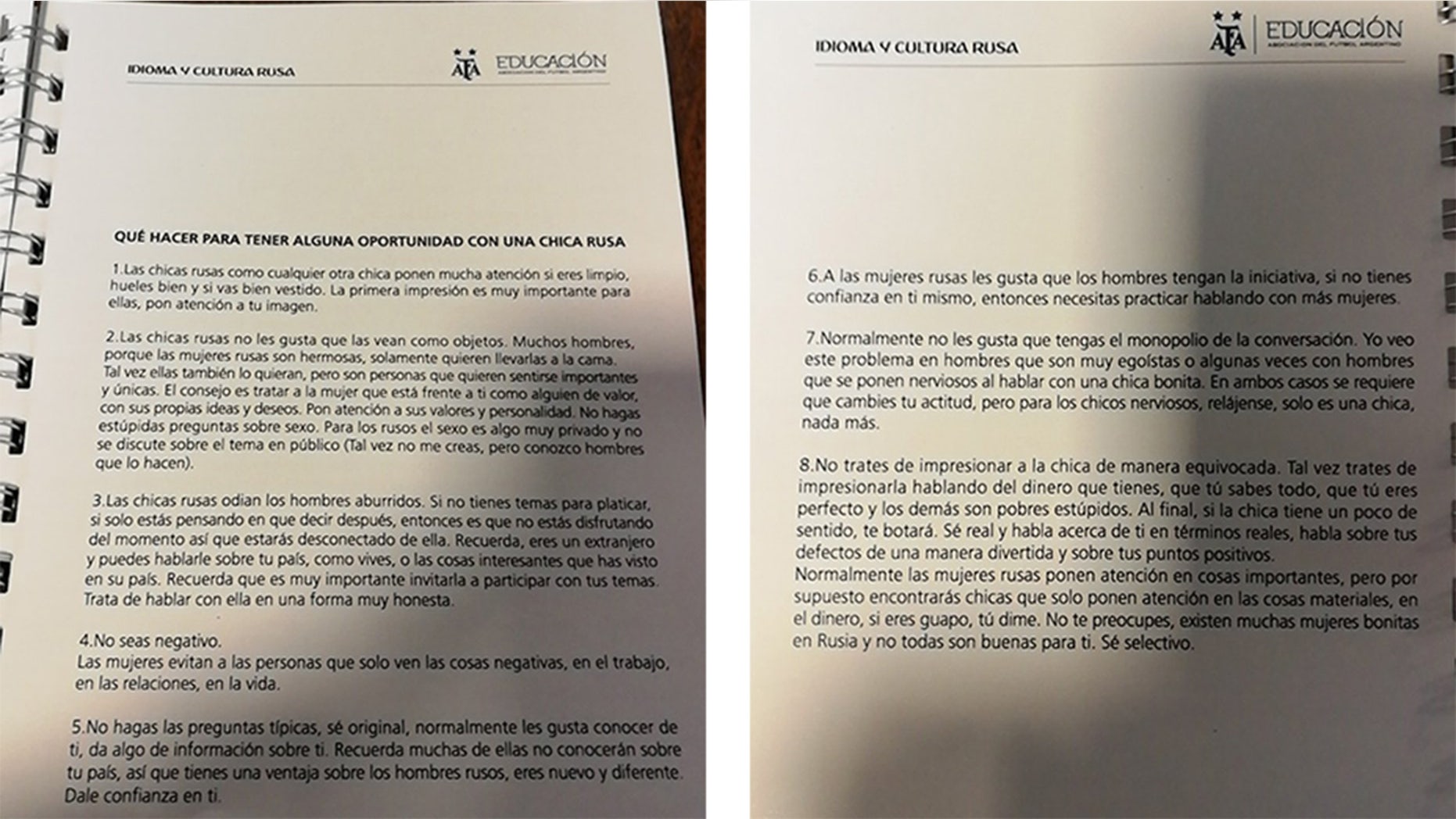 Sports journalists planning to travel to the upcoming soccer World Cup in Russia were surprised to receive a "flirting manual" that included a section on "how to have a chance with a Russian girl."
Journalist Nacho Catullo said on Twitter he was among the dozens of reporters and soccer officials who received the manual while attending a free course on Russian language and culture set up by the Argentine Football Association (AFA). It was there, he said, that they handed out the manual.
2018 FIFA WORLD CUP: WATCH LIVE MATCHES STREAMING ON FOX SPORTS FROM JUNE 14 TO JULY 15
"The syle manual from the AFA on the world cup is very modern," he wrote, sarcastically, in a post showing photos of the chapter on flirting.
The advice from the AFA was divided into eight sections that went straight to the point, telling journalists in the first section to "look clean, smell nice and dress well" in order to impress Russian "girls."
"The first impression is very important for them, pay attention to your image," the document said in Spanish.
WORLD CUP 2018 TEAMS TO WATCH, FROM GERMANY TO ICELAND
High up in the document, the manual urges men to treat women as "something of worth."
"Many men, because Russian women are beautiful, only want to take them home," it continued. "Maybe they also want that, but they are people that want to feel important and unique."
"Don't ask stupid question about sex. For Russians, sex is something very private and not discussed in public."
At the end, the manual said: "You will of course find girls that only pay attention to the material things, money, if you are attractive… Don't worry, there are many beautiful women in Russia and not all are good for you. Be selective."
Social media users expressed outrage and mocked the posts. Catullo posted the tweets while the course was still going on.
Alejandro Taraborelli, spokesman for the education department with the AFA, confirmed in a statement that the document was real and that once they were made of aware of the situation, they quickly "retrieved the material."
WORLD CUP 2018 TERMS TO KNOW, FROM 'SPOONS OF VICTORY' TO PANENKA
"The teacher selected the information to give out to the attendees and, unfortunately, by an involuntary error, at the time of printing a text that was never part of the training was included," said Taraborelli, adding that the subject does not reflect the beliefs held by the association.
The professor who gave the course, Eduardo Pennisi, told Argentinian newspaper Clarin that he sent the text to the AFA about a month ago, and it was approved and sent to print.
WORLD CUP MASCOTS THROUGH THE YEARS
"I didn't come from my house with the documents," he said, adding that he downloaded the document from the internet because he thought it was "interesting."
"Russian girls are very special, it's all explained well there," Pennisi, an attorney and Russian language professor, told Clarin. "The advice is very innocent, absolutely innocent."
Local media reported the AFA has removed the controversial chapter from a blog on the internet.
The FIFA World Cup is schedule to start on June 14.