Jon Perdue: Correa and Ecuador's Judicial System on Trial in El Universo Case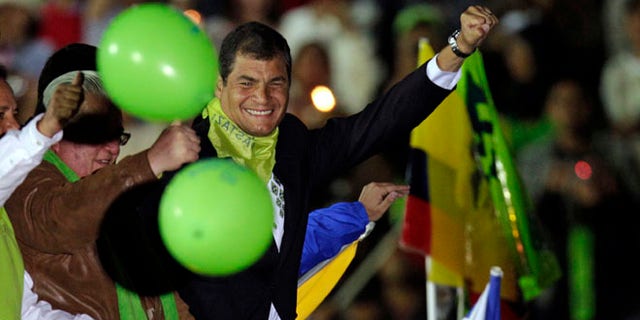 Democradura is a Spanish neologism that has come to define the incremental autocracies in Latin America that have learned to slowly concentrate power in the executive branch under the guise of democratic reform. The term is a portmanteau of the Spanish words for "democracy" and "dictatorship", and specifically defines those Latin American regimes that, having been elected democratically, set about undermining that democracy to increase their own power.
This step-by-step subversion of the rule of law has been led by Venezuelan president Hugo Chavez, and has been followed at varying speeds by Nicaragua, Bolivia and Ecuador, among others. It was also tried in Honduras by deposed president Manuel Zelaya, who demonstrated in 2009 what can happen when the process moves too rapidly. Zelaya was removed from office after trying to force an unconstitutional vote to remove his own presidential term limit.
Ecuador's president, Rafael Correa, has shown much greater prowess at this type of political stratagem. Since he was elected in 2006, Correa has been testing the acceptable limits of democradura by launching what the Committee to Protect Journalists called "a new era of widespread repression by filing debilitating defamation lawsuits in civil and criminal courts, pre-empting private news broadcasts, enacting restrictive legal measures, and smearing critics." An editorial in the Washington Post called it "the most comprehensive and ruthless assault on free media underway in the Western Hemisphere."
The Most Arresting Images of the Week
Correa frequently uses what are called cadenas - presidential addresses to the nation that have historically been used only during emergencies - to attack opposition politicians and to call individual journalists "ignorant" and "liars." These cadenas have become ubiquitous under Correa, including television and radio, and can last for hours. Moreover, they are required by law to be carried on all the public airwaves.
This specific provision allowed Correa to blackout all contrary information to his own story behind the events of September 30, 2010, which he promptly used to characterize what was a protest by police over proposed benefit cuts as an attempted coup - a precursor for a subsequent purge of any elements within police ranks perceived as disloyal to the president (See Col. Cesar Carrion).
Besides insulting individual journalists during these cadenas, Correa also uses this captive platform to make declarative statements about ongoing judicial cases - an action that would be considered prejudicial in any impartial justice system. And lest one think that this may be a case of a populist president being attacked by a corporatist media, consider that when Correa took office in 2007, the government of Ecuador owned one radio station. Under Correa's tenure, it has acquired four radio stations, five TV channels, four magazines and two newspapers.
Moreover, Ecuadorian libel law is not lopsided against politicians and public figures. Just last Wednesday, Correa managed to push through a law that states that the media "will refrain from direct or indirect promotion, either through reports, specials or any other form of messaging, which would indicate a preference for or against a particular candidate, political principle, opinion, preference, electoral or political platform." In other words, any coverage of Ecuadorian politics that the State deems as biased is now subject to prosecution.
Dwarf Village May Hold Clues to Cure Cancer
In the most emblematic case thus far, Correa sued editorial page editor Emilio Palacio and the owners of the newspaper El Universo for accusing him of ordering his military to fire on a police demonstration and for calling him "the dictator." In what could normally be considered prima facie evidence of the defendants' claims, Correa made a special trip to the courtroom on the day the verdict was to be read, while a throng of his loyal supporters hurled eggs and rocks at the defendants and their attorneys and families outside. Perhaps more telling was the fact that, while Correa made a prejudicial appearance in the courtroom, journalists were prohibited from attending.
Most observers wondered whether a president so inclined to sue his own constituents would show up at the trial if the verdict were not a fait accompli. The verdict, issued by the fifth judge to preside over the case, Judge Juan Paredes, included a fine of $40 million and three years in prison for Palacio and the three Perez brothers who serve as managers of the paper.
A U.S. expert hired by the defense team determined that the 156-page verdict, ostensibly written within a 24 hour window of time after the stand-in judge issued the verdict in the case, was actually written by Correa's personal lawyer, Gutemberg Vera. Vera has denied authoring the verdict, though subsequent hearings have continually refuted claims made by Paredes about how the document was produced in such a short period of time.
Congresswoman Betty Amores, who was a long-time member of Correa's political party, renounced her party membership last January to protest a referendum that gave Correa de facto control over the judiciary. In a recent trip to Washington with a group of Ecuadorian congressmen from five different political parties, Amores told U.S. government officials that she had once been a true believer in Correa's campaign promises to help Ecuador's poor, but stated that Correa had used the new constitution, that she helped to create, to remove the remaining checks on his power.
Women Presidents Rule Latin America
Amores referred to a televised conference in which Correa told a national audience, "Listen to me well. The President is not only the chief executive, but is the head of the entire Ecuadorian State, and the Ecuadorian State is the executive, legislative, judicial, electoral, transparency and social control, superintendent, attorney general, comptroller. All of that is part of the Ecuadorian State." Amores commented that when Correa was elected, a large majority of Ecuadorians were in favor of drafting a new constitution for the country, but added that, "Little did we know then, that we had created a monster."
A hearing has been set for this Tuesday for a final appeal of the El Universo verdict. The high court's decision in this case will signal to the rest of the world whether Correa has succeeded in taking de facto control of Ecuador's judiciary. It could also set precedent as the first case in which a president has successfully used the courts, under what could be considered dictatorial powers, to jail journalists for calling him a dictator.
Jon Perdue is the director of Latin America programs at the Fund for American Studies, and is the author of the forthcoming book The War of All the People (Potomac Books). Twitter: @jonperdue
Follow us on twitter.com/foxnewslatino
Like us at facebook.com/foxnewslatino