Jon Corzine's Son, 31, Commits Suicide In Mexico After Years Fighting Depression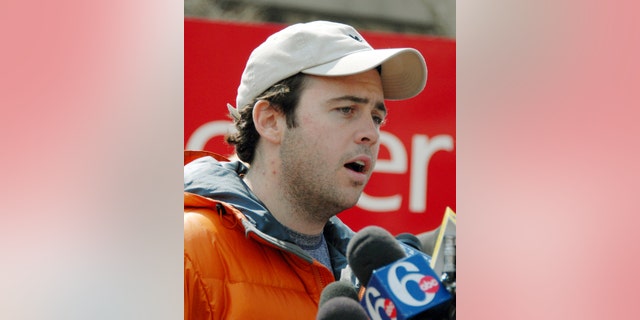 NEWARK, N.J. (AP) – Former New Jersey Gov. Jon Corzine's son has died. A family spokesman told The Star Ledgerthe 31-year-old took his life in Mexico, after years battling depression.
"The sad fact is that Jeffrey Corzine had been suffering from severe depression for several years and recently had been receiving treatment for what is a very painful and debilitating physical and mental ailment. On Tuesday morning, he succumbed to his disease and made the tragic decision to take his own life," spokesman Steven Goldberg said in a statement.
Corzine, who was the youngest son of the former governor, had also battled substance abuse and had spent time in a California treatment center during his father's term as governor of New Jersey. Through the spokesman, the family lauded Jeffrey Corzine's work with others who had similar struggles.
"Among many things, the Corzine family hopes Jeffrey will be remembered for his dedication to helping others overcome their struggles with depression and addiction, something to which he had been devoted for the past 10 years," Goldberg said.
Jeffrey Corzine had been living in California. Along with his work in helping others with substance abuse issues, Jeffrey Corzine was an aspiring photographer.
A former aide to the governor, who asked to remain anonymous out of respect for his former boss, said Jeffrey Corzine was among the kindest men he's met.
"Jeff was a thoughtful, kind soul," said the former aide. "He was the guy who always made a point of thanking the staff at Drumthwacket, struck up warm friendships with the troopers on his father's detail, knew all the front office staff by first name. He was loyal to his dad and had the strength of character to be around in some of the tougher times. He reflected all the best things about Jon Corzine – empathy, kindness, decency."
Condolences for the former governor and his family poured in from those who served with him during his stint as a U.S. Senator and in the New Jersey statehouse.
U.S Senator Bob Menendez, who was appointed by Corzine to fill the final year of his Senate term after he won the 2005 governor's race, said he knew the former governor to be a doting parent.
"It is with deep sadness that I express my heartfelt condolences to Governor Corzine, Joanne and the entire Corzine family on the sudden and tragic loss of Jeffrey," Menendez said in a statement. "The pain and sorrow one suffers losing a child is unthinkable. I have always known them to be devoted and doting parents. My thoughts and prayers are with them during this difficult time."
Through their spokesman Corzine and his family thanked his friends and colleagues for their support.
"The family is planning a small, private memorial service, and they ask that people respect their privacy during this difficult time as they mourn the loss of Jeffrey," Goldberg said.
Corzine spokesman Steven Goldberg says 31-year-old Jeffrey Corzine had suffered from severe depression for years and killed himself Tuesday. Goldberg says he'd been receiving treatment for a painful physical and mental ailment and "made the tragic decision to take his own life."
Goldberg says in a statement issued Thursday the former governor is "devastated."
Jeffrey Corzine was the youngest of the former politician's three children with ex-wife Joanne Corzine. He often joined his father during the 2005 gubernatorial race and was by his side following a near-fatal 2009 car accident.
Jon Corzine was a Wall Street CEO before becoming a Democratic U.S. senator and governor.
Republican Gov. Chris Christie has sent condolences on behalf of "all the people of New Jersey." Christie defeated Corzine in 2009.
Follow us on twitter.com/foxnewslatino
Like us at facebook.com/foxnewslatino