John Kerry Asks Pope Francis For Help In Obtaining Release Of American Held In Cuba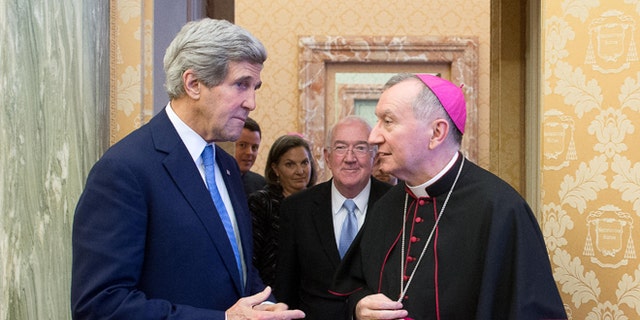 U.S. Secretary of State John Kerry urged the Vatican to help push for the release of an American contractor jailed in Cuba since 2009.
Kerry, who is the first Catholic Secretary of State in the U.S. in more than 30 years, made a stopover at the Holy See on a trip to hold talks with Pope Francis' top aide, Secretary of State Archbishop Pietro Parolin, before heading to Kuwait.
The main subjects of the talk focused in the Middle East and in ending the bloody Civil War in Syria ahead of a peace conference in Geneva later this month, but Kerry broached the subject of jailed American contractor Alan Gross out of "the need for respect for freedom of religion and freedom of, and respect for, human rights," he said.
"I raised the issue of Alan Gross and his captivity, and we hope very much that they might be able to be of assistance with respect to that issue," Kerry said, according to Reuters.
The Vatican has relatively good relations with the Cuban government, with former Pope Benedict and Pope John Paul II visiting the island during their time in the Papal office.
Gross, now 64, traveled to Cuba on behalf of a Maryland company that won a contract from the U.S. Agency for International Development to expand Internet access and the flow of information on the Communist-ruled island.
Cuban authorities arrested him in 2009 in possession of communications equipment.
Havana said he was illegally aiding dissidents and inciting subversion and in an August 2012 ruling, Cuba's highest court upheld the 15-year jail sentence imposed on the American.
Cuba has hinted that it would release Gross in exchange for the return of the four members of the "Cuban Five" intelligence agents who remain jailed in the United States.
Washington has dismissed talk of a possible swap, demanding that Cuba release Gross unconditionally
After his meeting, Kerry – the first Catholic U.S. Secretary of State since Edmund Muskie held the post in the early 1980s, called the visit the Vatican very moving.
"On a personal level, it was a thrill for me ... as an altar boy, as a young kid, I would never have imagined that I would have been crossing the threshold of the Vatican to meet, as Secretary of State, with the Secretary of State of the Holy See," he said.
EFE news agency contributed to this report.
Follow us on twitter.com/foxnewslatino
Like us at facebook.com/foxnewslatino