Jerusalem violence leaves three dead, close to 400 injured
JERUSALEM – Israeli police fired tear gas and stun grenades during clashes with Palestinian protesters on Friday.
Three Palestinians were killed in the violence, and close to 400 others injured. Israel said five police officers were injured.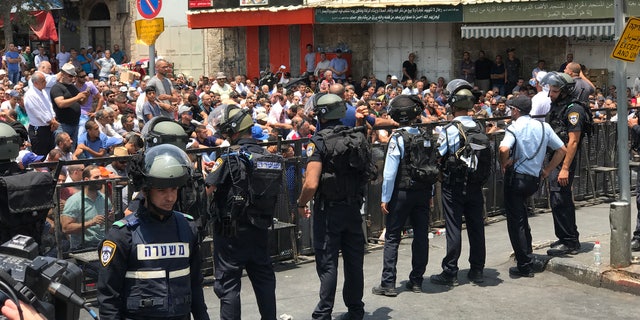 The anger is over Israel's decision to leave metal detectors at the entrances to the Temple Mount/Al-Aqsa Mosque compound in Jerusalem's Old City – a security measure taken after last week's deadly attack there.
ABBAS ASKS FOR US TO INTERVENE IN HOLY SHRINE TENSION IN JERUSALEM
"We do not accept any restrictions on the door of the Al-Aqsa Mosque," said Muhammad Ahmad Hussein, Jerusalem's Grand Mufti. "Therefore all the Palestinian people reject these gates and refuse to accept or enter through them."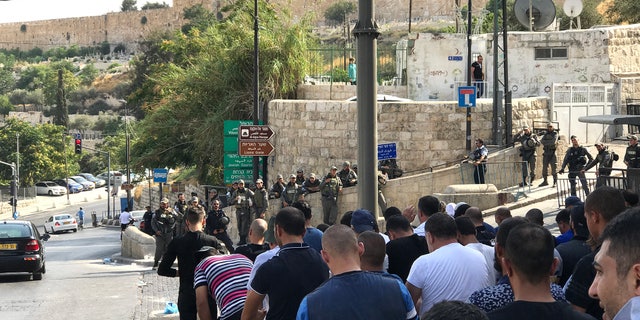 While there was violence outside the Lion's Gate entrance to the holy site, Friday prayers ended peacefully at the Damascus Gate entrance, though hundreds of people were not allowed in. The sensitive shrine is holy to both Jews and Muslims.
3 PALESTINIANS KILLED IN CLASHES WITH ISRAELI TROOPS
"Today, specifically only men from the age of 50 and upwards will be allowed in and around the area of the Old City and the Temple Mount," said Micky Rosenfeld, Israeli police spokesman.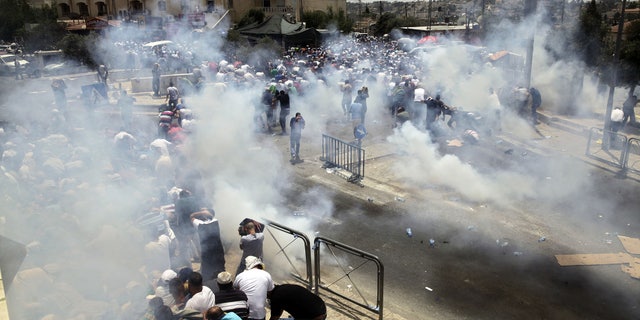 Outside the Lion's Gate entrance, those who were not allowed in prayed on one side of the street while police stood guard on the other.
Palestinian Authority President Mahmoud Abbas called on the Trump Administration to urge Israel to remove the metal detectors, or he said the violence could spiral out of control.
For now, they'll remain in place while heavily armed Israeli police remain on high alert.