Jeb Bush Working on Book about Immigration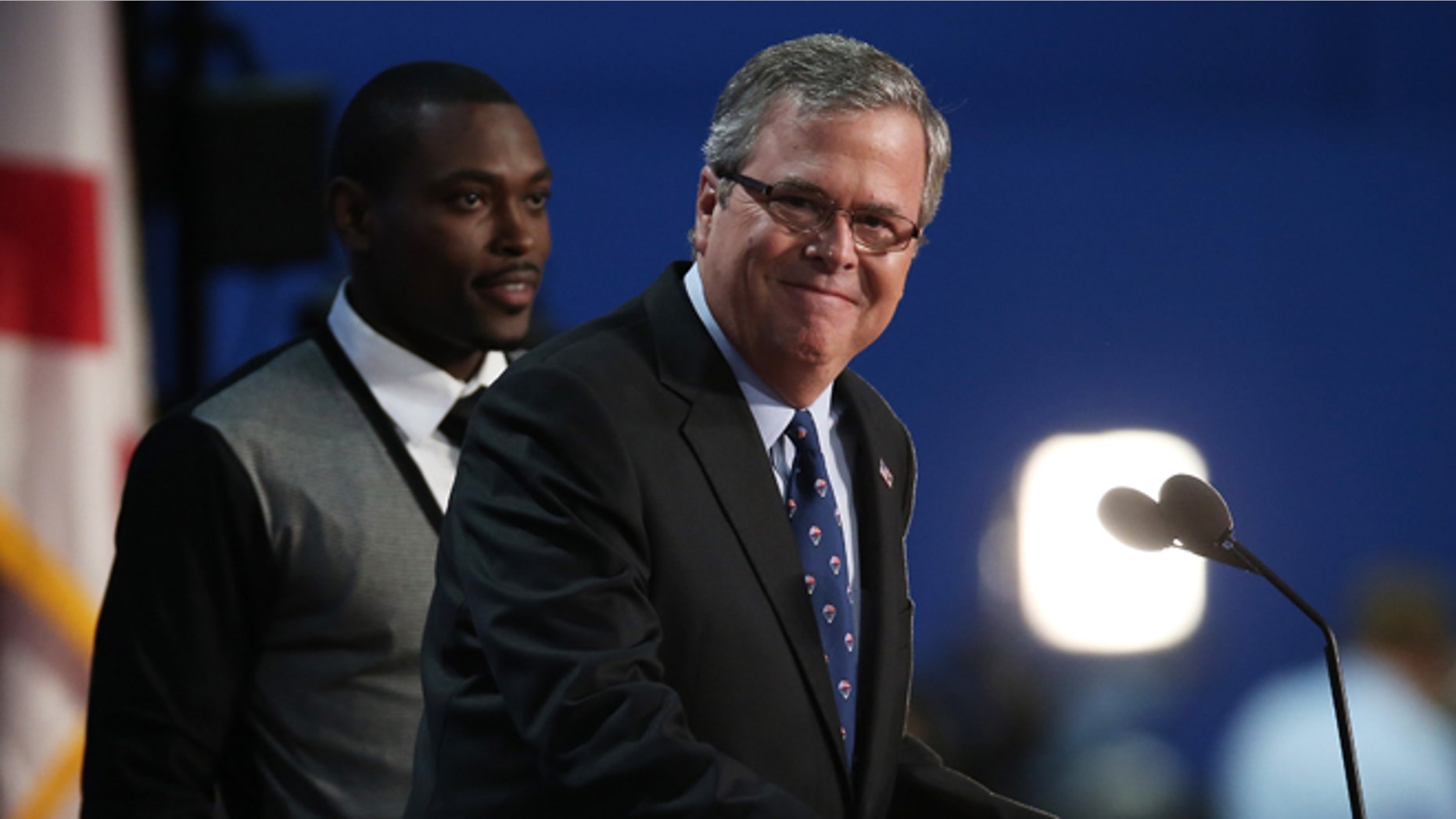 New York – A hot button issue in the upcoming elections and one of the most contentious topics in the Republican Party is also the subject of former Florida Gov. Jeb Bush.
Bush has started work on a book about immigration and landed a deal with Threshold Editions, a conservative imprint of Simon & Schuster, for "Immigration Wars: Forging An American Solution." Threshold announced Wednesday that the book is scheduled for next spring and will be co-authored by conservative attorney and activist Clint Bolick. Financial terms were not disclosed.
"Drawing upon history and American ideals, Jeb Bush and Clint Bolick outline a courageous and comprehensive strategy to bridge the partisan divide and set our nation's immigration policy on a just and rational course," Threshold said in a statement. "The book will present a comprehensive solution based on two core principles: Immigration is vital to America's future, fueling its growth, vibrancy and creativity; yet any true and enduring solution must adhere to the rule of the law."
The 59-year-old ex-governor has been urging his fellow Republicans to take on a more moderate tone on immigration, saying hard-line policies have led to lost elections. Bush himself was elected twice in a state with a substantial Hispanic population.
Don't just talk about Hispanics and say immediately we must have controlled borders. Change the tone would be the first thing.
Books have become a standard way to advance a national candidacy and Bush, the son and brother of former presidents, has been widely discussed as a 2016 GOP contender should President Obama be re-elected. But he has disputed having such ambition, saying his goal was to help the 2012 Republican candidate, Mitt Romney.
Bush also helped write a book that came out in the mid-1990s, "Profiles in Character," published by his own Foundation for Florida's Future.
Bush has been vocal in speaking about immigration and said recently that Romney needs to change his tone when it comes to the issue and focus his campaign efforts on garnering the Latino vote.
"Don't just talk about Hispanics and say immediately we must have controlled borders. Change the tone would be the first thing. Second, on immigration, I think we need to have a broader approach," Bush said earlier this summer.
The road to the White House depends on getting at least 40 percent support from the close to 12.2 million Hispanics who will go to the polls in November.
According to Bush, if he had to rate the Republicans' approach to the Hispanic community, he would say it "needs improvement."
Bush told NBC that last month Romney "can make inroads (among Latinos) if he focuses on how do we create a climate of job creation and economic growth."
Surveys have found in recent months that Hispanics are more worried about the economy than about immigration, the issue that predominates in the electoral messages directed at them.
A recent Gallup poll found that 20 percent of Hispanics think that the most important issue in this election is unemployment, 17 percent said economic growth and 11 percent said economic inequalities, compared with 20 percent who emphasized immigration above the other issues.
"We've got to have a better tone going forward over the long haul for sure," the former Florida governor said. "You can't ask people to join your cause and then send a signal that 'you're really not wanted.' It just doesn't work."
Based on reporting by the Associated Press and EFE. 
Follow us on twitter.com/foxnewslatino
Like us at facebook.com/foxnewslatino