Japan's emperor declares abdication in historic ceremony in Tokyo
In a formal morning coat, Japan's popular 85-year-old emperor abdicated his throne Tuesday during a brief and solemn palace ceremony that was televised live to the nation.
Emperor Akihito's abdication—the first in more than 200 years—marks the end of a three-decade-long reign and ushers in a new imperial era, that begins Wednesday when his 59-year-old son becomes the nation's 126th emperor.
Akihito was just 11 when his father Hirohito declared Japan's surrender in World War II. It became his lifetime mission to make amends for the war fought in his father's name. He was the first emperor in Japan's modern era to see his era end without ever having a war.
TRUMP SENDS REGARDS TO JAPAN'S EMPEROR AKIHITO AHEAD OF ABDICATION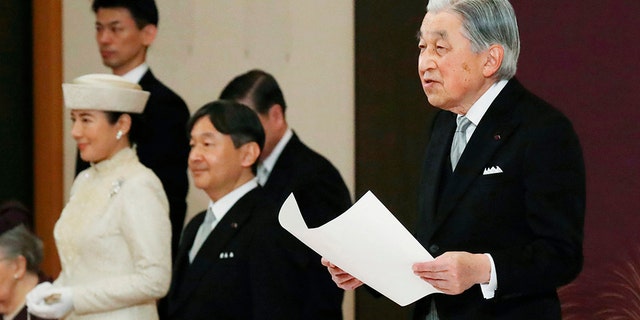 "Today, I am concluding my duties as the emperor," Akihito said as he stood in front of the throne before a gathering that included his wife, Empress Michiko, other members of the royal family and top government officials.
"Since ascending the throne 30 years ago, I have performed my duties as the emperor with a deep sense of trust in and respect for the people, and I consider myself most fortunate to have been able to do so. I sincerely thank the people who accepted and supported me in my role as the symbol of the state," Akihito said in his last official duty as emperor.
Akihito bowed after he spoke and then bowed a second time at the end of the ceremony after descending the dais, taking Michiko's hand and walking towards the exit, Reuters reported.
The ceremony was held in the Imperial Palace's ornate Matsu no ma, or Hall of Pine, in Tokyo.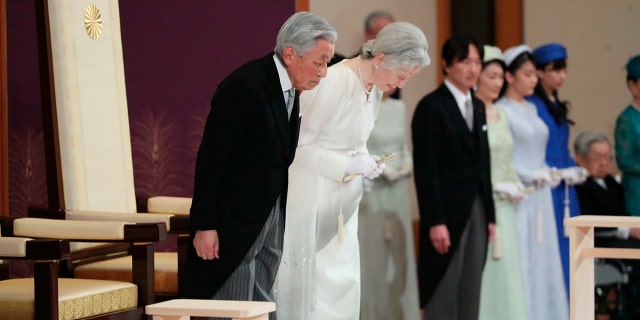 "Together with the empress, I hope from my heart that the new Reiwa era that begins tomorrow will be peaceful and fruitful, and pray for the peace and happiness of our country and the people of the world," Akihito said, referring to the new imperial era.
Akihito told the nation in 2016 that he feared his age would make it hard for him to carry out his duties fully, according to Reuters. He has had heart surgery and undergone treatment for prostate cancer.
The ceremony opened with chamberlains carrying the state and privy seals into the hall along with two of Japan's "Three Sacred Treasures" - a sword and a jewel - which together with a mirror are symbols of the throne, Reuters reported. They are said to originate in ancient mythology.
JAPAN'S NEW EMPEROR NARUHITO: A COSMOPOLITAN TEAM PLAYER
Akihito became emperor of Japan on Jan. 8, 1989.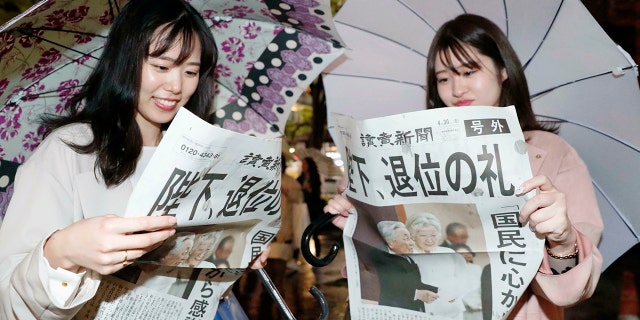 His son Crown Prince Naruhito will formally ascend the Chrysanthemum throne on Wednesday, becoming the first emperor born after World War II.
Naruhito has said he would largely emulate his father's pacifist stance and compassion for the people as he seeks to carve out his own legacy.
The Associated Press contributed to this report.