Japan Train Operator Comes Under Fire in Accident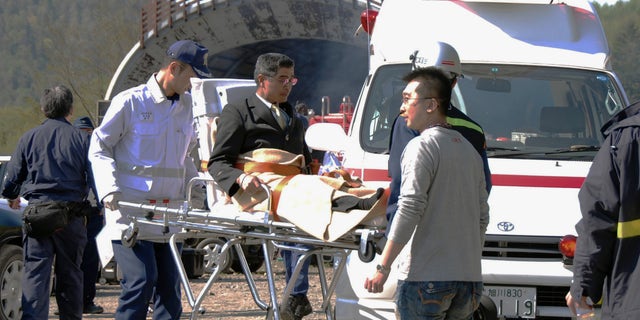 TOKYO -- The operator of a train that derailed and caught fire in northern Japan came under criticism Saturday for acting too slowly to evacuate the passengers.
The express train was traveling toward Sapporo on the northern island of Hokkaido late Friday when one car derailed, forcing it to make an emergency stop inside a tunnel. Smoke began filling several carriages at the back of the six-car train, said Hokkaido Railway Co., also known as JR Hokkaido.
Passengers were initially told to move to the front three carriages. The 240 passengers eventually escaped on foot as the situation grew more serious.
One passenger whose face was covered in black soot told public broadcaster NHK that he climbed out of the train while the staff was still figuring out what to do. Another said he could barely breathe and thought he would suffocate if he waited longer for official instructions.
Railway officials apologized Saturday for the delay.
"It took too much time to follow procedures," Masayuki Ichijo, head of railway operations for the company, told reporters. "Had we made a decision sooner, we could have evacuated passengers more quickly."
The company says three dozen people were treated for non life-threatening injuries. It took all night for fire fighters to extinguish the flames, and smoke was still billowing out of the tunnel Saturday morning.
JR Hokkaido President Naotoshi Nakajima pledged to investigate the cause of the accident and take preventative measures.
"I deeply apologize for this derailment accident, which injured so many of our customers," he said.
Japan's extensive railway network is among the most efficient and punctual in the world.
However, 107 people were killed in April 2005 when a speeding commuter train jumped off a curve in Amagasaki in western Japan and slammed into an apartment building. That accident, blamed on a distracted driver who was trying to make up lost time, was the country's worst rail disaster since a three-train crash in November 1963 killed 161 in Tsurumi, outside Tokyo.