Japan Digs for Thousands of Dead Amid Nuclear Crisis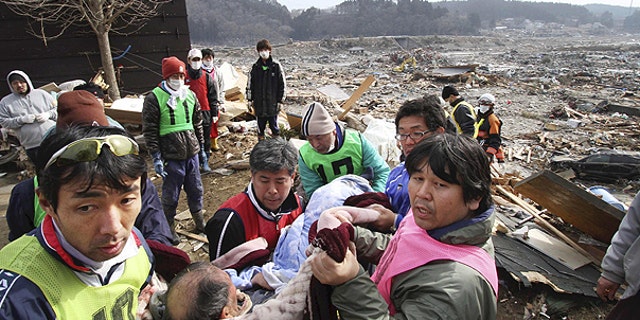 TAGAJO, Japan -- A tide of bodies washed up along Japan's coastline Monday, overwhelming crematoriums, exhausting supplies of body bags and adding to the spiraling humanitarian, economic and nuclear crisis after the massive earthquake and tsunami.
Millions of people faced a fourth night without water, food or heating in near-freezing temperatures along the northeast coast devastated by Friday's disasters. Meanwhile, a third reactor at a nuclear power plant lost its cooling capacity and its fuel rods were fully exposed, raising fears of a meltdown. The stock market plunged over the likelihood of huge losses by Japanese industries including big names such as Toyota and Honda.
On the coastline of Miyagi prefecture, which took the full force of the tsunami, a Japanese police official said 1,000 bodies were found scattered across the coastline. Kyodo, the Japanese news agency, reported that 2,000 bodies washed up on two shorelines in Miyagi.
In one town in a neighboring prefecture, the crematorium was unable to handle the large number of bodies being brought in for funerals.
"We have already begun cremations, but we can only handle 18 bodies a day. We are overwhelmed and are asking other cites to help us deal with bodies. We only have one crematorium in town," Katsuhiko Abe, an official in Soma, told The Associated Press.
While the official death toll rose to nearly 1,900, the discovery of the washed-up bodies and other reports of deaths suggest the true number is much higher. In Miyagi, the police chief has said 10,000 people are estimated to have died in his province alone.
The outspoken governor of Tokyo, Shintaro Ishihara, told reporters Monday that the disaster was "punishment from heaven" because Japanese have become greedy.
Across Japan, most people opt to cremate their dead. With so many bodies, the government on Monday waived a rule requiring permission first from local authorities before cremation or burial to speed up funerals, said Health Ministry official Yukio Okuda.
"The current situation is so extraordinary, and it is very likely that crematoriums are running beyond capacity," said Okuda. "This is an emergency measure. We want to help quake-hit people as much as we can."
Friday's double tragedy has caused unimaginable deprivation for people of this industrialized country -- Asia's richest -- which hasn't seen such hardship since World War II. In many areas there is no running water, no power and four- to five-hour waits for gasoline. People are suppressing hunger with instant noodles or rice balls while dealing with the loss of loved ones and homes.
"People are surviving on little food and water. Things are simply not coming," said Hajime Sato, a government official in Iwate prefecture, one of the hardest hit.
Sato said deliveries of food and other supplies were just 10 percent of what is needed. Body bags and coffins were running so short that the government may turn to foreign funeral homes for help, he said.
"We have requested funeral homes across the nation to send us many body bags and coffins. But we simply don't have enough," he said. "We just did not expect such a thing to happen. It's just overwhelming."
The pulverized coast has been hit by hundreds of aftershocks since Friday, the latest one a 6.2 magnitude quake that was followed by a new tsunami scare Monday.
As sirens wailed, soldiers abandoned their search operations and told residents of the devastated shoreline in Soma, the worst hit town in Fukushima prefecture, to run to safety.
They barked out orders: "Find high ground! Get out of here!" Several soldiers were seen leading an old woman up a muddy hillside. The warning turned out to be a false alarm and interrupted the efforts of search parties who arrived in Soma for the first time since Friday to dig out bodies.
Ambulances stood by and body bags were laid out in an area cleared of debris, as firefighters used hand picks and chain saws to clear a jumble of broken timber, plastic sheets, roofs, sludge, twisted cars, tangled power lines and household goods.
Ships were flipped over near roads, a half-mile inland. Officials said one-third of the city of 38,000 people was flooded and thousands were missing.
Though Japanese officials have refused to speculate on how high the death toll could rise, an expert who dealt with the 2004 Asian tsunami offered a dire outlook.
"It's a miracle really, if it turns out to be less than 10,000" dead, said Hery Harjono, a senior geologist with the Indonesian Science Institute, who was closely involved with the aftermath of the earlier disaster that killed 230,000 people -- of which only 184,000 bodies were found.
He drew parallels between the two disasters -- notably that many bodies in Japan may have been sucked out to sea or remain trapped beneath rubble as they did in Indonesia's hardest-hit Aceh province. But he also stressed that Japan's infrastructure, high-level of preparedness and city planning to keep houses away from the shore could mitigate its human losses.
According to public broadcaster NHK, some 430,000 people are living in emergency shelters or with relatives. Another 24,000 people are stranded, it said.
One reason for the loss of power is the damage to several nuclear reactors in the area. At one plant, Fukushima Dai-ichi, three reactors have lost the ability to cool down. A building holding one of them exploded on Monday. Operators were dumping sea water into all three reactors in a final attempt to cool their superheated containers that faced possible meltdown. If that happens, they could release radioactive material in the air.
Though people living within a 12-mile radius were ordered to leave over the weekend, authorities told anyone remaining there or in nearby areas to stay inside their homes following the blast.
Military personnel on helicopters returning to ships with the U.S. 7th Fleet registered low-level of radioactive contamination Monday, but were cleared after a scrub-down. As a precaution, the ships shifted to a different area off the coast.
So far, Tokyo Electric Power, the nuclear plant's operator, is holding off on imposing the rolling blackouts it earlier said it would need but the utility urged people to limit electricity use. To help reduce the power load, many regional train lines were suspended or operating on a limited schedule.
The impact that lack of electricity, damaged roads and railways and ruined plants would have on the world's third-largest economy helped drag down the share markets on Monday, the first business day since the disasters. The benchmark Nikkei 225 stock average fell 6.2 percent while the broader Topix index lost 7.5 percent.
To lessen the damage, Japan's central bank injected $184 billion into money markets.
Beyond the stock exchanges, recovering from the disaster is likely to weigh on already debt-burdened Japan, which has barely managed weak growth between slowdowns for 20 years.
Initial estimates put repair costs in the tens of billions of dollars, costs that would likely add to a massive public debt that, at 200 percent of gross domestic product, is the biggest among industrialized nations.