Italy's Borrowing Rates Skyrocket, Monti Scrambles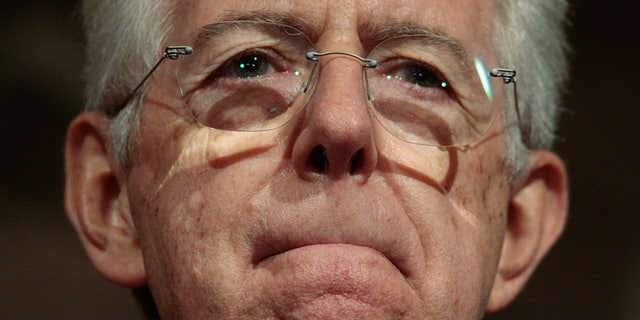 ROME -- A week into his new job, Premier Mario Monti is running out of time to reassure nervous investors that his government has a strategy to deal with Italy's crippling debts.
The nation's borrowing rates skyrocketed Friday after a grim set of bond auctions, with a new auction looming Tuesday. Another borrowing debacle could ratchet up fears that Italy has entered a debt spiral driving it toward bankruptcy and the 17-nation eurozone into its most acute crisis yet.
Monti's government of so-called "technocrats" is battling to convince investors that it has a successful strategy to reduce the country's euro1.9 trillion ($2.6 trillion) debt. But Friday's dismal bond auction results for the eurozone's third largest economy temporarily battered Europe's stock markets.
The auction outcome also is likely to fuel calls for European Union officials to do more to jump-start economic growth and the European Central Bank to use more firepower to cool down a rapidly escalating debt crisis.
"We still haven't found a response that reassures investors," said Jose Manuel Barroso, head of the European Commission. "As long as we're unable to do that, we'll have very serious problems and discussions in Europe." He spoke during a visit to Portugal, which, like eurozone members
Greece and Ireland, has taken an EU bailout to avoid bankruptcy.
Stephen Lewis, an analyst at Monument Securities, agreed with that outlook.
"The signs are that the euro will need a highly skilled financial engineer at the controls if it is to withstand the strains it is likely to face in the five remaining weeks of this year," he said.
Driving market fears is the knowledge that Italy is too big for Europe to bail out.
Given the size of its debts -- Italy must refinance euro200 billion by the end of April alone -- the government is depending on investors for money. But when borrowing rates get too high that can fuel a potentially devastating debt spiral which could bankrupt the country.
Friday's auctions showed that investors see Italian debt as increasingly risky.
The country had to pay an average yield of 7.814 percent to raise euro2 billion ($2.7 billion) in two-year bills -- sharply higher than the 4.628 percent it paid in the previous auction in October.
And even raising euro8 billion ($10.7 billion) for six months proved exorbitantly expensive, as the yield for that spiked to 6.504 percent, nearly double the 3.535 percent rate last month.
Following the grim auction news, Italy's borrowing rates in the markets shot higher, with the 10-year yield spiking 0.34 percentage point to 7.30 percent -- above the 7 percent threshold that forced other euro nations into bailouts.
Solid returns on Wall Street helped European markets recover from earlier losses Friday fueled by fears over Italy.
The EU monetary chief, Olli Rehn, also tried to reassure markets. After meeting in Rome with Monti on Friday, he emerged to praise new economic reforms that are "going in the right direction," such as liberalizing professions, encouraging employers to hire, and making it easier for them to transfer workers.
But Rehn also said he expects more "bold measures" to follow.
Italy must adopt "a comprehensive and wide-ranging package of reforms to kick-start growth and offer young people not only more jobs but also better jobs," the monetary affairs commissioner said.
Rehn was in Rome to monitor Italy's compliance with promises to liberalize its labor market, reduce the bloated public sector and sell some state assets.
Analyst Raj Badiani, an economist at IHS Global Insight in London, said Monti must deliver more.
"I don't think the markets have turned against Monti" and his "first stab" at promised reforms, Badiani said. "However, I argue that he will need to consider more draconian labor market reforms to reverse Italy's woeful productivity performance since the adoption of the euro."
Other analysts were less accommodating toward Monti, a former European Union competition commission with a reputation for taking tough stands.
"Mario Monti has failed so far to impress bond markets he has the power and authority to do what is required," said Louise Cooper, a markets analyst at BGC Partners.
Monti was appointed to replace premier Silvio Berlusconi, whose conservative coalition squabbled for months over measures such as pension reform, which were urgently sought by EU and European Central Bank officials.
But Monti has no political party behind him, meaning he is at the mercy of lawmakers from Italy's infamously bickering parties to back him on painful doses of austerity, with the next election looming in early 2013.
Italy was not the only euro-using country to have a disappointing auction this week.
Even Germany -- the region's strongest economy and the main funder of eurozone bailouts -- suffered a shock Wednesday when it failed to raise all the money it sought, its worst auction result in decades.
Spain saw its borrowing rates ratchet sharply higher, even after a landslide election victory for the conservative Popular Party, which has made getting Spain's borrowing levels down its top priority.
"Within the eurozone, the more favorable political climate in Spain and Italy has not brought any improvement in market sentiment," said Herve Goulletquer, head of fixed-income research at Credit Agricole.
Monti has promised to balance Italy's budget by 2013. He has pledged to introduce "fair but incisive" structural reforms, his office said after a Cabinet meeting Friday. Monti has promised to reform the pension system, reinstate home property taxes eliminated by Berlusconi's government, and slash spending on government offices.
But even as Italy struggled to rescue itself, other signs of Europe's debt crisis emerged.
Standard & Poor's announced it is lowering its long-term sovereign credit rating for Belgium, citing a threat to exports and the euro country's lack of a permanent government. The agency cut Belgium's credit rating from AA+ to AA.
Belgium has been without a permanent government for 530 days, as a series of negotiators has struggled without success to bridge the country's divide between its French-speakers and its Dutch-speakers.
On Friday, Moody's also downgraded Hungary's sovereign debt to junk status -- from Baa3 to Ba1 with a negative outlook -- a decision Hungary hotly criticized. Hungary is not a member of the eurozone, but trades with many of its members.
This week's developments have ratcheted up the pressure on the European Central Bank to step up its bond purchases in the markets, though Germany adamantly opposes that. The current program is designed to support bond prices in the markets, thereby keeping a lid on the borrowing rates.
So far, the ECB has been buying limited amounts of bonds and has to sell an equivalent amount of assets.
The ECB said Monday it bought bonds worth only euro4.5 billion ($6 billion)last week, down from euro9.5 billion ($12.7 billion) a week earlier.
Potentially, the ECB has unlimited financial firepower through its ability to print money, and many countries in the eurozone, including France, want the bank to act more decisively to solve the debt crisis.
However, Germany finds the idea of monetizing debts unappealing, warning that it lets the more profligate countries off the hook for their bad practices.
Analyst Badiani said financial markets are "despairing over the very public disagreement between the French and German governments about how to use the ECB to regain control of the crisis, which has curbed the markets' appetite for sovereign debt across Europe."
But EU chief Barroso insisted that Germany isn't opposed "in principle" on eurobonds.

ermany's view is that "eurobonds can be considered once there's a higher level of integration and discipline in the eurozone," Barroso said.