Israel's legendary Mossad steps out of the shadows in recruitment drive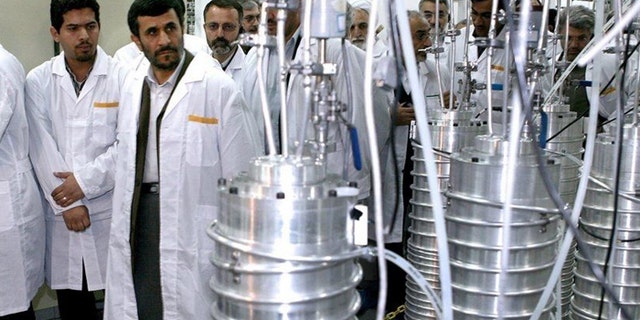 There was a time when the recruiting methods of the Mossad were as secretive as the spy work of Israel's world-famous intelligence agency itself, but times have changed.
This week, the legendary agency stepped out from the shadows and launched a glossy, corporate-style promotional video in which agents give their perspective on working at one of the world's top spy outfits, their motivations for joining, and a flavor of what the challenges are. It's a slick presentation, not dissimilar to other on-line spy agency recruitment campaigns of recent years launched by the likes of America's CIA, Britain's MI5, or Canada's CSIS.
"My work isn't exactly 9 to 5," a male agent says, while a female agent confesses, "It's not really child's play. I never imagined this is what I'd do with my life."
"My friend's think I work in marketing," the man admits. Both state, "I've learned things about myself that I never knew." The video ends with the female agent saying, "This is my world; my calling. Maybe it's yours as well?"
[pullquote]
The recruitment video sits on the homepage of the Mossad's website which is presented in both English and Hebrew. The 'Careers' section leads anyone thinking of applying for consideration as a Mossad agent to fill in an acceptance test, as well as being asked to give a significant amount of information about themselves.
"We must continue recruiting the best minds in the country so that we can deal with the big threats against the State of Israel at this time," Tamir Pardo, the current director of the Mossad, told the Jerusalem Post. "The human capital and the quality of the Mossad are the secrets to the organization's success. The Mossad will continue to operate in every place and time in order to safeguard the State of Israel's security."
Traditionally, the Mossad has recruited agents following mandatory Israeli army service, a period during which military recruits have been through a range of experiences that might indicate their suitability for a role in intelligence. Most 18-year-old Israelis, male and female, are conscripted into the military for three and two year periods respectively. Now though, the Mossad, well aware of the power of social media and video images, has embarked on a new recruitment drive, designed to appeal to a new generation of candidates.
The Mossad was created in 1949, within a year of the establishment of the modern State of Israel. Its activities have become the stuff of legend, pulling off many famous operations in all corners of the globe, and many more that, due to the nature of the work, will never be known. Some of the most notable operations include:
1960 – The Mossad tracked notorious Nazi war criminal Adolf Eichman to Buenos Aires in Argentina. In an audacious operation, he was kidnapped and brought to Israel to stand trial. He was found guilty of crimes against humanity and in 1961 became the first and only person in Israel history on whom the death sentence was carried out.
1965 - Latvian Nazi Herbert Cukurs, known as "The Butcher of Riga" and responsible for a host of massacres during World War II including the infamous 1941 torching of the Gogol Synagogue in Riga, was assassinated by a Mossad hit squad in Montevideo, Uruguay.
1972 - The PLO's assassination of 11 Israeli athletes at the Munich Olympics triggered "Wrath of God," one of the Mossad's longest-running and storied operations. Led by  legendary agent Mike Harari, who died earlier this week at the age of 87, the Mossad spent two decades hunting down the killers, who died in a variety of different circumstances in operations in London, Paris, Rome, Cyprus, Greece and Lebanon. In one tragic case in Norway in 1973, the Mossad assassinated the wrong man, killing innocent waiter Ahmed Bouchiki, who they had mistakenly thought was leading Black September figure, Ali Hassan Salameh.
1976 - It was the Mossad that provided the intelligence required by an Israel Defense Forces special commando unit to put together the famous raid on Entebbe airport, Uganda, where 106 passengers were being held hostage by PLO hijackers given safe haven by Ugandan President Idi Amin. All but four passengers were freed in an extraordinary operation, but the leader of the raid, Yoni Netanyahu, brother of current Israeli Prime Minister Benjamin Netanyahu, was killed.
1997 - An operation in Jordan to poison Hamas leader Khaled Meshaal backfired when the agents involved were caught. In order to secure their release, Israel had to provide an antidote which saved Meshaal's life.
2004 - Leading Hamas figure Izz Eldine Subhi Sheik Khalil died in Damascus when his car exploded. It has long been assumed Mossad was behind the operation.
2008 - Top Hezbollah leader Imad Fayez Mughniyeh was killed instantly in Beirut when a car he was passing exploded. Once again, suspicion centered on the Mossad.
2010 - Hamas military wing leader Mahmoud al Mabhookh was killed in his hotel room in Dubai. Authorities publicized security camera images of some 26 individuals they said were Mossad agents wanted in connection with the killing. None was ever caught.
2010 - Mossad involvement has long been suspected in the Stuxnet computer worm that struck Iran's nuclear weapons program, causing massive damage and setting the Islamic republic and sworn enemy of Israel's nuclear enrichment program back years.
The shadowy world of spying is occupied by agents of virtually every nation state. Last year, U.S. intelligence agencies were deeply embarrassed by revelations they had listened in to the private phone calls of world leaders, many of them close allies. It is assumed they include Israel.
"I think it is almost a universal assumption that everyone tries to spy on everyone," Mark Heller, of Tel Aviv's Institute for National Security Studies told FoxNews.com at the time. "Since the U.S. - by virtue of its resources, if nothing else - is the most capable, then it is probably best to assume that it does [now] or has done in the past to Israel what it has apparently done to its other friends and allies."
"It's almost a given," Heller added. "The whole story reminds me of the scene from Casablanca when the chief of police is shocked to find out that there is gambling going on in the casino."