Israeli Mossad looking for a few good women
Israel's renowned spy agency, the Mossad, has started its first recruitment campaign specifically designed to attract women.
An advertisement, published Tuesday in the Israeli press, shows a portrait of a young women with white lettering stating " wanted - powerful women."
"We don't care what you did; we care about who you are!" the ad reads.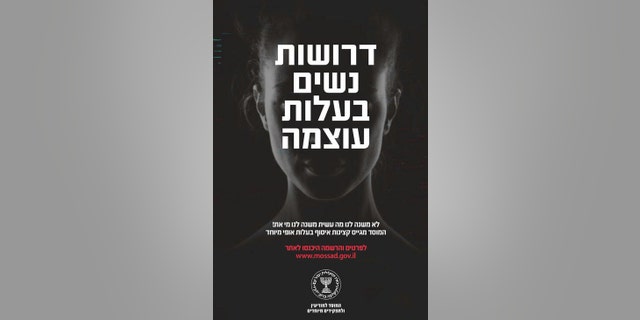 VIDEO: HIGH EXPECTATIONS FOR TRUMP'S RELATIONSHIP WITH ISRAEL
The agency is looking for women to join their mostly male group of case officers, who are in charge of recruiting, training and handling agents. Inside the agency, 40 percent of employees are women with 24 percent holding high-ranking positions.
The ad refers the potential candidates to their website.
The Mossad, Hebrew for "The Institute," is short for the "Institute for Intelligence and Special Operations." It is the global arm of Israel's vaunted intelligence community and believed to be behind some of the most daring covert counterterrorism operations of the past century.
The typically shadowy Mossad in 2014 finaly joined the rest of its counterparts and opened an online recruitment website. It included snazzy recruiting videos and an online application option for those seeking employment. With versions in Hebrew, English, French, Russian, Arabic and Persian, the sleek site looks to revolutionize the way Israel's legendary agency seeks out potential agents after generations of backdoor, cloak-and-dagger antics.
Follow Yonat Friling on Twitter at @foxyonat.