Israeli army reveals images allegedly showing Iran's involvement in Syria
JERUSALEM – Satellite images released Tuesday by Israeli Defense Forces show the scope of the military relationship between Iran and Syria.
The satellite images show several Syrian military bases that are used by the Iranian Revolutionary Guards forces, which the IDF's said helps illustrate the threats imposed by the Iranian ability to send weapons to Syria from Tehran.
The Guard's air force presence is located in five airports in Syria: T4, Aleppo, Deir ez-Zor, Damascus International Airport and an additional airfield south east of Damascus, according to the IDF.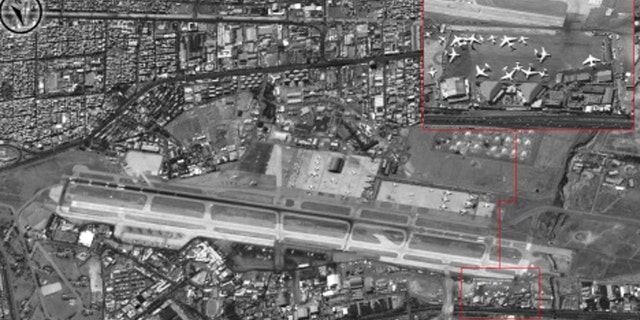 The intelligence was released after an eventful night in Syria during which Syrian air defense missile systems went off for reasons which are still unclear.
Rumors of an Israeli attack eventually gave way to officials saying the threat was a false alarm.
Tension on Israel's northern borders remains very high in light of the American attack against the Assad chemical weapons facilities last Friday and the expectation of Iranian retaliation for a separate strike attributed to Israel.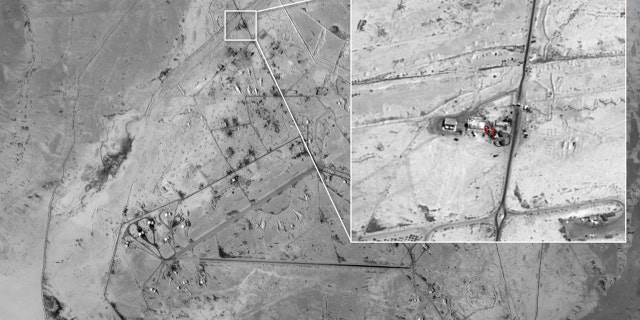 RUSSIA, SYRIA BLOCK INSPECTORS FROM CHEMICAL WEAPONS ATTACK SITE, WATCHDOG SAYS
On Monday, The New York Times columnist Thomas Friedman quoted a senior IDF official as admitting Israeli responsibility for the attack last week, a step that Israel has officially refrained from taking so far.
As of Tuesday morning, several Israeli websites received details of wide-ranging information about the Iranian Revolutionary Guards' aerial systems in Syria, whose officers and advisers were killed in the recent attack.
One of the photos shows the Syria military base in Deir ez-Zor located in eastern Syria. One of the photographs appears to show Ilyushin planes transporting weapons from Iran to Syria, according to the IDF.
The photos released Tuesday illustrate how Tehran is capable of delivering surface-to-surface missiles (SSM) and unarmed aerial vehicles (UAV) to Syria, Israeli military sources told Fox News.
"Israel will react strongly to any Iranian action from inside Syria," a senior IDF source said, adding that Iran plans to attack Israel from Syria and gain control of the Arab state though its air force.
SYRIAN STATE TV: REPORTS ON NEW AIR BASE BOMBINGS A FALSE ALARM
Israeli officials tell Fox News that Qasem Soleimani, the head of the Al-Quds force, The Iranian elite team, is already planning an attack against Israel.
"Soleimani does whatever he feels like in Syria," an Israeli official told Fox news.