The primary suspect in a string of bomb threats targeting Jewish community centers in the U.S. -- a 19-year-old Israeli-American Jewish man -- was arrested in southern Israel Thursday, police announced.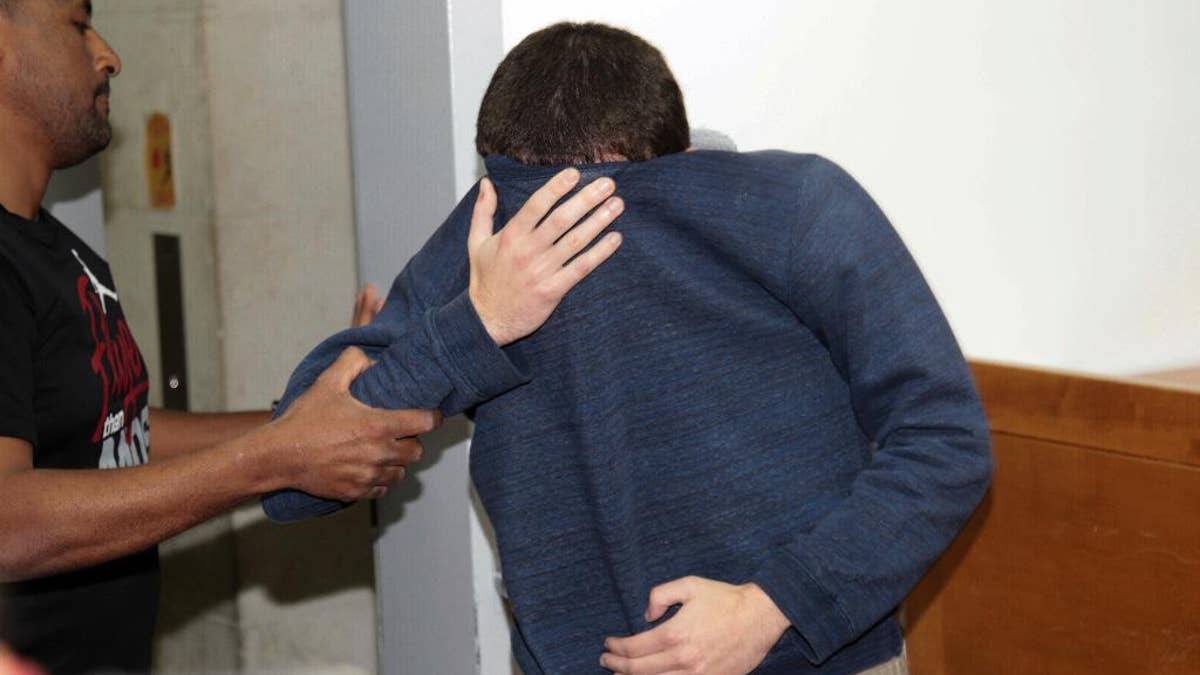 The unnamed suspect was arrested early Thursday morning in his house based partly on information from the FBI, and a court ordered later in the day for him to remain in custody for a week. Police also detained his father for questioning.
JORDAN PLANNER OF 2001 BLAST RELIEVED EXTRADITION TO USA BLOCKED
The investigation began about six months ago, following a threat made to a Jewish institute in New Zealand, according to an Israeli police statement. New Zealand identified the IP address as originating from Israel and contacted Israeli police.
Investigators said they initially struggled to locate the suspect but then received several reports of threats from 16 Jewish centers in nine U.S. states – Florida, New Jersey, Delaware, Maryland, Tennessee, Georgia, Pennsylvania, South Carolina and North Carolina. The FBI began investigating. Delta Airlines also received a threat about a bomb on one of its planes, causing it to halt flights to check their aircraft and forcing a plane already in the air to land, in February 2015.
ISRAEL INVESTIGATES BOYCOTT LEADER FOR SUSPECTED TAX FRAUD
The FBI handed over the information to Israeli police after finding that these threats too had originated from Israel.
The suspect used advanced disguise technologies when contacting other countries, such as distorting voice recognition software, police said, adding that a motive was unclear.
"He didn't use regular phone lines. He used different computer systems so he couldn't be backtracked," police spokesman Micky Rosenfeld said.
Officers seized computers and other items that allegedly let the suspect hide his trail.
The Israeli army had refused to draft him after finding him unfit for service, the Haaretz newspaper reported.
"We are troubled to learn that the individual suspected of making these threats against Jewish Community Centers, which play a central role in the Jewish community, as well as serve as inclusive and welcoming places for all - is reportedly Jewish," JCC Association of North America President and CEO Doron Krakow reacted.
"Today's arrest in Israel is the culmination of a large-scale investigation spanning multiple continents for hate crimes against Jewish communities across our country. The Department of Justice is committed to protecting the civil rights of all Americans, and we will not tolerate the targeting of any community in this country on the basis of their religious beliefs," Attorney General Jeff Sessions responded.
"Early this morning in Israel, the FBI and Israeli National Police worked jointly to locate and arrest the individual suspected for threats to Jewish organizations across the United States and in other parts of the world. The FBI commends the great work of the Israeli National Police in this investigation," an FBI spokesperson told Fox News.
In all, U.S. Jewish community centers and day schools in the U.S. have received more than 120 bomb threats since Jan. 9, according to the Anti-Defamation League. Those threats led to evacuations of the buildings, upset Jewish communities and raised fears of rising anti-Semitism. The threats were accompanied by acts of vandalism on several Jewish cemeteries.
U.S. authorities have also arrested a former journalist from St. Louis for allegedly threatening Jewish organizations. Juan Thompson has been indicted in New York on one count of cyberstalking.
In Washington, the FBI confirmed Thursday's arrest but had no other comment.
Fox News' Matt Dean, Serafin Gomez and The Associated Press contributed to this report.