Israel rejects Palestinian government with Hamas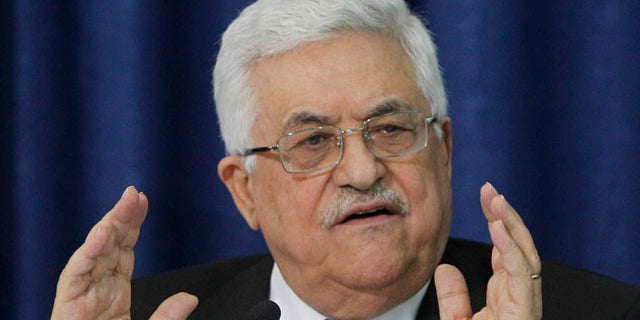 JERUSALEM – Israeli leaders on Thursday rejected the Palestinian unity deal between rivals Hamas and Fatah, saying it could destroy prospects for peace and ruling out negotiations with any Palestinian government that includes the Islamic militant group.
Prime Minister Benjamin Netanyahu convened his security Cabinet to discuss the deal, as Israeli President Shimon Peres called the Palestinian agreement a "grave mistake."
The comments came a day after Hamas and Fatah reached an initial unity deal in Cairo to end a four-year-old dispute that has left the Palestinians with rival governments: a Fatah-dominated administration in the West Bank and the Hamas regime that controls the Gaza Strip. The Palestinians claim both territories for a future independent state.
While the Palestinian announcement did not address many key issues, the Egyptian-brokered deal revived hopes of ending bitter infighting that weakened the Palestinians politically and killed dozens in violent clashes and crackdowns.
The Palestinian plan calls for formation of a joint caretaker government to prepare the way for elections next year. The Palestinians say the move is a step toward independence. With a breakdown in peace talks with Israel, the Palestinians have been campaigning to get the United Nations to recognize Palestinian statehood in September, with or without a peace deal.
By including Hamas — which Israel, the U.S. and European Union consider a terror organization — the Palestinians have essentially ruled out peace negotiations with Israel and have put hundreds of millions of dollars in U.S. and European aid money in jeopardy.
In the West Bank, President Mahmoud Abbas of Fatah, a proponent of peace with Israel, stressed he would retain overall control over foreign policy. He said he remains ready to talk peace with Netanyahu if Israel halts its settlement construction on occupied lands.
Seeking to blunt international criticism, he said the caretaker government would not include Hamas activists.
"The people will be independents, technocrats, not affiliated with any factions," Abbas said at a meeting with a group of dovish Israeli businessmen and retired security chiefs.
Abbas said it was "too early to tell" whether his prime minister, Salam Fayyad, would stay in office. Fayyad, a U.S.-educated economist, is well regarded in the West and has been the major reason the international community now sends nearly $1 billion a year in aid to the Palestinians. Losing Fayyad could endanger that money.
Israel is adamant that it will not engage Hamas, which has sent dozens of suicide bombers and thousands of rockets into the Jewish state and is committed to Israel's destruction.
"We would like to see the Palestinian people unite, but for the sake of peace," said Peres, a Nobel peace laureate. "The world cannot support the establishment of a state that part of its regime is a terror organization."
Foreign Minister Avigdor Lieberman warned that the Palestinian agreement opens the door to Hamas gaining a foothold in the Fatah-controlled West Bank.
"The significance of the agreement is that terrorists will take hold of the West Bank. Hundreds of terrorists will flood the West Bank and therefore we need to prepare for a different situation," he told the Army Radio station.
Israel's opposition leader, Tzipi Livni, also expressed grave concerns about the Palestinians. She urged the international community to put heavy pressure on the Palestinians to ensure the new government renounces violence and recognizes Israel's right to exist.
"If you want to get legitimacy, please give an answer to these requirements as a government," Livni told a gathering of foreign journalists.
Hamas' refusal to endorse these international conditions led to the collapse of a previous unity government and led the way for Hamas' takeover of Gaza in 2007.
The U.S. has already said the new Palestinian government must accept the international demands, and France followed suit on Thursday. "We are ready to work with a unity government that would engage in favor of non-violence and a peace agreement," said Foreign Ministry spokesman Bernard Valero.
The U.N.'s Mideast envoy, Robert Serry, and European Union foreign policy chief Catherine Ashton greeted the unity deal with caution, stressing the need to promote peace. "We will study the detail of this agreement and discuss with colleagues in the EU and in the region," Ashton said.
Saeb Erekat, the chief Palestinian negotiator, said Palestinian unity would promote peace. "Those who want peace and want democracy must support Palestinian reconciliation," he said.
Rivalries between the two Palestinian factions began in 2006 after Hamas won parliamentary elections in Gaza and the West Bank. A short-lived unity government collapsed into civil war the following year, and Hamas seized power in Gaza.
The Palestinian factions are set to meet next week in Egypt and the official signing ceremony will take place before May 10, said Azzam al-Ahmad, head of the Fatah delegation.
Israel has held peace talks with the Fatah-led government. But those negotiations have been frozen since September, with Abbas refusing to negotiate while Israel expands settlements in the West Bank.
Fatah spokesman Husam Zomlot said Abbas is embarking on a new strategy. "But of course he is not waging a war against either Israel or the West," he added.
Hamas officials insisted they would not recognize Israel.