Israel officially unveils David's Sling missile defense system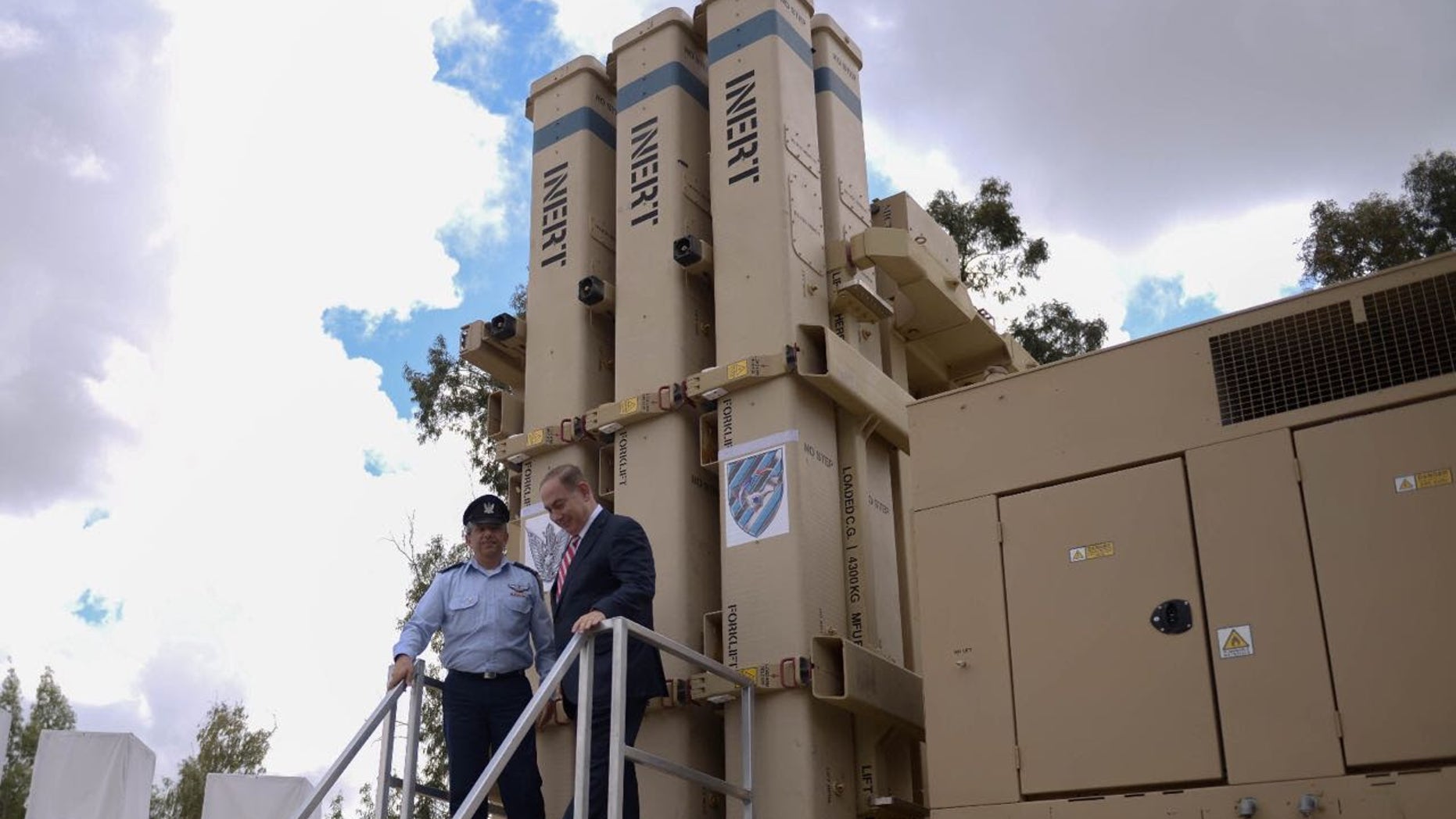 Israel on Sunday officially unveiled David's Sling, a joint Israeli-U.S. project designed to intercept medium-range missiles.
David's Sling -- which sees Israel's Rafael Advanced Defense Systems collaborating with American defense contractor Raytheon -- also produces the Patriot missile system.
HALEY: ASSAD A 'WAR CRIMINAL' PROTECTED BY RUSSIA, IRAN
The system is designed to shoot down incoming rockets with ranges of 25 to 190 miles, targeting mostly the missiles that were fired by the Lebanese Hezbollah organization toward Israel in recent years. It will make up the middle tier of Israel's multi-layer missile defense capabilities.
The lowest layer is the Iron Dome system, capable of intercepting short-range rockets, small unmanned aerial vehicles and some mortar shells like those that have been fired at Israel from the Gaza Strip or from southern Lebanon. And at the top are the Arrow 2 and Arrow 3 systems, which are intended to engage long-range ballistic missiles. The Arrow was put in use for the first time on March 17, when it intercepted an incoming Syrian anti-aircraft missile. 
THOUSANDS TOUR TRINITY SITE, BIRTHPLACE OF THE NUCLEAR AGE
At the event at the Air Force's Hatzor base in central Israel, Israeli Prime Minister Benjamin Netanyahu said that the "cutting-edge technology" of David's Sling will help protect Israel against its enemies.  "Whoever seeks to hit us – will be hit. Whoever threatens our existence – places himself in existential danger," he said.
Referring to the biblical story of David and Goliath, Netanyahu added that just as King David protected the Jewish people 3,000 years ago, Israel will continue to follow in his footsteps.
Netanyahu also acknowledged and thanked the U.S. administration for its support "At a time when budgets are tight, know that the government and people of Israel are grateful for the ongoing support by the United States."
The director of the U.S. Missile Defense Agency (MDA), Navy Vice Admiral James D. Syring, also attended the ceremony. In his remarks, Syring said that the delivery of this system was due to years of hard work and heralds a "new tier of aerial defense."
"It is an impressive day for an already impressive year," he said, referring to developments and testing of several different aerial defense systems.
The head of the Israeli Air Force, Maj.-Gen. Amir Eshel, stated during his speech that the air force "will continue to grow in our capabilities and defense abilities in a turbulent Middle East and the new technology we received will bring the air force to a whole new level of defense for the State of Israel."
However, with Hezbollah expected to fire more than 1,000 rockets per day in a future conflict with Israel, military and political officials have warned that even the three layers of missile defense will not be capable to maintaining a 100 percent success rate.