Israel crackdown on Palestinian workshops producing guns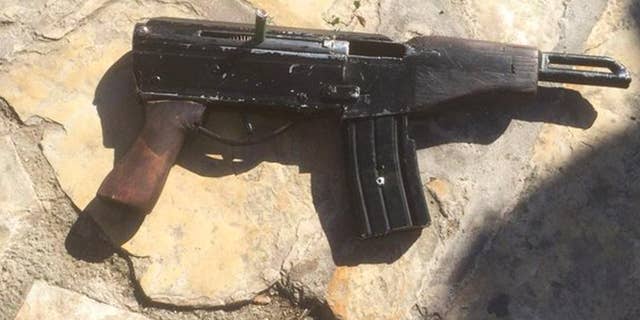 JERUSALEM – Israeli security forces are cracking down on metal workshops in the West Bank suspected of manufacturing a crude homemade gun, which has emerged as the weapon of choice for Palestinian attackers in months of deadly assaults on civilians and soldiers — including in this week's Tel Aviv shooting that killed four Israelis.
Welded together from spare parts of various weapons and pipes, it looks like a submachine gun but shorter, with a long magazine.
The weapon, known by its street name "Carlo," was used by the two Palestinian gunmen who killed four people and wounded five others in a popular Tel Aviv area filled with crowded shops and restaurants on Wednesday night, as well as in several other attacks since the current round of violence erupted in September.
"There has been an increase in security operations in and around the West Bank area to try and find factories where the weapons are made," police spokesman Micky Rosenfeld told The Associated Press.
He said the quality of the workmanship varies from gun to gun, depending on the materials and the manufacturer.
Palestinians have used them "in a number of terrorist attacks over the past few months," Rosenfeld said.
According to an Israeli intelligence official, the homemade gun has become the weapon of choice for Palestinian gunmen, ousting the Kalashnikov that has traditionally been in use.
Carlo's popularity stems from availability, he added.
"Real weapons" are now hard to find and expensive in the West Bank due to raids carried out by Israel as well as those undertaken by forces of the Palestinian government, which rules about a third of the territory.
Carlo is somewhat based on the Swedish "Carl Gustav" submachine gun because it's easy to copy with the materials at hand, the intelligence official said. Hundreds are believed to be in circulation, he added, speaking on condition of anonymity because he wasn't authorized to talk to reporters.
Over the last eight months — and including the assault in Tel Aviv on Wednesday — Palestinians have carried out dozens of attacks on civilians and security forces, mostly stabbings, shootings and car ramming assaults that have killed 32 Israelis and two Americans.
About 200 Palestinians have been killed during that time, most of them identified by Israel as attackers. The rest died in clashes with Israeli troops. The assaults were once near-daily incidents but they have become less frequent in recent weeks.
According to Rosenfeld, in February, Palestinian attackers used a 'Carlo' to kill a young policewoman in Jerusalem.