ISIS trying to infiltrate Europe through Spanish enclave in Northern Africa, experts say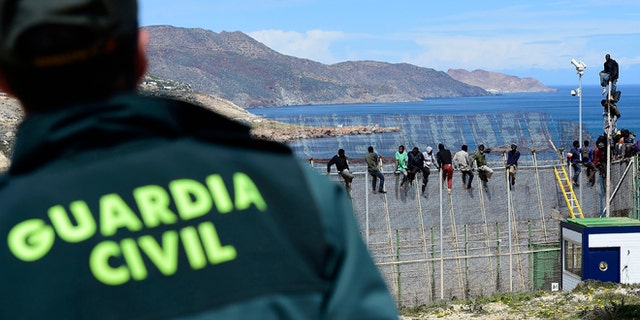 NEWYou can now listen to Fox News articles!
Just across the Straits of Gibraltar, the shores of North Africa have for centuries been a place where two cultures collide: it was where the Moors launched their invasion of Spain in 711, where traders have for years brought goods back and forth between the two continents and, more recently, where rock stars and hippies have come to sample the forbidden fruits in places like Tangier and Marrakesh.
This connection is no more evident than in the tiny Spanish holding of Melilla on the Mediterranean. This free port city – home to more than 78,000 ethnic Spaniards and Riffian Berbers – has in recent years become a major waypoint for refugees fleeing violence across the Islamic world en route to Europe, many jumping the 20-foot high fence in a scene reminiscent of the U.S.-Mexico border.
The enclave, experts say, has also become a jump off point for Islamic State terrorists in the group's attempts to infiltrate Europe.
"North Africa has been a base operation for these groups for a while," Matthew Dunn, a former operative for the British Secret Service, MI6, told Fox News Latino. "There is a great deal of dissatisfaction in these Islamic countries and that is what these organizations like ISIS prey on."
Last week, Spanish and Moroccan security forces in Melilla broke-up an ISIS-linked terrorist cell operating in the port town – arresting eight Moroccans and one Spaniard who were part of a group that organized the recruitment of jihadists to fight for ISIS in Iraq and Syria. The Spaniard is suspected to be the leader of the cell and his brother is a soldier in the Spanish Legion, an elite unit of the Spanish army.
A statement from the Moroccan government said that the cell also had ties to Al Qaeda in the Islamic Maghreb, which is currently fighting in the African country of Mali. It added that the cell's leader was suspected of the theft and trafficking of stolen cars to raise funds for ISIS, which currently is in control of large swaths of Iraq and Syria.
Morocco has in recent years become a major recruiting ground for Islamic extremists looking for combatants in places like Mali and Syria. Moroccan authorities estimate that between 1,500 and 2,000 Moroccan jihadists are fighting in Syria and Iraq, while Spain has arrested dozens of suspected extremists in raids this year alone.
Spanish security forces this year have detained at least 44 people - some in Melilla, some in Spain's other North African enclave of Ceuta, some on the Iberian Peninsula. Spanish police added that it rounded up 26 men in Melilla — 24 Moroccans and two Spanish citizens — since 2012 who were sent there join Al Qaeda in the Islamic Maghreb and other groups.
Morocco's northern city of Fez has also become a center for recruitment networks, with another cell dismantled there on Sept. 12 of this year.
These arrests highlight ISIS's growing presence in North Africa and Europe and the group's goal to establish a caliphate that includes not only parts of the Middle East but also all of Spain, Portugal and North Africa. In June, a map began circulating around social media showing ISIS's planned caliphate – stretching from the border of China to Spain, which it called "Al-Andaluz."
Security experts say that Spain's big worry about these groups is whether the ISIS cells will conduct attacks on the Iberian Peninsula or are just passing through the country en route to targets throughout Western Europe or in the U.S. France and Great Britain, besides joining in the U.S.'s air assault on ISIS targets, have a large Islamic population and many combatants working with the Islamic State hail from the two western European countries.
"Spain should be asking themselves who is the target," Dunn told FNL. "Will it be there or will Spain only be a transit point to other countries like France or Great Britain?"
Follow us on twitter.com/foxnewslatino
Like us at facebook.com/foxnewslatino