ISIS fighters peddling Yazidi sex slaves on social media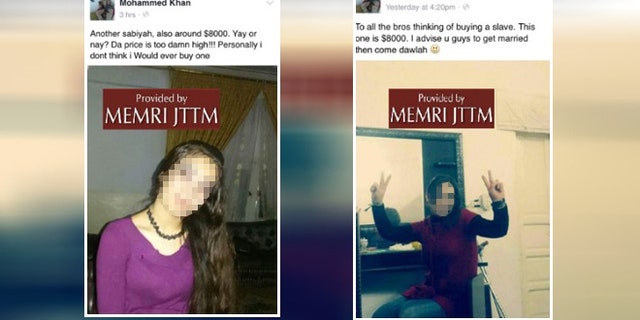 NEWYou can now listen to Fox News articles!
ISIS fighters and depraved sympathizers have turned social media platforms into a digital auction block, where sex slaves are offered for sale to an audience of wisecracking creeps, according to an international institute that monitors the global threat of terrorism.
Facebook profiles discovered by the Middle East Media Research Institute's Jihad and Terrorism Threat Monitor Project feature a German ISIS fighter offering two Yazidi sex slaves to the highest bidder.
"To all the bros thinking about buying a slave, this one is $8,000," reads a May 20 post accompanied by the picture of a woman on the Facebook page of the Islamic State militant who calls himself Abu Assad Almani.
A few hours later, a second image was posted by the fighter of another woman.
"Another sabiyah [slave], also about $8,000," the posting reads. "Yay, or nay?"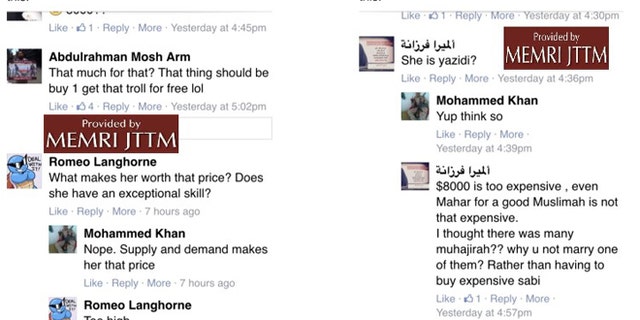 It's not clear if Almani was selling the women himself or just commenting on their sale by other militants, but the stomach-turning posts highlight ISIS' longstanding penchant for enslaving and selling girls and women who they perceive as non-believers.
The posts were removed from the social media site a few hours later, but not before users commented on the photos, asked questions and made derogatory remarks about the women. Screenshots were saved by MEMRI JTTM and provided to FoxNews.com.
MEMRI researchers have monitored jihadist posts for the last decade, and seen the brutality increase dramatically in recent years, said Executive Director Steve Steven Salinsky. He noted that ISIS' extensive use of Islamic punishments such as beheading and crucifixion, and throwing homosexuals off roofs to their deaths has all been heavily documented on Twitter and Facebook.
"Sales of slave girls on social media is just one more example of this," Stalinsky said. "When ISIS beheaded Western journalists, people took notice – but since then, apathy has prevailed. The West has become desensitized to this evil."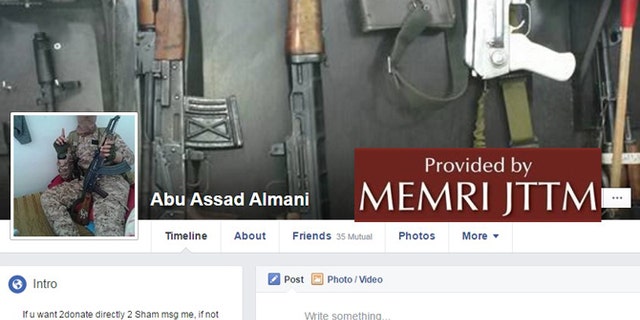 The latests posts captured by MEMRI include disparaging remarks about the women and girls being offered for sale. A British self-described ISIS supporter named Abdulrahman Mosh Arm wrote, "That much for that? That thing should be buy 1 get that troll for free lol."
Another commenter who identified himself as Romeo Langhorne commented: "What makes her worth that price? Does she have an exceptional skill?" Almani replied, "Nope. Supply and demand makes her that price."
One female supporter even suggests that he keep the two women, believed to be of the religious minority group Yazidi, for himself.
"She is Yazidi," A woman named Almera Farzanah asked. Alami repled that he believes so to which she says; "$8000 is too expensive, even Mahar [dowry] for a good Muslimah [Muslim woman] is not that expensive. I thought there were many muhajirah [foreigners]?? Why u not marry one of them? Rather than having to buy expensive sabi."
Others complained in comments on the Facebook postings, chastising Almani for posting pictures of unveiled women. Others made derogatory comments regarding the Yazidi people and culture.