ISIS car bomb in Syrian capital of Damascus kills 10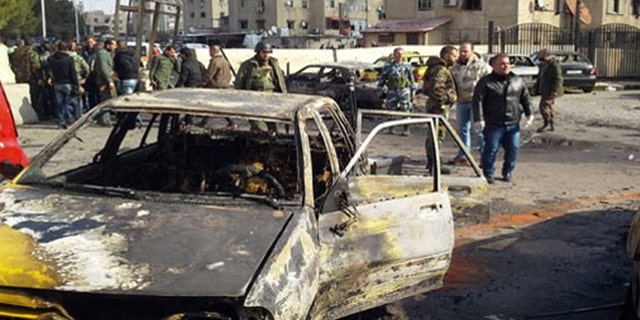 NEWYou can now listen to Fox News articles!
A suicide car bomber dispatched by the Islamic State group struck near a police officers' club in the Syrian capital on Tuesday, killing at least 10 people and destroying a number of cars.
Syrian state TV reported the toll and showed footage of the blast scene, including several damaged vehicles and a burnt-out car. The police officers' club was next to a vegetable market.
The Britain-based Syrian Observatory for Human Rights, an opposition group that tracks the civil war, said the blast killed eight policemen and wounded 20.
The IS group claimed the bombing in a statement circulated by its followers on Twitter, saying it was carried out by a fighter known as Abu Abdul-Rahman al-Shami. It vowed more attacks.
The blast came a day after an international rights group said Syrian government forces and the Russian military have been carrying out daily cluster bomb attacks over the past two weeks in Syria, killing 37 people.
The Human Rights Watch report, released Monday, said that cluster munitions, which are widely banned, have been used in at least 14 attacks across five provinces since Jan. 26.
The attacks killed at least 37 civilians, including six women and nine children, and wounded dozens, HRW said.
Cluster bombs open in flight and scatter dozens of explosive munitions over wide areas. Some 98 States are party to a convention banning their use but several countries — including Syria and Russia, as well as the U.S., China and Israel — have not signed onto the ban.
Syrian troops have been on the offensive in the northern province of Aleppo under the cover of Russian airstrikes in recent weeks in an attempt to besiege rebel-held parts of Aleppo city, the country's former commercial center.
Last week, Syrian troops and their allies were able to lift a three-year siege imposed on the Shiite villages of Nubul and Zahra in Aleppo province.
HRW said some of the recent attacks using cluster munitions occurred near the two villages.
Opposition activists have said that Russia has been using cluster bombs since the start of its aerial campaign in Syria on Sept. 30.
HRW previously documented at least 20 cluster munition attacks by the Russian-Syrian joint operation between Sept. 30 and Dec. 14. It called on Syria and Russia should join the Convention on Cluster Munitions.
HRW said the International Syria Support Group that will meet in Germany on Thursday "should make protecting civilians and ending indiscriminate attacks, including with cluster munitions, a key priority."
The ISSG includes 17 regional and world powers trying to end Syria's conflict, which has killed more than 250,000 people since March 2011.
Cluster bombs have also been used in other recent conflicts in the region, including by forces loyal to Libyan leader Moammar Gadhafi, who was toppled in a bloody uprising in 2011.
The United Nations and human rights groups have said Israel dropped about 4 million cluster munitions during the 2006 war with Hezbollah. Up to 1 million failed to explode and now endanger civilians, according to U.N. demining experts.